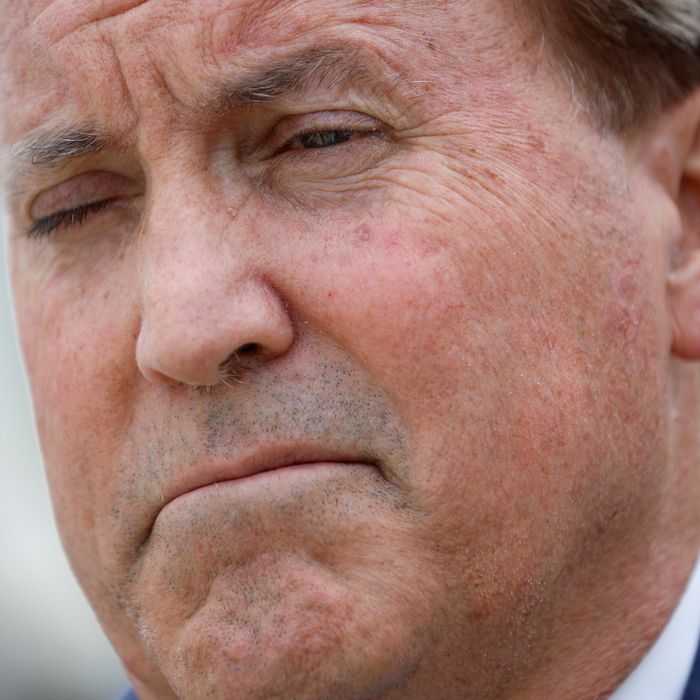 Photo: Chip Somodevilla/Getty Images
Back in the 1950s, there was an ethically challenged governor of my home state of Georgia who would defend himself against frequent charges of corruption by accusing his critics of trying to undermine Jim Crow laws, of which he was a loud champion. One journalist referred to this argument as: "If you ain't for stealin', you ain't for segregation!" I thought of this precedent upon reading about the impeachment of Texas attorney general Ken Paxton by the Texas House for a remarkable array of improprieties, which has led him to mobilize his MAGA allies to launch a highly ideological defense, as the Texas Tribune reports:
One day after a Texas House committee recommended that Attorney General Ken Paxton be impeached, several prominent Republicans pressed a common strategy Friday: attack, attack, attack.




In statements and social media posts, conservatives accused their fellow Republicans in the Texas House — Speaker Dade Phelan in particular — of attempting to undermine voters and conservative values by attacking Paxton. And, largely without addressing the merits of the many accusations against Paxton, they framed him as the victim of a political witch hunt that was orchestrated by a cabal of Democrats and "Republicans in name only."




"The impeachment proceedings against the Attorney General are but the latest front in the Texas House's war against Republicans to stop the conservative direction of our state," Matt Rindaldi, chair of the Republican Party of Texas, said in a statement.
The Texas House subsequently voted to approve 20 articles of impeachment against Paxton by a vote of 121-23, with 60 of the attorney general's fellow Republicans supporting the equivalent of an indictment. The charges were summarized by the Tribune as mostly flowing from two major allegations against Paxton that had drawn attention from law enforcement for years:
Many of the articles of impeachment focused on allegations that Paxton had repeatedly abused his powers of office to help a political donor and friend, Austin real estate developer Nate Paul.




In fall 2020, eight top deputies in the attorney general's office approached federal and state investigators to report their concerns about Paxton's relationship with Paul. …




The articles of impeachment accused Paxton of accepting bribes, disregarding his official duties and misapplying public resources to help Paul.




The articles also referred to felony charges of securities fraud, and one felony count of failing to register with state securities officials, that have been pending against Paxton since 2015, months after he took office as attorney general. The fraud charges stem from Paxton's work in 2011 to solicit investors in Servergy Inc. without disclosing that the McKinney company was paying him for the work.
Paxton has been temporarily stripped of his office by Governor Greg Abbott as required by the Texas Constitution, and will soon face trial by the Senate, where a two-thirds majority is required for conviction. In a strange twist, one of the senators who will render judgment on Paxton is his wife, Angela, whose budding political career he has sponsored. It's unclear whether she will recuse herself or vote; the situation is complicated by an extramarital affair her husband has admitted is bound up in the allegations involving Paxton and Paul.
In any event, Paxton's allies are kicking out the jams to help him beat the rap, beginning with his most important friend, Donald Trump, as The Hill reported:
"The RINO Speaker of the House of Texas, Dade Phelan, who is barely a Republican at all and failed the test on voter integrity, wants to impeach one of the most hard working and effective Attorney Generals in the United States, Ken Paxton, who just won re-election with a large number of American Patriots strongly voting for him," Trump said in a post on Truth Social.
Trump was joined in defending Paxton by his friends Ted Cruz, who called the impeachment a "travesty," and Marjorie Taylor Greene, who called it a "witch hunt." Like Trump, Cruz seemed to suggest that the court of public opinion was the only proper judge of Paxton's fitness, noted Newsweek:
"Virtually all of the information in the articles was public BEFORE Election Day, and the voters chose to re-elect Ken Paxton by a large margin," Cruz wrote. "In my view, the Texas Legislature should respect the choice of the Texas voters."
It's true that Paxton's unsavory reputation drew three significant primary opponents in 2022: wild-man congressman Louie Gohmert, former Texas Supreme Court Justice Eva Guzman, and the last gasp of a great political dynasty, George P. Bush. With an endorsement from Trump, Paxton ultimately smoked Bush in a runoff, and had no trouble winning the general election to claim a third term. Paxton dismissed all the talk of his shady ethics, suggesting that he was a victim of political persecution, much like Trump.
So Paxton's going with the same game plan to try to save his job and perhaps his hide. The battle is going to be vicious, all right; Paxton has already accused his nemesis, Dade Phelan, of presiding over the House in a state of inebriation and called on his to resign. And it's unclear what repeated examination of Paxton's career might turn up. The one thing we do know is that Team Paxton will spend more time impugning the ideological purity of the attorney general's tormenters than defending the ethical purity of their hero.