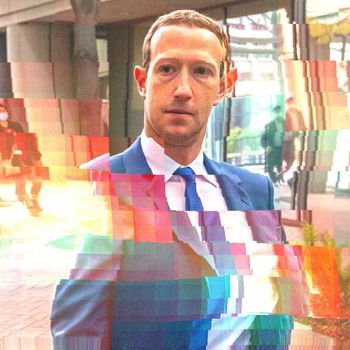 Hooked on a feeling.
Photo-Illustration: Intelligencer; Photo: David Paul Morris/Bloomberg via Getty Images
Early this year, long before there was any discussion of a cage match between Mark Zuckerberg and Elon Musk, a team at Meta (the company formerly known as Facebook) began work on their "answer to Twitter." The goal was to develop a text-and-feed-focused app that the company hopes will find an audience of users and brands that "are interested in having a platform that is sanely run, that they believe that they can trust and rely upon for distribution."
According to the Verge, the service, which may be called Threads, will be partially "based on Instagram," meaning users will be able to import their existing networks and integrate with ActivityPub, an open system that powers Twitter alternative Mastodon. The company has been recruiting celebrities to its platform, including the 14th Dalai Lama and Oprah, with promises of stability and a safe distance from Elon Musk. Meta hopes to launch the service as soon as possible, perhaps as early as this month.
On Tuesday, Musk mocked the launch in a tweet:
When a random commenter joked that he ought to be careful given Zuckerberg's recent dive into jujitsu, Musk suggested a fight:
Zuckerberg replied on his own platform. In an Instagram post, he replied with a challenge (and an insider-y UFC meme): "Send Me Location." Musk did so:
Awkward cage-match jokes (plans?) aside, there are obvious reasons that a social-media company like Meta might see an opening here. Twitter never reached the scale or profitability of Facebook or Instagram, and to call them competitors — at least in recent years — would probably be too generous to Twitter. Still, it booked billions of dollars in ad spending a year and commanded a lot of attention, however poorly it was monetized. Under Elon Musk, the service is moving in new and unpredictable directions, and users invested in its previous incarnation are considering new options. Mastodon, Nostr, Bluesky, and others have gained some traction. If you're Meta, why not?
There's more than a small window of opportunity here, though. There's also a little bit of personal history. When Facebook and Twitter were both relatively new, they really were competitors, at least in the eyes of their respective leaders. Facebook tried to buy Twitter in 2008, four years before it acquired Instagram. Twitter refused, and its subsequent success drove Zuckerberg to build even more Twitter-like functionality on Facebook, including real-time feed updates and the addition of a "follow" function to go with friend-to-friend connections. According to a TechCrunch story from 2009:
Taken together, these represent a concerted response to the rise of Twitter as a real-time message broadcasting system that goes beyond members' personal circle of friends … If Facebook cannot buy Twitter, it will try to beat it instead.
These changes culminated in an ill-fated detour into the chaotic "Activity Feed," which, if you were around at the time, you probably remember as the Farmville era. Traces of Facebook's Twitter obsession remained evident in its subsequent emphasis on news content, which helped Facebook grow through the mid-2010s but also made it a frequently miserable place to spend time. (In its more recent efforts to revive growth, Facebook has deemphasized news and Twitter-like link posts.)
Facebook's early Twitter problem bordered on obsession. In a 2010 interview, Mark Zuckerberg suggested as much. "As good as I think they are, I think I personally just paid too much attention to it," he told Facebook Insider. "I looked at their rate and thought if this continues for 12 months or 18 months, then in a year they're going to be bigger than us," he said. This didn't happen, of course, but it was still clear Twitter had something that Facebook, which was by then already becoming complicated and unwieldy, envied. "It's a very nice, simple service," Zuckerberg said. "They do one thing really well — that's powerful."
What was that "one thing," exactly? In product-design terms, back then, it would have been its "real-time" feed, populated by updates from people whom lots of users wanted to follow — not just friends, but public figures, celebrities and athletes, and vast swathes of the media.
This "one thing" never turned into a Facebook-scale business, but it did insinuate Twitter into various other industries and power structures, gradually turning it into, among other things, a strange, profitless reputation system for elites with a formidable ability to drive many of its most prominent users completely out of their minds. Twitter's outsize importance among tech leaders, politicians, finance professionals, and members of the media seemed to intensify Elon Musk's obsession with it. That ultimately led him to pay 86 times what Facebook reportedly offered for the platform in 2008 (to be fair, not accounting for inflation). Despite Meta's success with Instagram, the de facto home for influencers, and Facebook, the first true mass-market social-media service, the company never had a product with Twitter's particular relationship to elite power structures. Twitter was the one that got away.
The particular conditions that gradually turned a janky, failure-prone feed of SMS messages into an internal influence broker with an uncanny ability to derange everyone from casual sports fans to sitting United States presidents are probably impossible to replicate, and Meta's Twitter replacement remains a long shot even if Twitter itself appears intent on leaving the market wide open for, uh, Twitters.
If it works, maybe it can draw some advertising dollars or infuse Meta's other products with a bit of new energy. It would also tie up a loose end and settle a score. In an industry where executive obsessions and fantasies are becoming increasingly salient to the rest of us, it's probably as good an explanation as any.