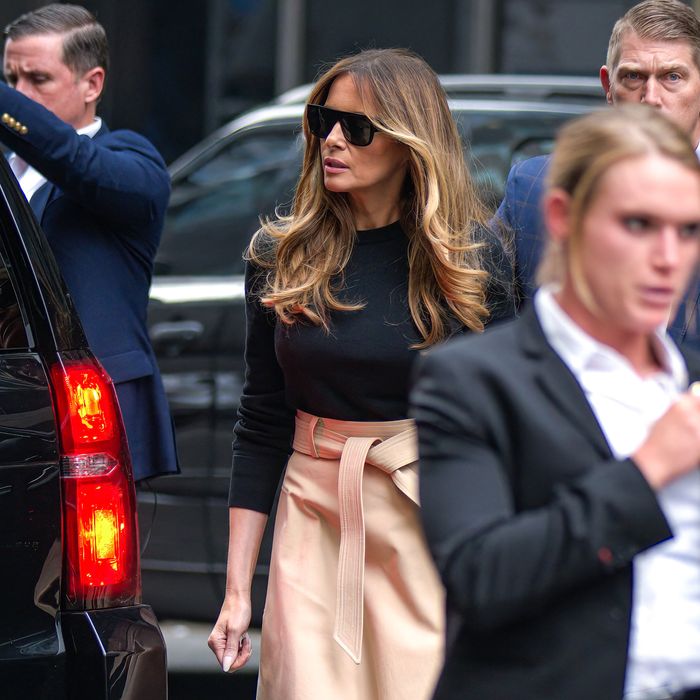 Melania stands by her man (not pictured) while arriving at Trump Tower on Thursday.
Photo: James Devaney/GC Images
"If it ain't broke, don't fix it": It's an axiom that holds true whether you're thinking about adjusting the tape keeping your TV remote together or plotting your PR strategy after a family member is hit with multiple post-presidential indictments.
Melania Trump clearly understands this. After Donald Trump was indicted in early April over hush-money payments to porn star Stormy Daniels, the former First Lady opted to maintain physical distance from her husband while letting tabloids run stories insisting that she's actually extremely supportive. Although Melania did not accompany her husband to his New York arraignment or subsequent rally at Mar-a-Lago, the New York Post's sources insisted they were actually "closer than ever."
Now that Donald Trump has been indicted for the second (but possibly not last) time, Melania is using the same playbook. The former president learned he had been charged again when his lawyer called him at his golf club in Bedminster, New Jersey, around 7 p.m. on Thursday, June 8. Hours earlier, Melania had been spotted entering Trump Tower in Manhattan, which is about a 90-minute drive from Bedminster. But she did not make a big show of rushing to be with her husband. After breaking the news of his indictment on Truth Social, Donald Trump dined outdoors at Bedminster and hit the D.J. booth, according to the New York Times:
Wearing a red Make America Great Again cap, he again acted as a D.J., according to a person there, using an iPad to play some of his favorites: Elvis, the opera singer Pavarotti and his idol in showmanship, James Brown.
Melania wasn't around to witness this very presidential scene. But a day later, an anonymous "insider" told the New York Post that this shouldn't be interpreted as a snub. The paper reported that Melania was "standing by her husband" … via private phone calls:
"She is used to this," says an insider. "They are used to dealing with this stuff."




Another source tells us, "Melania is standing by her husband, but quietly and privately. He's been on the phone with Melania, who's supporting him 100 percent. They both knew this — and more — was coming."
Melania's support for her husband remained extremely private over the weekend. She did not release a statement of support, post any messages to Truth Social, or show up to her husband's weekend appearances at Republican state conventions in Georgia and North Carolina. And while a source told the Post that Melania would head back to Florida by Tuesday along with her husband, she is not expected to join him for his latest arraignment. "Trump will be back at Mar-a-Lago, where his security is [better] and she will be with him," said a "Page Six" source. "But she won't be with him when he surrenders himself to authorities."
Maybe this just shows that the Trumps are truly simpatico. When we're told Melania is "standing by her husband" we're meant to take her "seriously but not literally."