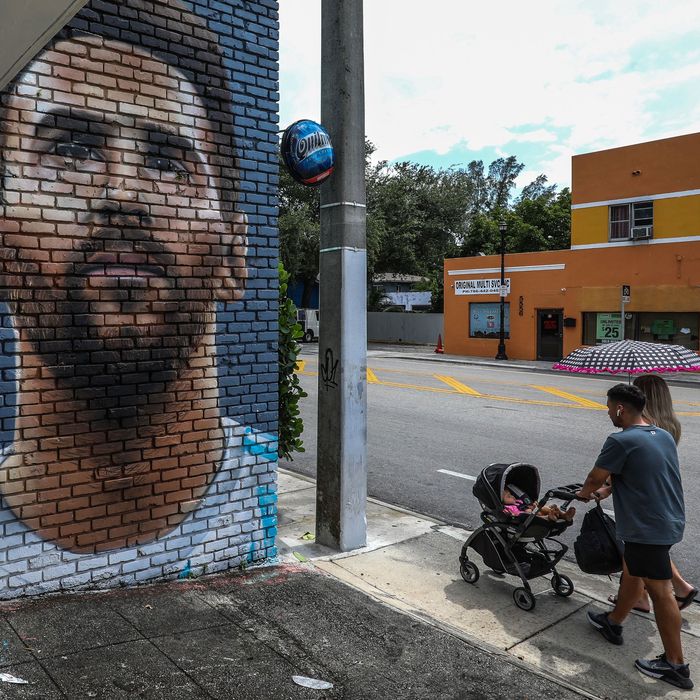 Photo: Giorgio Viera/AFP via Getty Images
According to a 2021 study, Lionel Messi is one of the three most famous athletes in the world — which means he is one of the most famous humans on the planet. (Considering he's won a World Cup and a Golden Ball since then, he's probably even more famous now.) You can visit the most remote villages on earth, and you'll find someone wearing a Messi jersey, sometimes made of plastic bags. LeBron James is the only American athlete who even comes close to Messi's worldwide celebrity, but he has pretty much maximized his stardom: There's nowhere left for LeBron to go that would make him an even bigger name. But for Messi, there's one more destination to conquer, and it's a place that might finally be ready for him. And now, at last, Lionel Messi is coming to America.
Last week, Messi announced he'd be joining Major League Soccer's Inter Miami. The deal isn't quite official yet, but it's telling as to why: Messi is still in negotiations to nail down the details — not with his team, mind you, but with the league and its primary broadcast partner, Apple TV. Several reports say a final sticking point is the percentage of new MLS Season Pass subscriptions on Apple TV — which offer every MLS game — Messi will get. You want power? How about the company with the highest market capital in the country giving you a piece of their action? LeBron can only dream of that.
There was a time when it wouldn't have sense for Messi to come here, no matter the amount of money involved. But this isn't like Pele playing for the New York Cosmos at the end of his career, or even like David Beckham collecting what essentially amounted to a retirement package to decamp to Los Angeles Galaxy while still playing for Inter Milan in Italy, as chronicled in the late Grant Wahl's great book The Beckham Experiment. Messi is still at the top of his game — he just powered his country to a World Cup, for crying out loud — and remains very much in demand after his brief, unsatisfying tenure with Paris Saint-Germain. He had options aplenty, from returning to Barcelona (where he played for 17 seasons) to trying England's Premier League for the first time to finishing his career in Argentina to playing for Al-Hilal in the Saudi pro league, the kind of move that's all the rage right now. (French star Karim Benzema just signed a jaw-dropping two-year, $200 million deal to go assist in the Saudi's increasingly successful sportswashing.) But he didn't do any of those things. He's coming to the MLS. He's coming to America.
Part of this comes down to the money, of course. (And whatever qualms you might have about who makes the phone you're reading this column on right now, Messi can still feel less evil taking Apple's hundreds of millions rather than Saudi Arabia's.) But it's also a sign of just how far MLS itself has come since its 1996 inception and even since Beckham's move to the league in 2007. Twenty-seven years ago, the MLS was a global joke at best; 16 years ago, Beckham was widely mocked for finishing his career in a place that still calls it "soccer." But today? Messi might just do the one thing he couldn't do anywhere else: He might just make himself bigger.
It helps that the league gets so much more media exposure now. When MLS began, the league didn't even receive any rights fees; ESPN showed ten games, ABC showed the MLS Cup, and the league and the networks divvied up the advertising revenue. MLS and ESPN signed a new deal in 2007 — not coincidentally, Beckham's first year in the league — that paid the league $8 million a year but still only showed one national game a week. But these days, if you have the MLS League Pass (which is discounted with an Apple TV subscription), you can watch every single MLS game wherever you are in the world. If this deal goes through, Messi will be available to you in a way he never has been before. Messi knows this. There's no way he signs with the MLS without that deal.
Messi is also bigger in the United States than he even could have been at the beginning of his career and far bigger than Beckham was when he arrived. International leagues are part of the fabric of sports culture here in a way that was scarcely imaginable a generation ago: In many cases, America, with its variety of streaming options, is actually the easiest place to watch international soccer. (If you can deal with the time change, of course.) American soccer fans have been able to follow Messi, and Ronaldo, and Benzema, to a degree that allows them to be stars here almost on the level of LeBron or Tom Brady: These players lead promotions and highlight packages by sports networks (like Paramount Plus and CBS in general) with millions upon millions of dollars invested in their success. The explosion in ticket prices for MLS games that might involve Messi and Inter Miami — a team that's actually in last place right now — is proof of all this. Tickets to see him play in Atlanta in August went up 5,000 percent overnight. Amusingly, they rose nearly to that level for St. Louis SC's game against Miami in July even though he's almost certainly not going to have arrived in the country by then. Messi is not some foreign novelty coming to America; he's a star here right now.
But perhaps most encouraging for American soccer: The league itself is an attractive commodity, not just financially but competitively. MLS certainly hasn't reached the quality level of European leagues by any stretch of the imagination, but it has made dramatic gains in the past few years. American players have also been thriving on the world stage for the last half decade—raising the profile of the American game and providing proof-of-concept for young American players hoping to thrive at the top levels. But the fact that some of the best players here end up abroad hasn't prevented MLS from doing well: The league is booming, both in national TV ratings (its ESPN numbers were up 16 percent on the previous year) and, most promisingly, on a regional basis.
MLS has aggressively expanded in recent years, adding 11 teams during the past decade alone. And it's not done: A San Diego team is coming in 2025, with ones in Las Vegas or Phoenix expected shortly thereafter. MLS has also smartly boosted its local markets by giving clear advantages to new teams that other leagues don't. This has meant that some expansion teams have exploded out of the gate — Atlanta United and Los Angeles FC have won two of the past five MLS Cups, and the current conference leaders are FC Cincinnati (founded in 2019) and St. Louis SC (which is actually playing its first season right now). All those teams have also built loyal, local fan bases immediately. I've been an Atlanta United season-ticket holder since that team's very first season, and even though they've been disappointing for three straight years now, Mercedes-Benz Stadium is packed for every game thanks to their initial success, including an MLS Cup championship in 2018 I'm still screaming about five years later. Atlanta United made instant inroads in the city, as did St. Louis SC and FC Cincinnati, and they're now among the most beloved teams in the city. MLS is attempting to replicate this success everywhere, and rapidly.
Oh, and don't forget: The World Cup is going to be in America (as well as Canada and Mexico, but primarily here) in 2026. MLS, which has several stadiums hosting games and which was founded in the wake of the first U.S. World Cup in 1994, stands to benefit exponentially as American soccer gets its moment on the biggest stage. Sadly, Messi announced on Tuesday that he won't be helping defend Argentina's title.
Still, it's all going to plan perfectly for the MLS, for American soccer, and for Messi himself. In many ways, all the momentum makes Messi's decision almost inevitable. Soccer isn't in any danger of supplanting the NFL or the NBA or even MLB anytime soon in this country. But it is now a place to be taken seriously on the global stage. After all: Messi's here. And he's right to be.