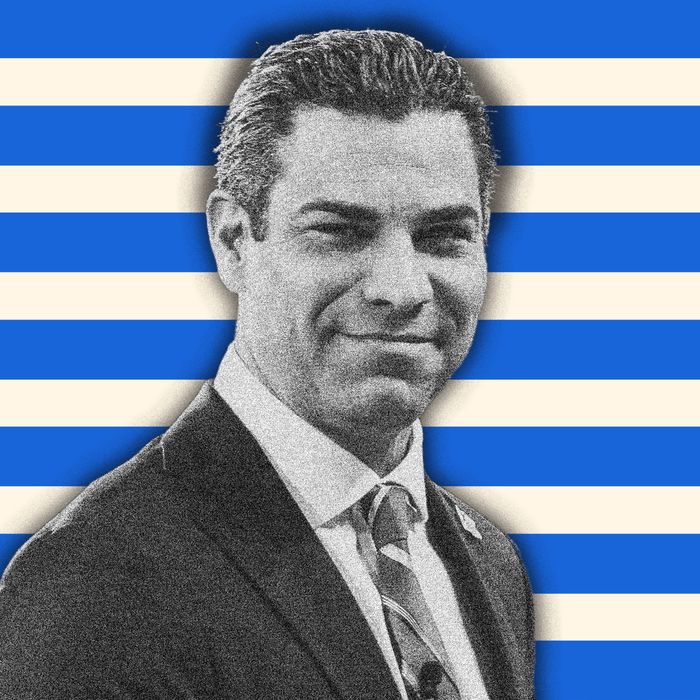 Who's that again?
Photo-Illustration: Intelligencer; Photo: Getty Images
Just when it seemed like we could call a wrap on the 2024 Republican presidential field, another candidate (the 13th) announced he was entering the race: Francis Suarez. The Miami mayor is the only Hispanic candidate in the race; he is Cuban American, the grandson of refugees from Castroism. Suarez is sometimes described as "moderate," and he has publicly scorned the culture-war politics beloved by his party's base, thinks climate change is an urgent challenge, and criticized Ron DeSantis for his refusal to implement more restrictive policies during the COVID-19 pandemic (while himself imposing a mask mandate on his city). None of these positions are likely to charm a whole lot of GOP primary voters.
But Suarez apparently thinks there's a yet-unexplored "lane" to a presidential nomination — or at least a respectable showing. His launch video suggests he's trying to appeal to people who don't much like politics and political parties and are attracted to a professed "outsider" (albeit an office holder) projecting youth, energy, business and tech savvy, and even hipness.
Suarez's persona will invite comparisons to 2020 Democratic candidate Pete Buttigieg, though he's eight years older than Mayor Pete was in 2016; in fact, at 45 he's a year older than DeSantis, but the very serious Florida governor seems about 20 or 30 years his senior. It's also worth noting that for all his emphasis on new and cool things about Miami, he is the scion of a powerful political family. His father, Xavier Suarez, a Democrat, was mayor of Miami for two terms and a few months of a third term (his tenure abruptly ended after a major election-fraud case hit his campaign, though he was not found personally culpable).
The younger Suarez has become famous nationally for his efforts to turn his city into the "next Silicon Valley" (when a tech titan tweeted casually about moving the tech industry from California to Miami, Suarez replied, "How can I help?," which went viral and became his motto). Less successfully, he closely identified himself with bitcoin, taking part of his salary in the cryptocurrency (much like New York's Eric Adams), and he still tenaciously argues that crypto is the wave of the future.
If he achieves serious national attention, questions will be asked about his self-presentation, particularly the fact that as a part-time mayor with limited powers, he may not be able to take that much credit for Miami's recent successes (including a job boom and lowered crime). But the more basic question is whether his candidacy has any promise at all. Republicans will undoubtedly want to keep Suarez around as the kind of politician likely to help them increase their appeal to young and Hispanic voters. But he seems more like a future cabinet official (like Buttigieg) than a future president.
On a practical level, it's hard to see where Suarez will get votes or delegates. He shares a home base with the two dominant figures in the race, who in turn dominate Florida politically. More importantly, Suarez just doesn't speak the language of the Republican base voter. In interviews he comes across like a No Labels enthusiast, full of contempt for both parties and calling for "commonsense bipartisan problem-solving." That will not go over well in Iowa; nor will his apparent lack of interest in talking about issues like abortion (his position on that fraught topic is hard to identify).
More immediately, there's the question of Suarez's late start. In an interview with Politico about a possible candidacy last month, he flatly said:
For someone who's unknown, like I am, someone who wants to come from zero — started from the bottom, now we're here, right? [chuckles] You got to be in that Aug. 20 debate.




You have five debates, which are the five great opportunities on a non-monetary basis to communicate with the country your ideas and your vision. You have to be there.
It's going to be tough for Suarez to meet the Republican National Committee's polling and donor requirements for making the stage in Milwaukee in August. Like some other marginal candidates, he'll probably start hustling people for $1 donations to give himself a chance to put together a list of 40,000 unique donors in 20 states. Making a mark in national and early state polls may be even harder. All that hypothetical swing-voter appeal won't matter much at any early stage of the game. Some may talk of Suarez (as they do of Nikki Haley and Tim Scott) as auditioning for a vice-presidential nomination. But the U.S. Constitution prevents electors from casting electoral votes for two candidates from their own state. The most likely nominees, Trump and DeSantis, are not about to forfeit Florida's 29 electoral votes in order to harvest Suarez's following, such as it is. True, Nikki Haley has mentioned the Miami mayor as a possible running-mate, but at this point she's not a whole lot more likely than Suarez to win the presidential nomination.
So all in all, the Suarez candidacy doesn't make a lot of sense. But as his video suggests, maybe the guy just likes running.