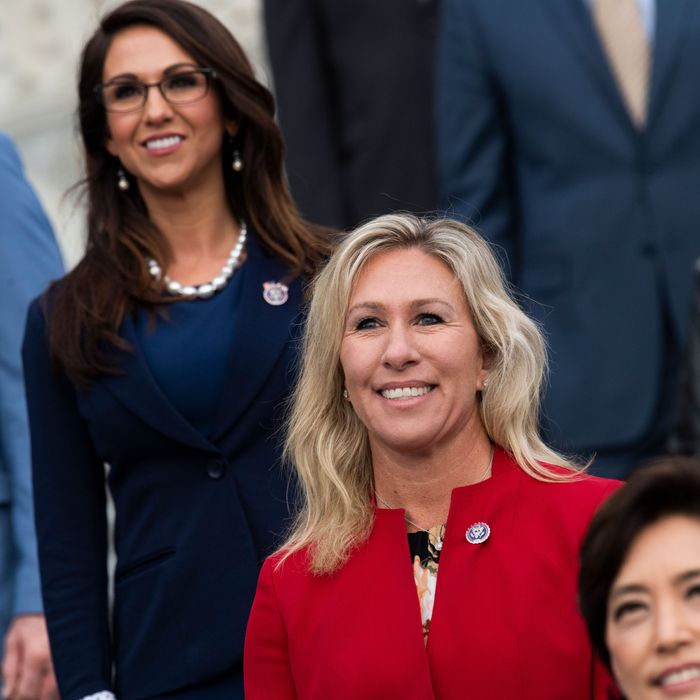 They're not smiling anymore.
Photo: Tom Williams/CQ-Roll Call, Inc via Getty Images
One might think that when a far-right member of the House Republican caucus commandeers the agenda to introduce a surprise impeachment vote with a shaky pretext, she would inspire solidarity from her fellow travelers. But that would be giving far too much credit to a group known almost exclusively for its dysfunction.
On Wednesday night, Lauren Boebert took advantage of a House procedure to force a vote on President Biden's impeachment within the week, claiming that his "open-borders agenda" has failed the nation. That didn't please Marjorie Taylor Greene, who had her own resolution to impeach the president for "intentionally failing to secure our homeland" — but did not use Boebert's canny tactics to compel a vote. In an exchange on Wednesday night, Greene called her colleague out on the House floor. "I've donated to you, I've defended you," Greene told Boebert, according to a source on the floor who spoke with the Daily Beast. "But you've been nothing but a little bitch to me. And you copied my articles of impeachment after I asked you to cosponsor them."
Defending her choice of words, to Semafor, Greene invoked the perfect logic of a bully. She said that she called Boebert a "little bitch" because she "has genuinely been a nasty little bitch to me."
Greene and Boebert, who both came into the House in 2020 as QAnon-adjacent freshmen congresswomen, have been beefing for awhile now. In January, after the messy vote to nominate Kevin McCarthy for House Speaker, Greene reportedly criticized Boebert for accepting his donations but refusing to support him in the early voting rounds. After the business on the House floor this week, it's unlikely that their dispute will be resolved anytime soon. When Semafor asked Greene if a reconciliation was possible, she said "absolutely not."