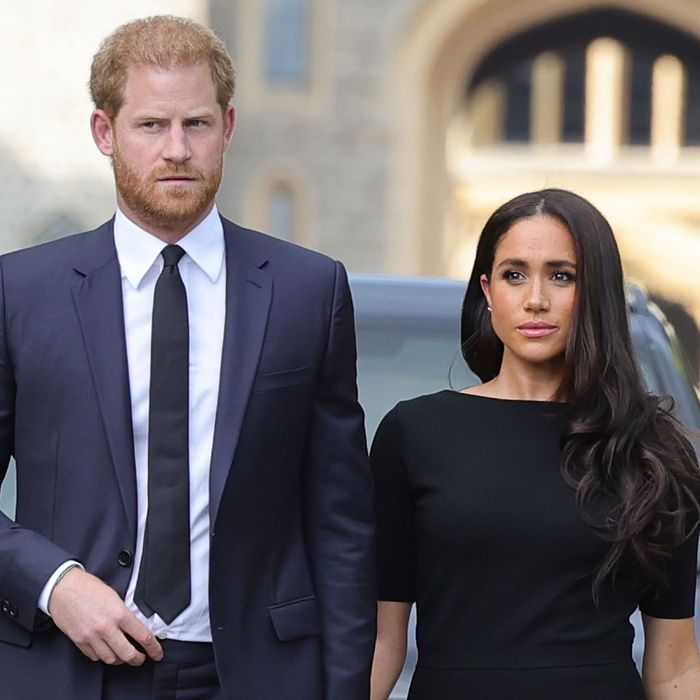 Photo: Chris Jackson/Getty Images
If you are among the many people who tried and failed to get tickets for the Eras Tour, just know there are worse fates than being rejected by Ticketmaster's cruel lottery system. You could have been snubbed by Taylor Swift personally, despite being a famous person yourself. The Wall Street Journal reported that Meghan Markle wrote Swift a personal letter inviting her to be a guest on her podcast Archetypes, but "the pop star declined, through a representative."
This is just one of the humiliating details we've learned about Prince Harry and Meghan Markle's business ventures in recent days. Earlier this month, Spotify announced that it was ending its partnership with the royal couple after they produced just one season of Markle's podcast in two and a half years. Spotify executive and podcaster Bill Simmons publicly branded them "fucking grifters" on their way out. Then a Bloomberg report revealed some of Harry's laughably implausible podcast pitches, like interviewing Vladimir Putin, Mark Zuckerberg, and Donald Trump about their childhood trauma.
Now it seems Harry and Meghan's other major business partnership may be on thin ice too. Over the weekend, the Sun reported that while the couple's six-part docuseries was the streaming platform's most-viewed documentary ever, Netflix isn't interested in paying the Sussexes the additional $51 million they're owed as part of their deal unless the couple cranks out some more hits.
An "industry source" told the U.K. paper that "Netflix was pleased to sign Harry and Meghan and is looking for some great ideas going forward," however, "the remainder of the deal relies on them producing those good ideas. The deal's continually under review which is normal for ones of this magnitude."
A Saturday Journal piece digging into the couple's "Hollywood flop" raised serious doubts about their ability to deliver programming that doesn't center on their own royal drama. The paper reported that their Los Angeles–based production company, Archewell, felt rudderless:
Archewell employees and associates say the company often lacks direction, and that its founders at times seem surprised by the work required to finish entertainment projects. Most potential initiatives, they said, follow a similar route: Big idea, subpar execution.
A few of the couple's non-autobiographical Netflix projects have made it to the platform. They put out a docuseries called Live to Lead, about "leaders committed to making a difference in the world," but it wasn't a hit. Another docuseries about the Invictus Games, the sporting event Harry founded for wounded veterans, is nearing completion. And the Journal reports that they are developing a show based on every high-school student's least favorite character from Great Expectations:
Harry and Meghan are also developing a TV show for Netflix called "Bad Manners" based on Miss Havisham, a Charles Dickens character from "Great Expectations." The prequel would recast the lonely spinster as a strong woman living in a patriarchal society, though it is unclear whether the show will get a green light from Netflix.
But that may not be enough. The Journal reports that their other TV ideas were duds, and it's unlikely that Netflix will renew the Sussexes' deal when it runs out in 2025:
Other proposed projects seemed designed to replicate successful shows already on Netflix, such as a sitcom described as "Emily in Paris," but about a man, and a family-friendly TV show about gay characters that felt similar to the fan favorite "Heartstopper." Netflix said no to both, people familiar with the matter said.
The paper also noted that "a podcast humanizing figures damaging our society" wasn't the only questionable idea Harry offered to Spotify:
He explored a podcast on veterans but couldn't find a compelling way to tackle the subject in podcast form. He tossed around subjects such as misinformation and his point of view as someone new to living in America, and at one point considered co-hosting a show with comedian Hasan Minhaj.
While I'll admit that I would probably watch a series in which Prince Harry has a breakdown while trying to navigate a Cheesecake Factory menu and Meghan teaches him to use Kohl's Cash, things do not seem to be going in a great direction for Archewell. But maybe some of this is on Netflix and Spotify executives. It's unclear why they thought one of the stars of USA Network's Suits and a guy who's admittedly spent his life in a royal bubble would be good at churning out relatable TV and audio content.