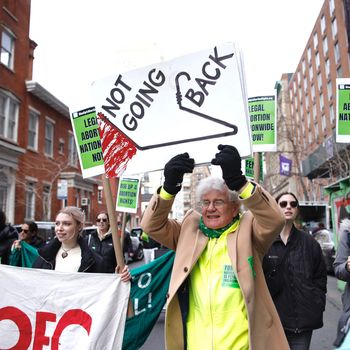 New York abortion-rights protesters.
Photo: Kena Betancur/AFP via Getty Images
The struggle going on in states around the country over abortion policy since the Supreme Court's 2022 decision reversing Roe v. Wade is often about whether abortion will remain legal. But in New York, there's no real threat to the pre-viability abortions protected by Roe, and state lawmakers have added additional protections for those needing abortion services and those who provide them (e.g., state health-care funds can be used to pay for abortions, and private health-insurance plans are required to cover them). Most recently, the Legislature approved a bill authorizing New York physicians to prescribe abortion pills to patients in states where they are currently banned or restricted.
But it never hurts to enshrine even the most politically secure rights in state constitutions. New York Democrats, moreover, understand that a ballot measure to do just that could significantly enhance turnout by their partisans in a 2024 election when they hope to flip a number of U.S. House seats. The Democratic-controlled Legislature, in cooperation with Democratic governor Kathy Hochul, has twice passed a proposed Equal Rights Amendment that would significantly expand the New York Constitution's Equal Protection Clause, as Politico explained last year:
The amendment [adds] new protected classes to the state constitution's existing Equal Protection Clause — which prohibits discrimination based on a person's race, color, creed or religion — to bar intentional government discrimination based on a person's ethnicity, national origin, age, disability or sex, including sexual orientation, gender identity, gender expression, pregnancy, pregnancy outcomes and reproductive health care and autonomy.
The amendment will appear on the November 2024 general-election ballot in New York, and an array of organizations aligned with the Democratic Party have agreed to make major investments in promoting it, Politico now reports:
Left-leaning New York groups pledged $20 million Thursday to support a change to the New York State constitution to protect abortion rights that will be on the 2024 ballot — something they believe will boost turnout for Democrats in key swing House districts. … The coalition released a memo on its investment Thursday, which says it believes that the constitutional amendment will bolster turnout across the state, particularly in six battleground House districts, five of which are held by Republicans. With a razor-thin margin standing in the way of the majority, Democrats think this strategy will help them flip control of the House next year.
New York Democrats point to the ripple effect of an abortion-rights ballot measure in Michigan in 2022, which was given a lot of credit for their party winning trifecta control of that battleground state's government. More generally, aside from Michigan, pro-choice forces posted a winning streak on abortion ballot tests in red states (Kansas, Kentucky, Montana) and blue (California, Vermont) alike in 2022. There's no particular reason to think it won't continue in 2024, especially in states like New York with strong popular pro-choice majorities.
The Empire State isn't the only jurisdiction mulling 2023 or 2024 ballot measures on or including abortion rights. Pro-choice activists in Florida, Ohio, and South Dakota are working to secure ballot access for constitutional amendments overturning their states' restrictive abortion laws. In Ohio and Missouri, anti-abortion groups are trying to raise the threshold for ballot initiatives to a supermajority to help stem the tide. Meanwhile, despite what happened in 2022, anti-abortion legislators in Iowa and Pennsylvania are battling to secure their own ballot initiatives overturning pro-choice state judicial decisions protecting abortion rights.
For the foreseeable future, reproductive rights in any one state will depend on the interplay of legislatures, courts, and voters. New York Democrats hope they can all be aligned to produce a lasting victory for their cause at home and for their party in Albany and Washington, D.C.