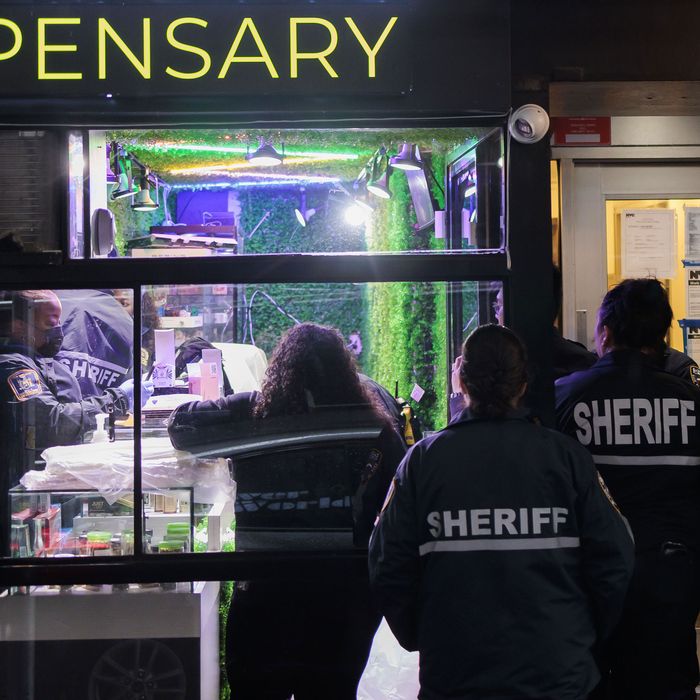 Photo: JUSTIN LANE/EPA-EFE/Shutterstock
Ask the owners and employees of the city's many unlicensed cannabis dispensaries what they think of Sheriff Anthony Miranda, and they'll paint you a picture of a general fighting the last battle in the war on drugs. According to the men behind the glass display cases (they're almost all men), selling weed without a license is a bit like serving beer in the final days of Prohibition and enforcement of laws against doing so is immoral and pointless — a genuine waste of taxpayer money. The sheriff disagrees.
"Nah," Miranda said with a chuckle recently, sitting in a conference room in his agency's Long Island City headquarters. "They've conscientiously made a decision not to follow the law, and we are enforcers of the law."
Miranda has overseen this small, obscure law-enforcement agency since Mayor Eric Adams appointed him sheriff in May 2022. An arm of the Department of Finance, the sheriff's office normally handles civil matters — property seizures, civil-court judgments, evictions — leaving the NYPD to deal with criminal investigations. The agency gained a measure of notoriety in 2020, before Miranda was appointed, when sheriff's deputies were the city's wet blankets tasked with shutting down boat cruises, sex clubs, and warehouse parties for not following COVID-19 protocols. (Coincidentally, hours before our scheduled interview, The City reported that Miranda once pedaled a bogus device that claimed to ward off COVID — an allegation Miranda declined to address during our conversation.)
In December, just as New York was about to issue the first batch of retail cannabis licenses to people who had been affected by the war on drugs, Adams announced an interagency task force to crack down on the estimated 1,500 unlicensed dispensaries. By then, the neon-lit smoke shops with punny names selling pre-rolls alongside bongs, Cheetos, and WAP gel had popped up like bamboo across the city. Adams put the sheriff's office in charge of the effort. One of the agency's primary responsibilities is watching over tobacco shops, checking licenses, and sniffing out counterfeit and untaxed cigarettes, and because so many cigarette vendors started selling weed after the state legalized cannabis in 2021, the sheriff's office was a natural fit for the pedantic work of enforcing the new rules and regulations.
"We are uniquely qualified and in a position to do both things — we have the power of civil enforcement as well as the power of criminal enforcement," Miranda said. "Some agencies don't have the capacity to seize the product. Other agencies issue fines but the product stays on the shelf. Other people take the product and don't issue summonses. We're able to do all of the things necessary to have the proper enforcement."
So far this year, with the help of its partners in the NYPD, Department of Consumer and Worker Protection, and Office of Cannabis Management, the sheriff's office has conducted 207 inspections, made 98 arrests, issued 7,959 violations, and seized some $10 million of unregulated cannabis products. It's an impressive haul for an agency with only 150 employees — far smaller than a single NYPD precinct.
But weed-bodega owners have shrugged their shoulders and adapted. Stores that have been raided multiple times continue to operate. Others ignore costly liens. Some store owners now keep only CBD products on display. One Brooklyn shop employee said his cannabis products were taped off in a back room with a "not for sale" sign, hoping this would limit his legal exposure. He would only sell the weed to buyers he felt sure weren't narcs. "There's risk in every business," an operator in Park Slope said. "But this stuff is addictive, and people will keep buying it, so we're going to keep selling."
When I asked Miranda about the sheer futility of the task at hand (150 or so officers cracking down on 1,500 shops), he demurred and emphasized the need to disrupt stores pushing products tainted by E. coli or lead or selling to minors — a problem that teachers say has reached a tipping point at schools. "The initial response from people was 'Oh my God, you're going after the marijuana people all over again?'" Miranda said. "Then people are having an 'oh shit' moment when I tell them what they're mixing it with. How people are ending up in the hospital, about this packaging for the kids. They're using every kids'-product name right now. How is this positive for our community?"
This may sound like drug-war rhetoric, but the stakes are far lower for smoke-shop owners who get caught. In Brooklyn, sting operations carried out by the task force rarely yield anything more than a court summons or fine. Brooklyn district attorney Eric Gonzalez's office charged just one illegal-smoke-shop owner for possession of marijuana in recent months, and Queens district attorney Melinda Katz has charged 55 people since November. But Miranda recently got a new tool in his fight against the unregulated shops. Last week, the city's Office of Cannabis Management approved state-enforcement measures that will allow the task force, in some instances, to shut down unregulated smoke shops on the spot.
"Tiny holes-in-the-wall are making $2,500 to $3,000 a day in profit. What would happen if we magically, tonight at midnight, closed every single smoke shop in the city? Where would that business go?" said Paula Collins, an attorney who represents smoke shops across the city. Collins sees the enforcement push as representative less of safety or concern for licensed cannabis peddlers' businesses and more about eyesores on the urban landscape. "There are a lot of transactions that go on in brick-and-mortar stores that you would never know — bookstores, art galleries, coffee shops. The neon pot signs are what concern the public," she said.