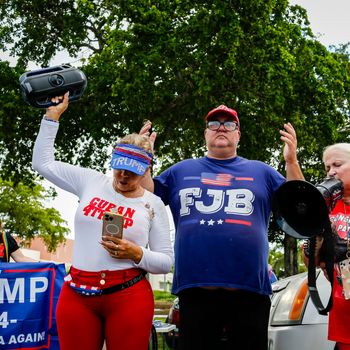 This is what MAGA loyalty looks like.
Photo: Eva Marie Uzcategui/Bloomberg via Getty Images
Immediately after Donald Trump's federal criminal indictment over his handling of classified documents, a lot of observers figured the impact on the 45th president's comeback effort might be more significant than those of his earlier indictment in Manhattan for falsified business records or his guilty verdict in a civil trial for defaming and sexually abusing E. Jean Carroll. The charges against Trump in the latest indictment involve offenses that are easy to understand, do not rely on disputed legal theories, and stem from quite recent conduct. Plus there's a sense that the cumulative effect of Trump's legal troubles (which may not be over) will soon wear down the "teflon" that has protected him throughout his political career — if only because Republicans will worry about damage to his electability.
It's still early days, but the initial evidence from public opinion surveys is that, indeed, this indictment is a source of more serious concern across the political spectrum. But it hasn't shaken Republican solidarity with Trump and may have actually strengthened his position in the 2024 Republican primary — as his first indictment almost certainly did. The best evidence of Trump's enduring intraparty "teflon" is a CBS News–YouGov survey with post-indictment data. It shows 75 percent of Republicans and Republican-leaning independents either supporting or "considering support" for Trump. And among that solid majority of probable primary voters next year, only 4 percent said the indictment makes them less likely to vote for the former president, while an astonishing 40 percent said it makes their support more likely.
It's not clear whether these voters fully embrace Trump's own "witch hunt" denunciation of past, present, and future indictments. But fully 76 percent of likely GOP-primary voters agreed that the indictments were "politically motivated." And only 12 percent believed the documents Trump mishandled created a national security risk. Perhaps even more striking, when asked if Trump should be able to serve as the 47th president if he is convicted in the classified-documents case, 80 percent of likely GOP-primary voters had no problem with that scenario. That's loyalty.
Other surveys don't delve as much into Republican opinion, but they do show widespread belief in the electorate as a whole that the classified-documents charges are serious but may be politically motivated. A post-indictment survey from ABC News–Ipsos shows that opinions about Trump's conduct haven't changed much since the first indictment dropped in April:
Overall, 61% say the federal charges related to Trump's handling of classified documents are serious, compared to 52% answering the same about Trump's April indictment in New York on charges related to a payment of hush money.




Roughly half believe Trump should be charged, and should suspend his campaign (48% and 46%, respectively). These views are unchanged from April, when 50% said Trump should be charged and 48% agreed he should suspend his campaign.




On the other hand, 47% view the latest charges as being politically motivated, also unchanged from April (50%). These views are mainly driven by Republicans, while Democrats want to see Trump charged and to suspend his campaign. Interestingly, independents are split, with roughly half agreeing with all three sentiments.
Republican opinion-leaders, to be clear, haven't changed their tune since the first indictment either. With the exception of Asa Hutchinson, a self-styled anti-Trump candidate, Trump's 2024 rivals have either attacked his tormentors or withheld comment. Most notably, Ron DeSantis paused his increasingly toxic exchanges with Trump to defend the 45th president:
We obviously don't know yet whether future indictments will shake Republican confidence in Trump. But it's worth noting that his first speech after the federal indictment was at a Republican state convention in Georgia — not far from where Atlanta-based district attorney Fani Willis has been hinting indictments of the former president and some of his associates may arrive in August. As the Atlanta Journal-Constitution's Greg Bluestein reports, the MAGA-dominated GOP confab was seething with fury on Trump's behalf:
The Georgia GOP convention had hardly started when U.S. Rep. Marjorie Taylor Greene took the stage and tore into the Justice Department over the historic federal indictment that had just been unveiled against Donald Trump.




Greene was no outlier. In speeches, interviews and remarks from the chaotic convention floor, activists and high-ranking party officials dismissed the criminal charges against Trump as retaliatory witch hunts and professed their support for his comeback bid.
Trump himself delighted the crowd with attacks on Willis and other prosecutors, Bluestein noted:
The former president used his roughly 90-minute speech to more than 2,000 delegates to frame himself as a victim of "vicious persecution" from politically motivated prosecutors who were agents of a Washington system that would stop at nothing to block his return to power.




"Witch hunt, witch hunt. Scam. Hoax," Trump said, alleging that the criminal probes amount to "election interference" that would inevitably backfire on President Joe Biden and his supporters. Trump's campaign, by contrast, was an epic "final battle" against corrupt powers in Washington.




"In the end, they're not coming after me, they're coming after you," Trump told the delegates.




The audience egged him on as he labeled Fulton County District Attorney Fani Willis a "lunatic Marxist" for her probe into his attempt to overturn his defeat, and dubbed special counsel Jack Smith a "deranged" bureaucrat.
Even if his legal troubles begin to erode the breadth of Trump's base of support, it looks like this will only increase the intensity of loyalty from the passionate partisans most likely to vote in primaries.