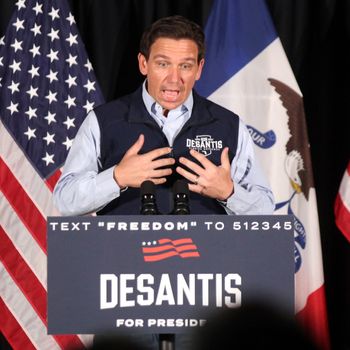 Ron DeSantis blasts the debt deal as part of his latest strategy of going as far to the right as he can.
Photo: Josh Funk/AP
There's an air of celebration in Washington over the relatively comfortable margin by which the U.S. House passed the Biden-McCarthy debt-limit deal. It's just a matter of time (and some posturing on the floor) before the Senate goes along, thus averting the unknown but terrifying economic perils of a U.S. debt default. Among Republicans, there's lots of talk about Kevin McCarthy turning out to be some sort of strategic genius, keeping conservative defections in the House on the final vote down to 71, or just under a third of the House GOP membership.
But do you know who sided with those far-right dissenters who were willing to plunge the national and global economy into chaos? Most of the 2024 Republican presidential candidates, that's who. Donald Trump opened the extremist bidding well before the actual deal was struck, suggesting during his May 10 CNN town-hall event that a debt default was an acceptable outcome if it was necessary to achieve "massive cuts" in spending. His most formidable rival, Ron DeSantis, who has decided he must get to Trump's right wherever and whenever possible, was far more definitive about the actual deal, as Politico reported:
"Prior to this deal, our country was careening towards bankruptcy, and after this deal, our country will still be careening towards bankruptcy, and to say you can do 4 trillion of increases in the next year and a half, I mean, that's a massive amount of spending," DeSantis, who recently announced his 2024 presidential bid, said on "Fox & Friends."
Mike Pence was his usual grave self, addressing the authors of the debt deal as though they were irresponsible teenagers, as The Hill reported:
"Congress' debt limit deal doesn't just kick the can down the road, it uses Washington smoke and mirror games to make small reforms while weakening our military at a time of increasing threats from foreign adversaries," Pence said in a statement through his political advocacy group.




"It's time to be honest with the American people and get everybody to the table to restore fiscal integrity to our nation."
Nikki Haley took advantage of her lack of Washington experience by not only criticizing the Biden-McCarthy deal but blasting Trump and DeSantis for supporting past debt-limit deals, according to the Washington Examiner:
Republican presidential candidate Nikki Haley slammed former President Donald Trump and Gov. Ron DeSantis (R-FL), the two GOP 2024 front-runners, for their debt limit support record as Congress scrambles to avoid a default on the nation's bills before June 5.




In an email to reporters Tuesday, the Haley campaign attacked Trump and DeSantis for supporting a 2018 measure that increased the nation's debt ceiling. DeSantis, then a member of the House, voted for the Bipartisan Budget Act of 2018, which Trump signed into law.
Vivek Ramaswamy is cultivating an "outsider" persona, so naturally he bluntly opposed the debt deal:
And the only presidential candidate (or likely presidential candidate) who actually has a vote on the deal, Senator Tim Scott, told Axios he'd be voting "no":
"Is it in our best interest as a nation to allow Joe Biden, someone who we cannot trust on spending, to have an open checkbook … until the end of his term?" Scott said during an Axios News Shapers event on Wednesday.




"The fact that the current deal allows for him to continue to spend, however much he does with no limit, is something that I can't support."
The only announced or near-certain candidate to say anything positive about the debt deal ("It's not perfect, but we need to get this resolved") was Asa Hutchinson, confirming his outlier status in the 2024 field.
It's hardly breaking news that candidates for a presidential nomination in either party, and particularly the more ideologically uniform Republican Party, are focused on pleasing the party base rather than looking all moderate and reasonable for general-election swing voters. But still, it's notable that so many GOP candidates are willing to give the back of their hands to both the House and Senate leadership of their party and casually embrace a course of action that might have had catastrophic consequences. Sure, would-be presidents strutting their stuff among activists in Iowa and New Hampshire are always going to be absorbed with showing they have a "spine" when it comes to battling the evil minions of the opposing party. But it shouldn't be too much to ask that they exhibit some brains as well in steering clear of the road to economic perdition.