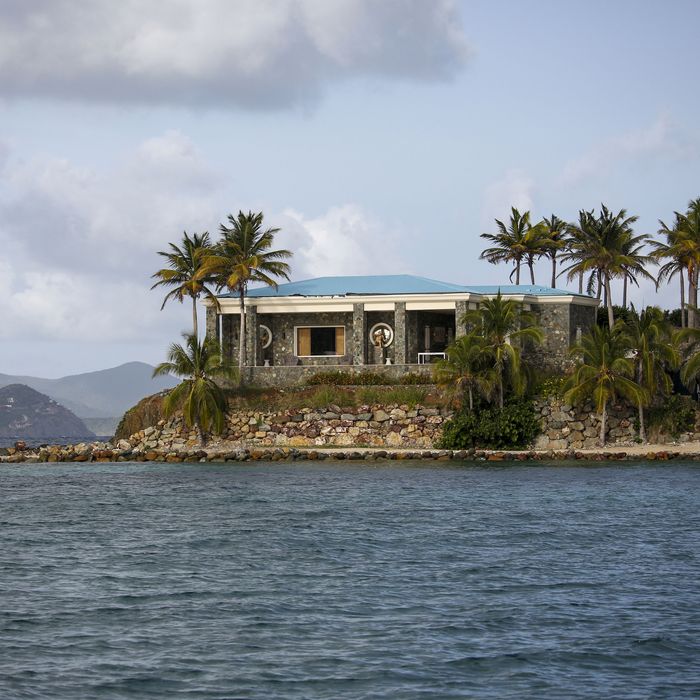 Photo: Marco Bello/Bloomberg via Getty Images
In order for Jeffrey Epstein to run his heinous child-sex-trafficking operation, he needed two very important things: a place to do it and the money to keep it going. For the location, the U.S. Virgin Islands was a central stop (along with New York and London). For the funds, he used JPMorgan Chase as his bank for about 15 years. Late in 2022 — three years after Epstein's death in a New York jail cell — the Virgin Islands attorney general accused JPMorgan in a civil suit of facilitating human trafficking by turning a blind eye to the flow of money out of the bank, essentially arguing that it should have known what was going on with Epstein. On Thursday, JPMorgan filed a 26-page motion, along with 68 exhibits, that sought to cast blame back on the Virgin Islands, arguing that it is too compromised because of the Island's former first lady, who worked for Epstein, helped secure visas for girls, and even tried to water down a sex offender registry law to help him.
JPMorgan argues that Epstein essentially bribed the Virgin Islands to ignore the "keeping of young girls on his island."
The crux of the bank's argument is that the U.S. Virgin Islands shouldn't be able to bring the suit in its current form and go after the damages it's seeking because its government also holds responsibility for aiding Epstein. The Caribbean islands' government was able to turn a blind eye to his trafficking operations — and his 2009 public conviction of soliciting a child — because he was donating so much money. That money went not only to fund the ruling politicians and their allies, it went to libraries for schools, JPMorgan claims. "For two decades, Epstein maintained a quid pro quo relationship with USVI's highest-ranking officials," the bank alleges. "He gave them money, advice, influence, and favors. In exchange, they shielded and even rewarded him, granting him more than $[redacted] million in tax incentives, looking the other way when he walked through USVI airports accompanied by girls and young women, and even facilitating ESL classes and visas that allowed Epstein to bring victims to his island."
"In sum, in exchange for Epstein's cash and gifts, USVI made life easy for him," the bank argues. "The government mitigated any burdens from his sex-offender status. And it made sure that no one asked too many questions about his transport and keeping of young girls on his island."
The First Lady of the Virgin Islands allegedly aided in the human trafficking.
Probably the most damaging parts of the exhibits are communications between Epstein and Cecile de Jongh, the former First Lady of the Virgin Islands. De Jongh had managed companies for Epstein since 2007, and in return, he paid the tuition for her and the governor's children, according to the filing. JPMorgan is accusing her of aiding Epstein by sending him the draft language of a bill that would restrict the travel of convicted sex offenders like him. Emails show that she did send him draft language in 2011 and then asked, "Will it work for you?" In follow-up emails, Epstein made further tweaks to the language that would have allowed him to take longer trips out of the territory and afforded him more privacy. "If we are not careful. A list of who I stay with should violate my privacy. Restrict my business and livelihood," he wrote. (Many of his emails are riddled with broken language and syntax.)
The wording de Jongh sent Epstein never made it into law. (A lawyer for de Jongh didn't return an email seeking comment, and his phone line was busy. She has not been accused of any crime.) It's unclear how helpful it would have been, anyway, since Epstein was clearly already running an illegal trafficking operation on his island. What's unclear here is how much sway de Jongh actually had in the government. In emails between her and Epstein a year later, she appeared to explain that another politician had outmaneuvered her husband politically to keep the watered-down legislative language out of the bill. "However, all is not lost and we will figure something out by coming up with a game plan to get around these obstacles," she wrote.
She also helped Epstein get visas for his victims.
De Jongh's political influence might have been weak, but it appears she was directly involved in helping Epstein bring individual girls to his island. In four exhibits, de Jongh communicated with a professor at the University of the Virgin Islands and an executive at an arts group in order to find ways for Epstein to get visas for his victims. In one June 27, 2013, email, de Jongh appears to have persuaded the university to create an English as a Second Language class specifically so Epstein could have a reason to bring his victims to the island. "Can you please let me know what you want to do re the ESL class at UVI? They are structuring the class around the ladies. Please let me know so they know what to do or not to do," she wrote.
The government of the Virgin Islands was nervous about the media covering its relationship with Epstein.
In October 2019, about two months after Epstein died, two New York Times reporters sent an email to the Virgin Islands Economic Development Authority. The questions were focused on tax incentives Epstein had received and asked whether the authority was "comfortable with the answers it received from Mr. Epstein about his business practices & activities over the years." Later that day, the authority's managing director for economic development sought feedback internally on how to respond, saying, "I personally think the questions are opening us up to public scrutiny." A story published the following day noted the authority had allowed Epstein to evade regulators' scrutiny.
The Virgin Islands claims the emails were "cherry-picked."
The Virgin Islands hasn't denied the emails were sent or provided an explanation for de Jongh. (Her husband, John, lost reelection as governor in 2015.) "JPMorgan Chase has cherry-picked and mischaracterized Epstein's interactions with U.S. Virgin Islands officials and residents in an attempt to distract and shift blame away from its role in facilitating Jeffrey Epstein's heinous crimes," Venetia Velazquez, a spokesperson for the Virgin Islands attorney general's office, said in a statement. "JPMorgan Chase seeks to attack the people of the Virgin Islands for not discovering the very information that bank executives refused to share. JPMorgan Chase had a legal responsibility to report the evidence in its possession of Epstein's human trafficking, it failed to do so, and it should be held accountable for violating the law."
It's not an airtight argument.
JPMorgan is trying to put the kibosh on the suit the Virgin Islands filed against it by citing something called the "doctrine of unclean hands." Essentially, this allows a defendant in a civil suit to have a case dismissed if the suit is brought in bad faith, especially if the plaintiff has engaged in the same behavior.
But there are problems with this theory. "This is perhaps an unprecedented invocation of the doctrine," said Jonah M. Knobler, a partner at Patterson Bellknap who has written about the doctrine. Knobler said the behavior by the plaintiff has to be practically a "mirror image" of what's being alleged, and it's not clear that this is the case here. It's also a high bar to accuse a government of being too compromised to bring a suit, he said. "When a private company comes into court, they're trying to advance their private interests. Whereas when the government comes into court, by supposition they're trying to advance the public interest," he said. (JPMorgan is arguing that the Virgin Islands is acting more like a private litigant than a government, so that protection wouldn't apply.)
Whether that holds up remains to be seen. The Supreme Court has ruled the doctrine gives judges wide discretion in how it can be applied, Knobler told me. The case is currently before Manhattan federal-court judge Jed Rakoff, who often sided with a group of Epstein's victims in a civil class-action suit. (On Monday, JPMorgan offered to settle that suit for as much as $290 million. It still needs to be approved by the court.) JPMorgan has already said it regrets working with Epstein but stopped short of admitting any responsibility. If the bank prevails, it's unclear what would happen with the case — and whether anyone else will ever share the blame.