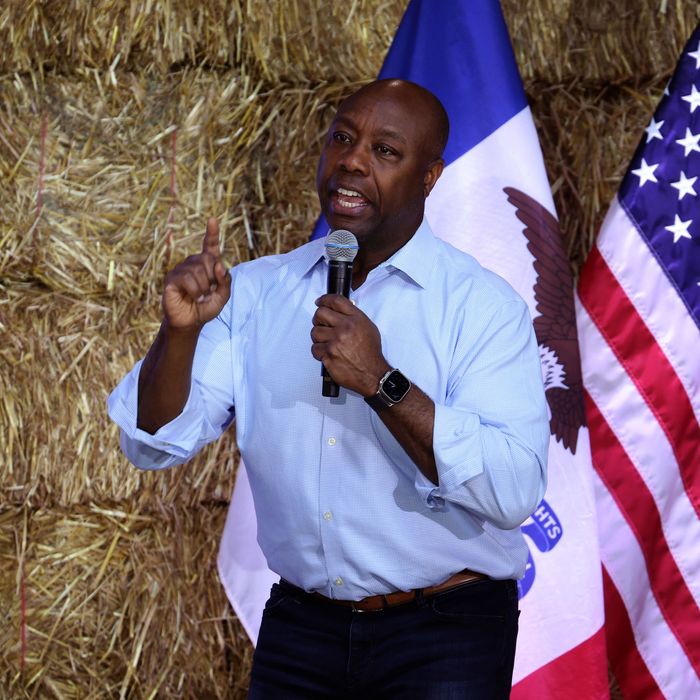 Tim Scott on the stump in Iowa.
Photo: Scott Olson/Getty Images
One of the great traditions of the Republican Party is to seek politicians who make strident conservative ideology more palatable by exhibiting personal charm. That was the secret, after all, of Ronald Reagan, who sold Barry Goldwater's policies in a way that did not make voters want to bury him in an electoral landslide. Today's most prominent exhibitor of the politics of the iron fist in a velvet glove is 2024 Republican presidential candidate and U.S. senator Tim Scott. Almost invariably described as "sunny" and "upbeat" and "optimistic," the South Carolinian often delivers savage right-wing talking points with a smile that seems to disarm or even lobotomize critics. A good case in point is the op-ed Scott penned Friday for the Des Moines Register on abortion policy, a red-hot issue among the likely caucusgoers of Iowa. He took the hardest line available, albeit one that shifts responsibility for making national abortion law to the Congress he would leave if elected president:
I am 100 percent pro-life. When I am president of the United States, I will sign the most pro-life legislation the House and Senate can put on my desk. We should begin with a 15-week national limit.
To be clear, that means preempting any state laws more generous to pregnant women than forced birth after 15 weeks of pregnancy (while leaving more draconian laws in place), and Scott makes no bones about the fact that this step is just for starters. The occasion for this line-drawing, of course, is the first anniversary of the Supreme Court's Dobbs decision ending 49 years of a federal constitutional right to choose pre-viability abortions. And Scott is definitely "upbeat" about that dark day for reproductive rights:
One year ago this week, a generation of prayers, votes, and marches for life paid off in an historic victory. I was proud to vote to confirm Justices Neil Gorsuch, Brett Kavanaugh, and Amy Coney Barrett, and I have never been prouder than I was last June 24 when they ignored the angry mobs, followed the Constitution, and overturned Roe v. Wade. The Dobbs decision further bolstered the right to life and allowed our nation to begin repairing a terrible decision.
But hey, Scott's famous empathy for people who disagree with him is on display alongside his excitement over the "historic victory":
I will never pretend to know what a woman goes through when making this difficult decision, but I have provided a listening ear when dear friends of mine have experienced this life-changing choice themselves. In one friend, I saw the sadness and regret that followed in abortion's wake. In another, I saw the peace and joy that came with choosing life. Watching both sides of that choice play out firsthand opened my eyes even wider.
The "choice," Scott pretty clearly believes, is between right and wrong, and he's eager to use the force of law to compel those "dear friends of mine" to do right. His tender-hearted concern for women does not extend to those who are advocates for abortion rights. He calls Janet Yellen's common-sense observation that abortion is financially necessary for some women "a disgusting, depraved statement."
Scott is likely being driven to such uncivil rhetoric by the exigencies of his situation in Iowa. He needs a big showing there if he has any hope of surviving until his home state votes in February of 2024. And like successful long-shot candidates before him, he's chosen Iowa's abundant and politically very active conservative Evangelicals as his chief audience. They and particularly their leaders are very focused on abortion policy. Earlier this week, longtime Iowa Evangelical kingmaker Bob Vander Plaats (the leader of the powerful Family Leader organization, who has backed successful upset bids in the caucuses by Mike Huckabee in 2008, Rick Santorum in 2012, and Ted Cruz in 2016) joined a panel with Senator Lindsey Graham, author of a 15-week national abortion-ban bill. Vander Plaats made it clear that whether or not national anti-abortion groups make a national ban an absolute litmus test, he sure is, as the Register reported:
A panel of anti-abortion advocates sent a message to Republican presidential hopefuls campaigning in Iowa: Embrace a national abortion ban or risk losing in the caucuses. … "We want a champion for the sanctity of human life," Vander Plaats told a crowd of around 50 at the church and hundreds more on a livestream. "We want them to be clear on this issue, not nuanced on this issue."
Graham, who is backing Donald Trump's comeback bid, acknowledged that his guy hadn't met the litmus test yet, but predicted he "will get there." Ron DeSantis's local supporters can tout the six-week abortion ban he signed, which is very similar to the legislation sponsored by Vander Plaats's close ally, Iowa governor Kim Reynolds. And Mike Pence, who has taken the same decidedly churchy approach to the nomination fight as Scott, has already taken the same "I'll sign anything!" position on abortion. So Scott is under a lot of pressure to kick out the jams on this issue. It's just unclear his reputation for sunniness and uplift will survive his Iowa campaign.