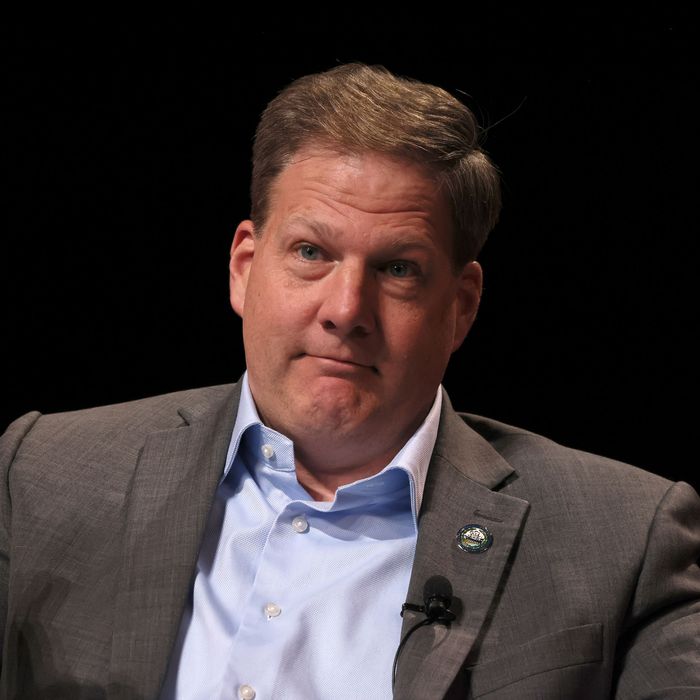 Chris Sununu will play his strongest hand as a 2024 influencer rather than a candidate.
Photo: Jemal Countess/Getty Images for TIME
During a week when three new candidates (Chris Christie, Mike Pence, and Doug Burgum) are expected to join the 2024 Republican presidential field, one politician thought by some to be champing at the bit to run announced he was doing no such thing. New Hampshire Governor Chris Sununu, who upset Beltway Republicans by declining to run for the Senate in 2022, upset some more Beltway Republicans eager for him to take on Donald Trump, or at least create a big stumbling block for the former president in the second stop on the road to the presidential nomination. Sununu announced his decision on CNN and then quickly explained his reasoning in a Washington Post op-ed to his fan base in our nation's capital.
His thinking is pretty solid:
Our party is on a collision course toward electoral irrelevance without significant corrective action. The stakes are too high for a crowded field to hand the nomination to a candidate who earns just 35 percent of the vote, and I will help ensure this does not happen.




The path to winning was clear, but I believe I can have more influence on the future of the Republican Party and the 2024 nominating process not as a candidate but as the governor of the first-in-the-nation primary state
The "35 percent" comment was a reference to Trump's performance in the 2016 New Hampshire primary, when seven other candidates split 63 percent of the vote. Without question, if Sununu appeared on the 2024 ballot in New Hampshire, he'd be more likely to split the non-Trump vote than to beat the former president; the RealClearPolitics polling averages for New Hampshire show Sununu as a prospective candidate at 14.3 percent with Trump easily leading the field with 41 percent. Perhaps more to the point, had he appeared on the ballot, Sununu might have deeply annoyed his constituents by seeking to take the Granite State off the table in the race for the nomination by presenting a favorite-son candidacy unlikely to carry over well to other states.
As a non-candidate, Sununu said in his Post op-ed, he would be "unafraid to speak candidly about issues, candidates and the direction of our party, untethered from the limitations of a presidential campaign and unleashed from conventional boundaries." He also made it clear what that means: "I plan to endorse, campaign and support the candidate I believe has the best chance of winning in November 2024."
In a follow-up interview with New Hampshire's WMUR, the governor left no doubt that the most electable prospect wouldn't be Trump:
"Donald Trump's the past. He's trying to re-litigate 2020 and talk about Jan. 6 and all that sort of thing," Sununu said. "We need to be about the future and get those independents excited that it isn't just a one-size-fits-all, big-government solution out of Washington."




"That Donald Trump message killed us in '18, really hurt us in '20. We should have 53 U.S. senators right now, but his message killed it," Sununu added.
All the non-Trump candidates already or prospectively in the field are likely happy that Sununu won't be sucking the oxygen out of New Hampshire as a candidate, and some may soon be angling for his endorsement. The Republican happiest about Sununu's non-candidacy, though, is probably Ron DeSantis, the candidate most likely to come roaring out of Iowa with some momentum. Indeed, Sununu went out of his way to pour cold water on non-viable 2024 campaigns, telling CNN "every candidate needs to understand the responsibility of getting out and getting out quickly if it's not working." And his op-ed also contained a dig aimed at unserious 2024 aspirants: "candidates should not get into this race to further a vanity campaign, to sell books or to audition to serve as Donald Trump's vice president."
I'm sure Sununu is aware that the two South Carolinians in the 2024 field, Nikki Haley and Tim Scott, are often suspected of actually angling to become veep.
It's possible that the value of a potential Sununu endorsement could give team DeSantis some pause in pursuing what currently looks like a strategy to get to Trump's right and stay there: The more DeSantis out-MAGAs the founder of the MAGA movement, the less he may fit Sununu's model for a party-expanding moderate conservative. But New Hampshire won't matter to anyone who doesn't make a mark in Iowa, and there, all paths to victory involve a sharp right turn.
As for Sununu's own political career, this latest move leaves all options open. He can now run for a fifth two-year term as governor; he's already served in that position longer than his father, John H. Sununu. Or he could seek to replace Democratic Senator Jeanne Shaheen (who will be 79 when her current term expires in 2026), becoming the second member of his family to serve there (his older brother, John E. Sununu, lost his Senate seat to Shaheen in 2008). This latest member of the Sununu clan is only 48; he could be a dreamboat for Beltway Republicans for years to come.