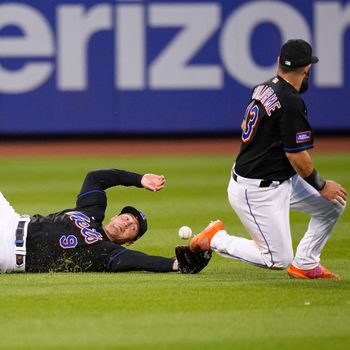 It's another one of those seasons.
Photo: Frank Franklin II/AP
No sports team has more deeply fatalistic fans than the New York Mets, and I'm not sure it's even close. For years, I've written an annual Most Tortured MLB Fans column, which ranks each team's fans by how overdue they are for a World Series champion, and more important, how desperate they are for one. The Mets always make the top ten but rarely the top five — and never No. 1. Sure, 1986, the year the team last won a title, was a long time ago, my reasoning goes, but 37 years is still shorter than ten other teams' droughts. Yet making this observation — that it's possible other fan bases have it worse — never fails to get me howled at for days on end: Nothing makes Mets fans angrier than denying them their pain. No, the argument goes, we feel worse than anyone, you jerk.
I hope this does not sound like a criticism: To be this fatalistic — to truly believe that your passionate fandom will never be rewarded — is to care deeply. To be a Mets fan is to forever believe in a better tomorrow even when deep down you know it's all going to fall apart. To be a Mets fan is to be deeply, sublimely human.
As you can probably tell from those two paragraphs, It's, uh, not going great for the team right now. After a 4–2 loss to the defending champion Houston Astros on Tuesday night, the Mets stand at 34–39, mired in fourth place in the National League East. They're 13 games behind the first-place Atlanta Braves, the team they finished tied with atop the division last year. That's is despite a massive injection of cash in the offseason, during which the Mets paid Cy Young winner Justin Verlander, closer Edwin Diaz, outfielder Brandon Nimmo, Japanese import Kodai Senga, backup catcher Omar Narvaez, pitcher Jose Quintana, and three relievers a grand total of $492.1 million. That half a billion — half a billion, added to a payroll that was already the highest in baseball! — has led so far to a diminished team, one that's playing at a 27-games-worse-than-last-year pace and has inspired nightly showers of boos from the Flushing faithful. After 2022's surprisingly excellent season (which ended in typically heartbreaking fashion), the Mets were supposed to be World Series contenders this year; instead, Fangraphs has them only with a 1-in-4 chance to even make the playoffs.
What happened? A whole bunch of things have gone wrong at once. Verlander, 40, and Max Scherzer, 38, were supposed to constitute a formidable if aging, one-two punch. But they've often been hurt, ineffective, or both, with a 4.49 ERA over just 19 starts between them. Both pitchers are having the worst year of their career, though both have shown signs of life lately. The team has been ravaged by injuries all around — another common Queens motif and another thing that'll lead to fatalism. (It was more than a bad omen when Diaz shredded his patellar tendon celebrating a win during the World Baseball Classic, which ended his season before it began.) But a lot of the problem has come down to an even more familiar Mets motif: good old-fashioned underperformance by expensive stars, from Francisco Lindor to Jeff McNeil to Starling Marte. Add in manager Buck Showalter's tendency to play veterans like Tommy Pham and Daniel Vogelbach over prospects like Mark Vientos and Brett Baty, and you've got an old team playing poorly, which is the worst combination. The Mets have now lost 12 of their last 15 games. It's falling apart. Again. You can't blame Mets fans for tearing their hair out.
This wasn't supposed to happen under new owner Steve Cohen. He arrived talking a big game ("I want something great," he said, while saying a title in the first three to five years of his ownership would be a "major disappointment") and has made it clear he'll spend whatever it takes to win the World Series. It's fair to say that when he added half a billion to the team's payroll, "mid-June implosion" is not what he had in mind. The rest of baseball's owners — who have been so frustrated by Cohen's free-spending ways since taking over the team that they've imposed a "Cohen tax" for any payroll that gets too high — are surely chortling that the new guy is learning you can't buy a championship after all. If Mets fans are feeling particularly put-upon, they should: The rest of baseball is absolutely cheering their lousy season.
The thing is, though: You, uh, sorta can buy a championship. (Ask the 2009 Yankees, who, back then, spent $423 million on three players while opening up a $1.6 billion stadium, just a couple of months after the financial crisis … and were rewarded with a World Series, to date still their most recent one.) And you certainly have a better chance at winning one spending the way Cohen is than crawling through the Madoff Morass of the final years of the Wilpon era. It may be fun to rag on Cohen for spending money that hasn't translated into success this year, but trust me: You'd much rather have an owner who wants to open his wallet than one who doesn't. From that perspective, the Mets have the best owner in baseball.
Assuming Cohen doesn't lose all his billions backing Chris Christie's presidential run, he'll keep spending. And while this year's crop of signees aren't necessarily working out — though I must point out it is still only June — Mets fans don't need to worry too much, because there are more attractive options on the horizon. Will Cohen outspend everyone for Shohei Ohtani next year? Unlike just about every other owner in baseball, he will want to — and it's not out of the realm of possibility. Would he take on the contract of a frustrated Mike Trout if he could? Of course he would. It is not great to have overpaid veterans on your team, and the Mets have a lot of them. But there has also been a bit of a method to Cohen's spending madness. The Cohen plan is to pay the team's many veterans now, while they're still (theoretically) productive, and while the team waits for young talents to mature. According to Fangraphs, the Mets have the fifth-best farm system in baseball, but it's full of players, like catcher Kevin Parada (MLB Pipeline's No. 26 prospect in the game), outfielder Alex Ramirez (No. 76), and shortstop Jett Williams (No. 85), who are still two or three years away from reaching the big leagues. For all the money Cohen has spent, most of the big money has been on a short-term basis: Both Verlander and Scherzer, making $86.7 million a year combined, will be off the payroll in two years, as will most currently unproductive veterans Cohen has signed. (Lindor being the major exception, but he's still only 29 years old, hardly washed up.) Cohen is bringing in talent by paying for it rather than trading young players for it — like the Wilpons always did — which means in a few years, he'll have the future stars and the big-ticket items.
It makes sense. It is in fact exactly what a Mets owner should do, and what the Wilpons should have been doing for years. (And it's what the Dodgers and, to a lesser extent, the Yankees have been doing.) Right now it's not working, but given the youth of the team's prospects, Cohen's first few years were always likely to be a bit of a crapshoot anyway; if anything, it's sort of remarkable the Mets won as many games last year as they did. All told, they're as well positioned as any team in baseball. They have everything you want: An eager-to-spend owner with bottomless pockets; a load of young talent coming up; and, most important, a vast, engaged fan base that supports their team as fervidly as any in the sport. It's not working out for the Mets this year, as it has not worked out for them many seasons in the past. But the foundation is here. Be fatalistic all you want, Mets fans. Own your pain. Good times are coming. And they're probably coming soon.