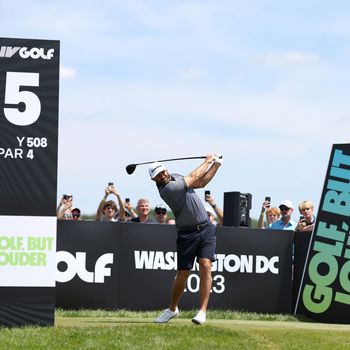 Photo: Rob Carr/Getty Images
In a shocking move, the PGA Tour announced on Tuesday that it would merge with LIV Golf after years of resisting the pull of the rival Saudi-funded organization. The deal was such a surprise that several PGA players reportedly weren't even informed of it beforehand.
In the end, it may not be so astonishing that a league built by and for rich guys took the money. But for the past three years, the PGA has waged a ferocious PR and legal campaign against LIV, in part by claiming the moral high ground. In 2020, PGA commissioner Jay Monahan warned its stars that if they played on the LIV tour, they would be suspended from PGA play. Last year, the PGA suspended 17 players, including Dustin Johnson and Phil Mickelson, after they appeared in LIV tournaments; Mickelson, the highest-profile PGA apostate, had reportedly signed a deal for $200 million with its competitor.
The PGA even filed an antitrust lawsuit against LIV, claiming that the league, which is backed by Saudi Arabia's sovereign wealth fund, was using "astronomical sums of money" to peel away golfers and using "the game of golf to sportswash the recent history of Saudi atrocities."
The suit was dismissed on Tuesday, and the PGA's resistance has been washed away in a monsoon of cash. "After two years of disruption and distraction, this is a historic day for the game we all know and love," Monahan said in the announcement.
According to the terms of the agreement, the Saudi sovereign wealth fund (formally known as the Public Investment Fund) is making a "capital investment" as the "exclusive investor" in the league, which combines LIV, PGA, and the PGA European Tour. (Any players suspended for joining LIV will go through a "fair and objective process" to rejoin the PGA Tour after the 2023 season.) While the PGA will retain a majority of votes on the board of directors, the board's chairman will be Yasir Al-Rumayyan, the governor of the Saudi sovereign wealth fund. On the side, Al-Rumayyan serves as the chairman of the soccer team Newcastle United. Oh, and he's also the chairman of Saudi Aramco.