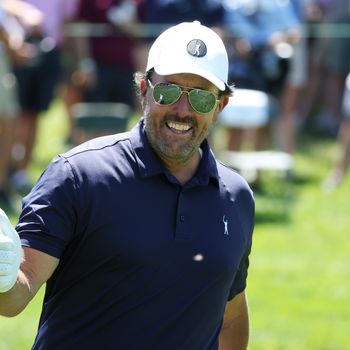 It was a good day for Phil Mickelson.
Photo: Warren Little/Getty Images
For two years, LIV Golf, the Saudi-backed sportswashing start-up launched as a rival to the PGA, has offered professional athletes ridiculous amounts of money to work less. If you were a PGA Tour member tempted by this compelling pitch, the organization, led by CEO Jay Monahan, made three basic arguments for you to stay.
(1) If you joined LIV, you'd be ineligible for major PGA events. (LIV Tour player Brooks Koepka won the 2023 PGA Championship, which severely damaged this argument.)
(2) What about the grand tradition of the PGA Tour? Listen to Tiger Woods!
(3) By playing on a Saudi-backed tour, you'd be confirming that you liked 9/11 and want the families who lost their loved ones to suffer.
(I'm not kidding on that last one, by the way.)
These arguments, while varyingly effective, had largely been winning the day. Yes, there were some high-profile LIV Golf defections — like Phil Mickelson, who, just before signing up with the Saudis, said, "They're scary motherfuckers to get involved with" and "We know they killed Khashoggi and have a horrible record on human rights. They execute people over there for being gay." But major stars like Woods, who reportedly turned down a nearly billion-dollar offer from LIV, mostly stuck with the tour they knew. LIV's TV ratings were very poor, and there were rumblings this winter that the whole thing might fold. It seemed that the PGA Tour — hardly an organization known for its nobility or altruism — was managing to subdue its rival while maintaining the moral high ground.
But what the PGA didn't have was access to a bottomless chasm of Saudi oil money. And it turns out that's all it really wanted.
The PGA Tour's merger with LIV Golf, announced out of the blue on Tuesday morning, could be called a betrayal of every principle the PGA ever espoused. But you can only say that if you were ever enough of a sucker to believe the PGA had any in the first place. But it has been a rough day for PGA players who really did seem to subscribe to that idea. According to multiple reports, golfers who have spent the last two years defending Monahan's arguments found out about the merger via social media. This was a necessary reminder that the PGA has never been a wholesome, ethical organization (its labor problems are just the tip of the iceberg). It only looked good compared to the alternative.
With the merger, the Saudis get their most high-profile entry into the world of sports — the biggest success story of a project they've been working on for years. And the PGA Tour gets access to all of the money it wants. Both sides "win." And everyone else — including anyone who would like to watch a professional-golf event without the echoes of bone saws rattling around their subconscious — loses. Monahan is scheduled to meet with the golfers who stayed with the PGA Tour on Tuesday afternoon. They will be furious and have countless questions they'll want answered. But they'll already know all of the answers. They probably should have known in the first place. And they won't get fooled again. Neither should anyone else.
Correction: A previous version of this article mistakenly stated that Jon Rahm, who won the 2023 Masters, was an LIV tour golfer.