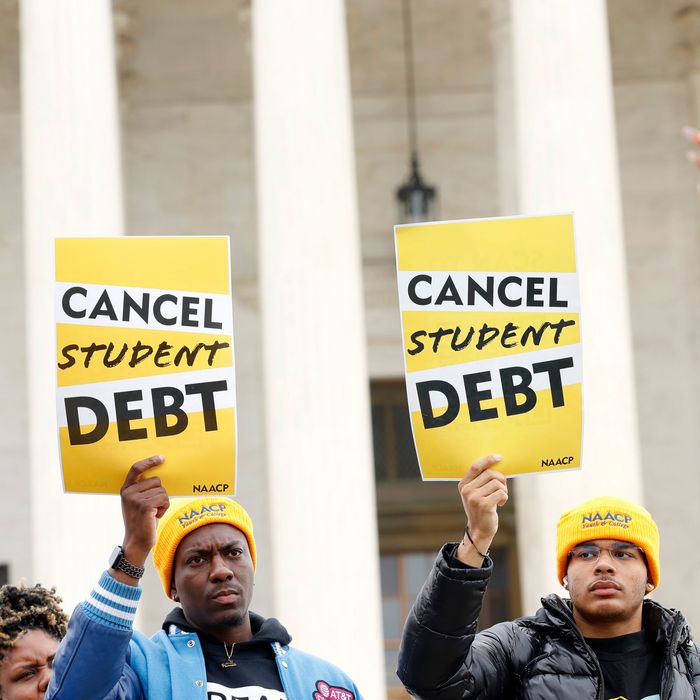 Photo: Jemal Countess/Getty Images for People's Rally to Cancel Student Debt
On Friday, the Supreme Court blocked $430 billion in federal student-loan relief, saying that the Biden administration's plan was unconstitutional. The plan was to use the authority of the HEROES Act, a 2003 law expanding authority for the Department of Education, to modify the outstanding debt all the way down to zero. The relief plan was always controversial: It was derided as socialism on the right, but had the policy passed, it would have been a financial lifeline for 20 million people. Student loans are now among the largest categories of debt in the U.S., with $1.8 trillion outstanding, and it would have reduced, or zeroed out, of as much as $20,000 in individuals' balance held by the federal government. But in a 6-3 opinion written by Chief Justice John Roberts, the Court ruled that the law "does not authorize the Secretary's loan forgiveness program." The decision wasn't a surprise — most of the justices had expressed skepticism about the amnesty back in February — but it comes as the three-and-a-half-year pandemic-related pause on student loans is nearing its final months.
But the Supreme Court ruling is not the end of the student-loan relief. When the White House first announced its plan, it essentially had three parts: the onetime debt wipeout, a free community-college tuition program (which was DOA in Congress almost as soon as it was proposed), and a plan to expand access to other relief and grant programs that already existed. It's that last part that's been doing much of the work. The Department of Education has erased $66 billion in debt since 2021 for people who work in public service, easing — or totally wiping out — the federal student-loan debts of 2.2 million people. More than a million other people have had their debts from for-profit colleges and scammy vocational schools eliminated. Measures like these work in smaller, less spectacular amounts, and can seem like mere bureaucratic tinkering at the margins, but the relief they can provide over time will soon add up to far more than a single-shot program.
Take the income-driven repayment plan. This is a key part of what has survived in the White House's plan, and it revolves around a Department of Education plan that already helps low-income people pay back, and eventually expunge, their federal student loans. Under the new proposal, monthly payments will get cut in half, and it will take half the time for people to see all their debt expunged. (It was formally proposed in February and hasn't been finalized, so things could still change.)
Here's how it works. As it stands, people who make under about $36,400 a year pay no more than 10 percent of their disposable income for their federal student loans. After 20 years, the debt is wiped out. The new rules proposed by the White House make that significantly more lenient. Should it pass in its current form, more people would qualify under the plan: The annual income threshold would rise to about $47,385. That would extend the relief to a little more than 40 percent of Americans, according to 2021 income surveys from the Labor Department. Everyone who qualifies would then be required to pay no more than 5 percent of their annual salary on their student loans — effectively halving the monthly loan bill. And the debts will also be forgiven after ten years, rather than 20. The upshot here is that more people will have to set aside a smaller share of their income to pay for loans — and they'll be able to walk away from them after a shorter period of time. This provision would affect about 20 percent of outstanding student-loan debt, according to a Brookings analysis.
On Friday afternoon, President Biden held a press conference from the White House and said the Supreme Court decision "was a mistake, was wrong." He also announced that his administration is going to move forward via a different statutory authority, the 1965 Higher Education Act, which allows the Department of Education to "compromise, waive, or release loans." According to the text of the proposed rule, this appears to be taking the form of a new committee in the Department of Education and would have to survive a hearing and public comments. While Biden said this second attempt at federal-student-loan forgiveness is legally sound, it's "going to take longer" for that to take effect. (And it will surely face its own challenge.) Biden also said he is ordering the D.O.E. not to refer missed student-loan payments to debt-collection agencies for 12 months. "During this period, if you can pay your monthly bills, you should. But if you cannot, if you miss payments, this onramp temporarily removed the threat of default," Biden explained.
The Supreme Court's decision is a bad one for most people who make more than $45,000. Even though that's about half of Americans, it's by far the majority of the 45 million people who actually hold student loans. When the Biden administration first unveiled its plan to wipe out debt, it only applied to people who made $125,000 or less or couples who made double that. It was a progressive veneer on an economic problem that is, at its core, worse for those in the middle class. Two of the three prongs of Biden's student-loan plan have been killed since it was first introduced — but what remains is the most progressive part.
This post has been updated to include the revised White House plan announced Friday.