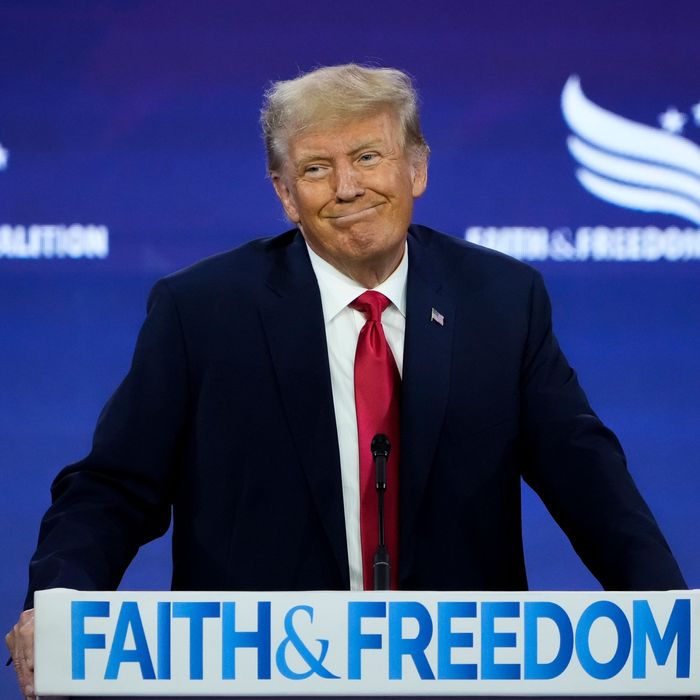 Photo: Drew Angerer/Getty Images
Audio recordings have landed Trump in hot water time and again — from the Access Hollywood tape to his "perfect" phone call with Ukrainian president Volodymyr Zelenskyy and the recorded call in which he asked Georgia's secretary of State to steal the 2020 election for him. Nevertheless, in July 2021, Trump agreed to let a publisher and writer working on his former chief of staff Mark Meadows's book record their conversation, then proceeded to brag about how he had a highly classified document about Iran at his postpresidential residence in Bedminster, New Jersey.
A partial transcript of the exchange was included in the indictment against Trump, who is facing 37 felony charges related to his alleged mishandling of classified documents. Now CNN has obtained new audio of the conversation, which is key to special counsel Jack Smith's case. The recording was released on Monday evening:
Trump has finally produced the "perfect" audio clip — in a sense. This is truly a masterpiece of self-incrimination. Here's what the former president accomplishes in this just two-minute conversation:
• Trump produces a document in an effort to counter a report that General Mark A. Milley, chairman of the Joint Chiefs of Staff, was worried that Trump would attack Iran during his last days in the White House. Trump's commentary suggests he was looking at military war plans:
Isn't it amazing? I have a big pile of papers. This thing just came up. Look. [papers shuffling] This was him. They presented me this — this is off the record — but they presented me this. This was him. This was the Department of Defense and him.
Later, he makes it even clearer that the "they" who'd authored the document is the Pentagon, saying, "This was done by the military and given to me."
• Trump explicitly states that the document is still classified and that he, as ex-president, no longer has the power to change that. He suggests that while the paper "totally wins my case," he can't use it publicly, because it is "highly confidential." Then he laughs as he presses civilians to review the document, adding, "Secret. This is secret information. Look, look at this."
Moments later, Trump explains there's nothing he can do about the document's status at the moment. "See, as president, I could have declassified it. Now I can't, you know, but this is still a secret," Trump says. Multiple people are heard laughing as his staffer offers the prescient quip, "Now we have a problem!"
• Trump's hypocritical humor boosts the clip's entertainment value. He jokes with aides about Hillary Clinton's emails while brandishing classified documents himself. Then the former president, who was recently found liable for sexual abuse and defamation against writer E. Jean Carroll, laughs about the idea that Clinton shared it with "pervert" Anthony Weiner.
The clip ends with Trump saying, "Hey, bring some, uh, bring some Cokes in, please," a nod to his terrifying soda addiction.
Team Trump's response to the audio clip's release was typically nonsensical. A spokesman said in a statement that "the audio tape provides context proving, once again, that President Trump did nothing wrong at all." He noted, irrelevantly, that Trump is heard "speaking rhetorically and also quite humorously about a very perverted individual, Anthony Weiner."
On Truth Social, Trump claimed that the clip actually exonerates him — with no explanation:
But maybe we're the fools here, not Trump. Yes, audio recordings are at the heart of some of the darkest moments of his campaign, presidency, and recent legal troubles. But it's unclear if Trump will ever face serious consequences for his habit of confessing to crimes on tape.