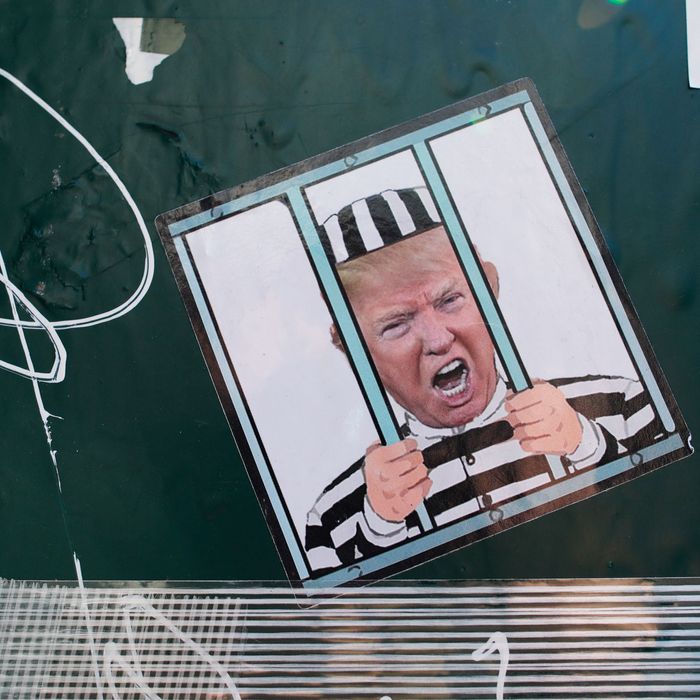 Photo: Kena Betancur/Getty Images
For most people, getting a mug shot taken isn't something to look forward to. But, of course, Donald Trump is not most people. In the days following his indictment by a Manhattan grand jury, it was clear that the former president wanted his April 4 arraignment to be a massive spectacle. And a mug shot was a key element of his plan to add himself to the list of unjustly persecuted icons, alongside Martin Luther King Jr., Nelson Mandela, and even Jesus Christ — while making a shit ton of money in the process.
But there was one problem: New York law-enforcement officials robbed Trump of his money shot. Authorities took Trump's fingerprints but did not handcuff or photograph him. The booking photo wasn't necessary, as Trump isn't considered a flight risk and has one of the most recognizable faces in the world. Plus, if the image leaked that would be illegal, and officials didn't want to deal with the additional drama, as the New York Times reported.
Now that he's facing 37 federal felony charges for allegedly hoarding classified documents at Mar-a-Lago Trump has a second shot at photographic greatness — but he's reportedly struck out again. ABC News's Katherine Faulders reported that there will be no mug shot when Trump is arraigned for a second time in Miami on June 13.
In retrospect, maybe Trump's cronies shouldn't have gotten MAGA world so hyped about this photo. In the lead up to the first indictment, former Trump White House spokesman Hogan Gidley assured Time that "we'll have a mug shot," joking, "For the record, it will be the most manly, most masculine, most handsome mug shot of all time."
And Trump's daughter-in-law Lara made a similar prediction to Sean Hannity on indictment eve:
Top members of Team Trump were even plotting how to milk the mug shot for fundraising and merchandizing dollars, as Rolling Stone reported:
Senior members of Team Trump have already casually discussed, the sources say, options for putting the ex-president's mugshot on merchandise, hats, T-shirts, and other garments, and also for blasting out fundraising pitches to donors and Trump supporters that would include the mugshot, possibly in meme'd format. 




One of the sources reveals that Trump was recently briefed that a 2024 fundraising blitz, centered around the mugshot, would almost certainly net the Trump campaign millions of dollars. (Trump has already leaned into the infamy of his legal problems as a fundraising tool, announcing Monday his campaign raised $4 million in the first 24 hours after the indictment.)
While Trump was still in the Manhattan Criminal Courts Building on April 4 his campaign sent out an email offering contributors a t-shirt featuring a fake photo:
But law-enforcement officials' depriving Trump of his mug shot — twice —is still a hit not just to his ego but to his finances. As they say, better luck next indictment.
This post has been updated throughout.