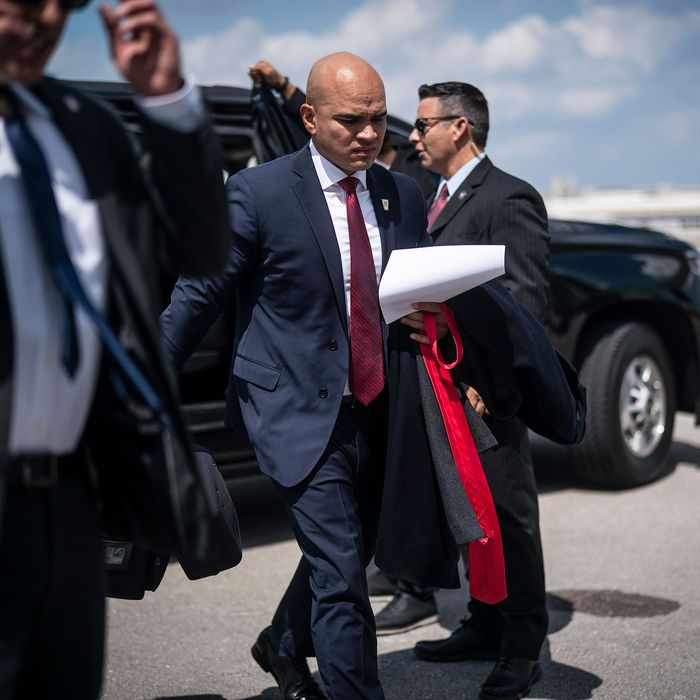 Walt Nauta follows Trump as they board his airplane at Palm Beach International Airport on Monday, March 13, 2023.
Photo: Jabin Botsford/The Washington Post via Getty Images
Donald Trump's federal indictment over his handling of classified documents is a sordid tale involving secret plans to attack Iran, flooded resort pools, and existential threats to our democracy. But a beautiful love story may be emerging from all the chaos. No, it's not about Melania standing by her husband, or even Ivanka supporting her dad; the women in Trump's life have been distancing themselves since his last indictment over paying hush money to a porn star. It's a tale about a leader finally finding the loyalty he's been craving all his life … in his relationship with his Diet Coke valet.
On Friday, Trump revealed on Truth Social that his personal aide Walt Nauta, who was once tasked with responding every time the president pressed his famous Oval Office Diet Coke button, had been indicted alongside him in the classified documents case:
The unsealed indictment revealed that Nauta had been charged with six counts, including conspiracy to obstruct justice, withholding a document or record, corruptly concealing a document or record, concealing a document in a federal investigation, scheme to conceal, and false statements and representations.
Two sources confirmed the story to CNN, which reported that Nauta was with Trump at his Bedminster, New Jersey, golf club this week when Trump was told he had been indicted. The specific charges against Nauta, and how much he might have shared with the Feds, remains unknown.
But for now it appears that Nauta is still literally and spiritually by Trump's side — which was not always a given. Nauta is a key witness in the Justice Department's investigation, as he was reportedly personally directed by Trump to move boxes of documents from a Mar-a-Lago storage area to his private residence, both before and after the former president received a subpoena the materials. His loyalty to Trump was tested when he was questioned by FBI agents, as the Washington Post reported in October:
When FBI agents first interviewed Nauta, he denied any role in moving boxes or sensitive documents, the people familiar with the situation said in interviews before Nauta's name became public. But as investigators gathered more evidence, they questioned him a second time and he told a starkly different story — that Trump instructed him to move the boxes, these people said.
The New York Times reported at the time that prosecutors were "using the specter of charges" against Nauta "for misleading investigators to persuade him to sit again for questioning." But months later, Nauta was still firmly on Team Trump. The Post revealed in December that Trump's Save America PAC was covering legal bills for Nauta and other key witnesses in the documents case.
At least Trump has Nauta, the Samwise to his Bizarro World Frodo, with him, here at the end of all things (or, rather, here at the start of a drawn out legal process that could end with Trump back in the White House).
This post was updated after the indictment was unsealed.