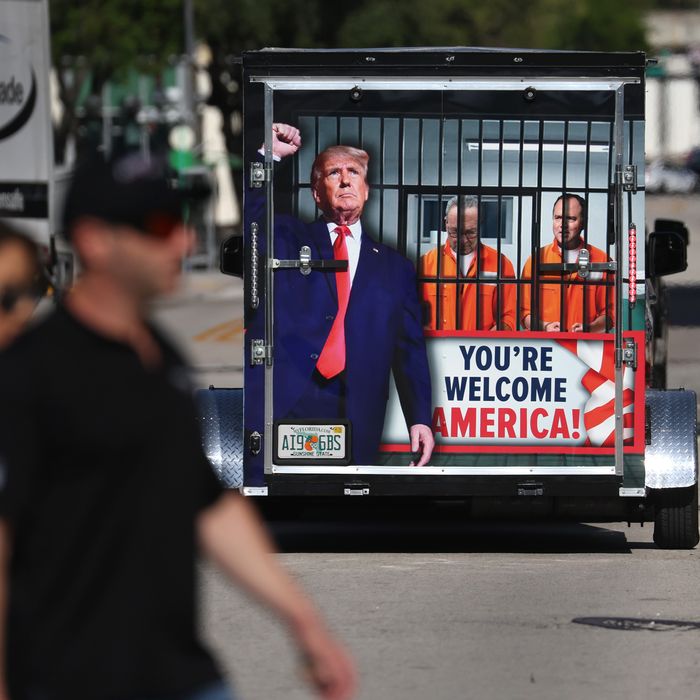 A pro-Trump protester outside the courthouse in Miami on Tuesday.
Photo: Getty Images
For the second time in three months, Donald Trump is facing criminal charges. This time, he was arraigned in Florida after federal prosecutors alleged last week that he hoarded top-secret documents from his tenure as president, stored them in a bathroom of his home in Mar-a-Lago, and lied about the practice in an attempt to stay out of trouble. With Trump facing 37 criminal counts, a small circus of supporters and detractors showed up at a Miami courthouse to make their presence known ahead of the official proceedings. Below are the latest updates on Trump's day in court.
Trump heads to Little Havana to campaign on his arrest
The former president's first stop after his second arrest was a campaign staple: Versailles, one of the most famous Cuban restaurants in Little Havana. A crowd surrounded him as he yelled "food for everyone!" The crowd began to sing him happy birthday ahead of his 77th tomorrow. "Some birthday," Trump said in response.
The Versailles trip is a poignant one for Trump, who first stepped into the world of politics there with an event back in 2000:
Trump leaves the courthouse
The hearing has ended and Trump departed the courthouse in his motorcade just before 4PM.
As he exited the area, a protestor jumped in front of his motorcade before quickly being moved out of the way:
Trump pleads not guilty
Trump and Walt Nauta have officially been booked by federal authorities and are now in a courtroom, appearing before federal magistrate judge Jonathan Goodman. CBS News reports that Jack Smith, the special counsel in charge of the Justice Department's Trump inquiries, is in the room as well.
Trump lawyer Todd Blanche entered a not guilty plea on all 37 charges on behalf of the former president shortly after 3PM, according to CNN. Nauta did not enter a plea because he has yet to retain local counsel, so his arraignment is currently scheduled for June 27, per The Guardian.
Trump, wearing his standard blue suit and red tie, reportedly appeared "stone-faced" while sitting in the courtroom, according to NBC News. The New York Times reported that Judge Goodman barred Trump from discussing the case with Nauta, his personal aide, and to conduct all legal conversations through their lawyers.
Shortly before 2 p.m., Trump arrived at the federal courthouse, traveling from his resort in Doral, Florida with Nauta, his aide and fellow co-defendant. Live footage showed police officers halting traffic on a busy multilane highway to allow Trump's motorcade to pass.
At 1:45 p.m., in an all-caps message to supporters, Trump wrote on Truth Social: "ON MY WAY TO COURTHOUSE. WITCH HUNT!!! MAGA."
Why we'll have to wait to hear courtroom details
Chief U.S. District Judge Cecilia Altonaga ruled on Monday that members of the media will not be able to bring their phones and other electronic equipment into the courtroom. Judge Jonathan Goodman, who is overseeing the proceedings on Tuesday, added that "allowing photographs would undermine the massive security arrangements put in place." So reporters will have to wait until the proceedings end to rush out and describe what happened — similar to the process during Trump's first arrest in April in Manhattan.
What is the timeline for Trump's arraignment?
Trump has arrived at the federal courthouse in downtown Miami for his 3 p.m. arraignment. He spent the night at his nearby resort in Doral, about 30 minutes west. Following his surrender, he will fly to his golf course in New Jersey for a fundraiser, and on Wednesday will celebrate his 77th birthday.
When Trump arrives to the courthouse, he will be required to fill out forms and provide his social security number before being placed under arrest by U.S. Marshals prior to his arraignment.
Unlike during Trump's arraignment in Manhattan for allegedly falsifying business records, protesters will be free to move around the courthouse, according to the Miami Police Department. The police expect between 5,000 and 50,000 protesters on Tuesday, though there were very few around 10 a.m.
It's starting to get rowdy at the courthouse
Like the last time Trump was indicted, the scene outside the courthouse was a swarm of colorfully dressed protesters, swarms of reporters, and massive numbers of police officers telling everyone what to do. One demonstrator appeared to have an actual pig's head on a stake, though it's unclear if he was for or against the indictment. After a relatively quiet morning, several hundred protestors and counter-protesters gathered on the street. Miami Mayor Francis Suarez was also in attendance and faced pro-Trump hecklers:
The crowd is probably going to be disappointed. One Miami defense attorney told CBS News that VIPs get special treatment at the Wilkie D. Ferguson Jr. United States Courthouse. "There are underground tunnels, so we're not going to see that movement," Michelle Suskauer said. "We're not going to see a perp walk. We're not going to see him being booked."
Vivek Ramaswamy pledges to pardon Trump, calls on opponents to join him
In front of the courthouse, long-shot Republican presidential candidate Vivek Ramaswamy promised to pardon the former president if he were to (somehow) win the presidency in 2024. Ramaswamy then called on his opponents to make the same commitment.
"I have challenged, I have demanded that every other candidate in this race either sign this commitment to pardon on January 20, 2025 or else to explain why they are not," Ramaswamy said.
Ramaswamy sent his pledge to the campaigns of his fellow Republican opponents, but also to Democratic candidates Robert F. Kennedy Jr. and Marianne Williamson.
Trump's lawyer situation is still up in the air
As Trump is set to appear in federal court in Miami, his legal representation is still an open question. The New York Times reports that on Tuesday, the former president will likely be represented by Christopher Kise and Todd Blanche in the courtroom. Kise previously served as Florida's solicitor general and has been part of Trump's legal team for the classified-documents case since 2022. Blanche is a veteran federal prosecutor who has been assisting in Trump's defense in the Manhattan district attorney's case against him.
But Trump has been searching for additional lawyers to join his team and has been turned down by several high-profile Florida attorneys, sources tell the Washington Post. Jim Trusty and John Rowley, who previously represented Trump, resigned the morning after the Justice Department unsealed its 37-count indictment against the former president.
Trump reportedly won't get a mugshot
Disappointing news for the many Americans hoping to see the man facing dozens of criminal counts actually treated like a criminal: ABC News reports that Trump will not have to sit for a mugshot. Nor will he be handcuffed or empty his pockets during his processing. Jonathan Goodman, the magistrate judge overseeing Trump's arraignment, also determined that no photographers will be allowed in the courtroom. "Allowing photographs would undermine the massive security arrangements put in place," Goodman wrote.
The "Diet Coke valet" is also getting arraigned
Walt Nauta — better known as the aide who brought Diet Cokes multiple times a day to Trump when he was president — will be arraigned along with his boss on Tuesday. Since leaving the White House, Nauta has been promoted to Trump's bag man, allegedly helping Trump cover up the top-secret documents taken from the White House. He has been charged with conspiracy to obstruct justice, making false statements, and withholding documents.