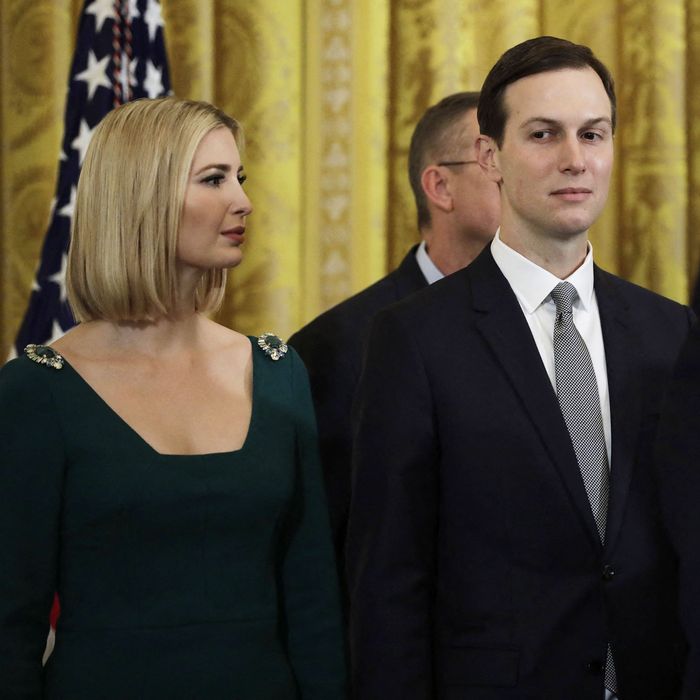 Photo: Gripas Yuri/ABACA/Shutterstock
Since leaving the White House in January 2021, Ivanka Trump and Jared Kushner have made it quite clear that they want nothing to do with Donald Trump's political operation. Post-presidency, the former presidential advisers have rarely appeared with Trump at his Mar-a-Lago resort. The couple (seemingly) leaked a story to the New York Times claiming that they'd decided to leave Washington for good just hours after Trump prematurely declared victory on Election Night 2020. Rather than attending Trump's 2024 campaign announcement with the rest of the family, Ivanka released a statement saying, "I do not plan to be involved in politics." And Javanka kept their distance as Trump was indicted twice this spring. They skipped all of Trump's post-arrest festivities, buried photos of him on Instagram, and offered only passive-aggressive Father's Day wishes.
But to hear Donald Trump tell it, Jared and Ivanka's retreat from his political orbit was his idea. In an interview that aired this week, Fox News anchor Bret Baier asked Trump, "Would you want Jared and Ivanka to serve in the [hypothetical second] administration?"
"No. I said, that's enough for the family. You know why? It's too painful for the family," Trump replied.
He went on to claim his children had "been through hell," noting that Ivanka was forced to shutter her clothing line (after sales started tanking).
"Nobody has been through what my family has been through," Trump told Baier. "Ivanka had a really successful line of clothing. I mean, making a fortune. When I did this, she was really — she closed it up."
Trump set up this dubious narrative six months ago, when he insisted in a Truth Social post that he "specifically asked" Jared and Ivanka not to be part of his 2024 campaign in an effort to spare them:
The former president's confirmation this week that Javanka are gone for good had Trump World "rejoicing in Schadenfreude," according to the Daily Beast. Current advisers gleefully texted a transcription of Trump's comments on the couple; one said good riddance to Jared, calling him a "double nepo baby."
A "Trump confidant" dismissed the former president's claim that Javanka's exit was his call, telling the Daily Beast that the former president "wanted" the pair to be part of his second run but they declined.
"I believe that the president is trying to make it appear that it's his decision, but it's not," the source said. "Everyone in the inner circle knows. There is no way in hell they are going to be affiliated with Trump."
Trump easily could have avoided the humiliation of his favorite familial advisers abandoning him along with the rest of his former White House team. Back in 2018, the New York Times reported that Trump asked then–Chief of Staff John Kelly to help him push Jared and Ivanka out of the White House, but he kept waffling on whether he really wanted them to go:
Privately, some aides have expressed frustration that Mr. Kushner and his wife, the president's daughter Ivanka Trump, have remained at the White House, despite Mr. Trump at times saying they never should have come to the White House and should leave. Yet aides also noted that Mr. Trump has told the couple that they should keep serving in their roles, even as he has privately asked Mr. Kelly for his help in moving them out.
Trump should have fired Jared and Ivanka (or had someone else do it) when he had the chance.