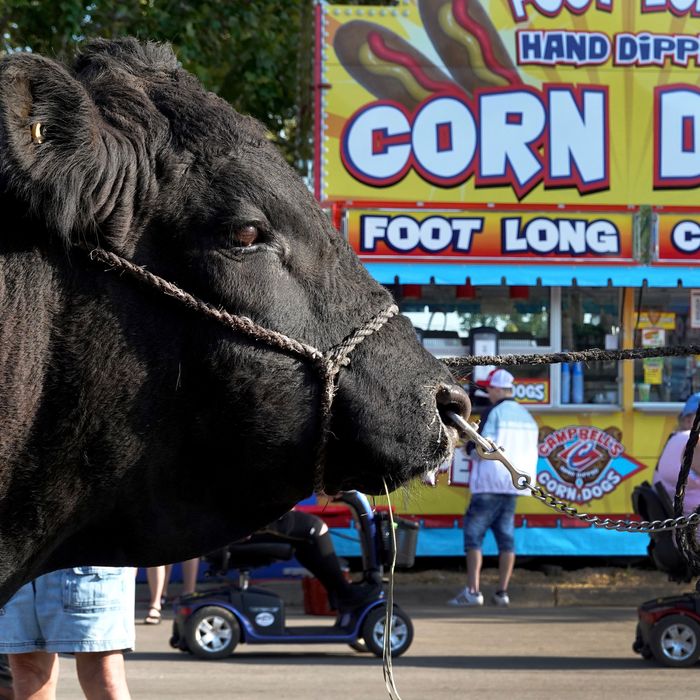 Iowans sure do love their state fair.
Photo: Scott Olson/Getty Images
Anyone who has spent much time in Iowa is likely aware that people there are inordinately proud of their state fair. It's not the biggest in the country (that would be Texas's), but the annual August event typically attracts over a million visitors. It also has some unique traditions such as the Butter Cow (a regular feature always accompanied annually by a new butter sculpture; my favorite of all time was the Butter Last Supper unveiled in 1999) and the Big Boar contest (won last year by Pee-Wee, a swine that tipped the scales at 1,300 pounds). The Iowa State Fair is also inextricably linked to national politics thanks to the first-in-the-nation presidential caucuses (limited to Republicans in 2024 thanks to Iowa's expulsion from the early-state calendar by Democrats). Candidates are expected to attend the fair, eat some fair food (from the prosaic corn dog to all sorts of fried sweets), and make a speech on a hay bale provided by the Des Moines Register. This August, so many Republican presidential candidates will show up at the East Des Moines fairgrounds that "you won't be able to stir 'em with a stick," as an Iowa political veteran told me.
One of those candidates, Donald J. Trump, has come up with an idea designed to exploit Iowa's fair frenzy:
Trump began talking about a big semiquincentennial bash during his term as president (he authorized one of his ideas, a Garden of American Heroes featuring statues of various Great Americans, by executive order, but Joe Biden revoked it). But so far as I can tell, the Great American State Fair is a new wrinkle. It's unclear at this point what sort of relationship this event "featuring pavilions from all 50 states" would have to the Iowa State Fair itself, but you could almost imagine an expansion of the fair from the traditional 11-day event into something much more spectacular, with all the federal and nonprofit investments and global tourism dollars that might attract. I'm sure Trump will tell us more about it soon, particularly if the idea is welcomed by the locals (it's possible it could be perceived as cheesy or impractical).
This is actually just one way in which Trump seems very focused on reversing his 2016 loss to Ted Cruz in Iowa. During DeSantis's visit to the state this week, Trump pounded his rival on social media for heresy against the Great Corn Idol of ethanol subsidies, an Iowa institution that has tripped up countless Republican pols in the past:
Will be heading to the Great State of Iowa this afternoon for two days. I strongly defended and backed Ethanol, Ron "DeSaster" has ALWAYS been strongly against Ethanol, just like he voted 3 times to cut Social Security (and raise the minimum age to 70!), obliterate MediCare, and charge everyone a National Sales Tax of 23%.
This is a serious business. DeSantis has very clearly decided to attempt an early upset of Trump in Iowa (likely favored by the coterie of former Cruz staffers in his orbit), and recently made a show of force with a long list of endorsements from state legislators. As for the rest of the presidential field, nearly all of them (with the possible exception of New Hampshire governor Chris Sununu, should he enter the race) are gambling on at least exceeding expectations in Iowa; both Mike Pence and Tim Scott appear determined to replicate the hard-right, Evangelical-based Iowa wins by Mike Huckabee in 2008 and Rick Santorum in 2012. Nikki Haley and Vivek Ramaswamy have spent a lot of time in the state as well.
We'll see soon enough whether Trump's idea to build a State-Fair-of-All-State-Fairs in Iowa catches on, or becomes just another campaign promise no one expects him to redeem. Someone may already be working on a Butter Founding Fathers sculpture, just in case.