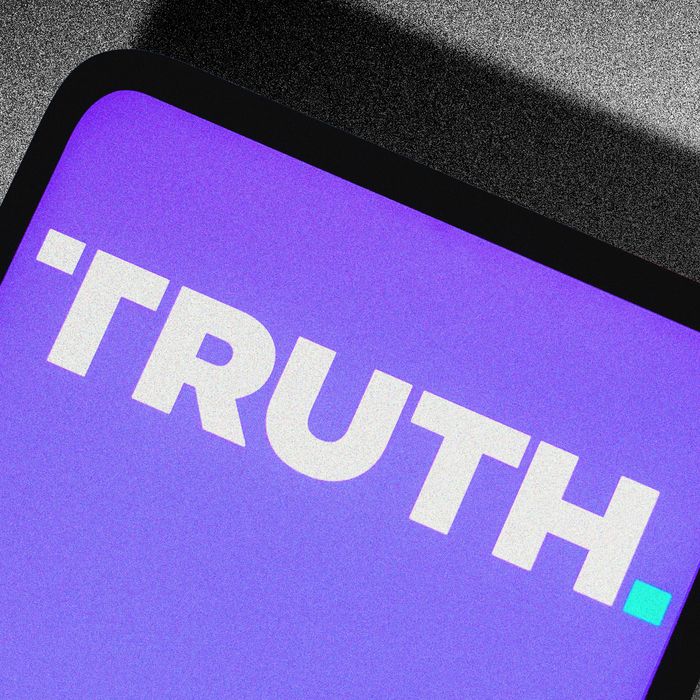 Photo-Illustration: Intelligencer; Photo: Getty Images
Add the Trump SPAC to the list of Trump-adjacent novelty investments that have gone bad for those involved whose name isn't Trump. On Thursday, the Securities and Exchange Commission and federal prosecutors in New York charged three investors for allegedly inside trading ahead of the merger that would allow Trump's media company to go public in 2021.
The alleged scheme involves a SPAC, the formerly trendy way for private companies to make millions going public by merging quickly with a shell corporation. In October 2021, prosecutors claim that investors Michael Shvartsman, Gerald Shvartsman, and Bruce Garelick made over $22 million by trading securities in the shell company Digital World Acquisition Corporation before it went public with Trump's media firm, which would later found Truth Social. They also allegedly tipped off family and employees of the merger. Prosecutors stated that Donald Trump was not privy to the insider trading, though he remains in plenty of legal trouble elsewhere. The three charged investors did not enter a plea.
Garelick and the Shvartsman brothers are the type of figures you might expect to find in a Trump-world investment gone sour. Both Garelick and Michael Shvartsman are reportedly involved in a company called Transact First, a "cashless ATM" business that mostly exists to provide a way for weed companies in states where marijuana is legal to make their transactions safer to process for banks. (It basically makes a weed purchase appear on a bank statement as an ATM withdrawal.) Earlier in his career, Shvartsman, born in Ukraine in the '70s, ran a club in Edmonton, Canada, called Kaos, which local police once claimed was financed by the Russian mafia. All three now live in — you guessed it — Florida.