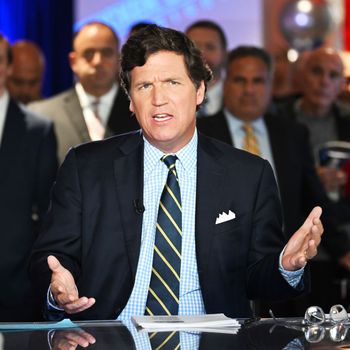 Photo: Jason Koerner/Getty Images
Tucker Carlson's abrupt termination from Fox News in April wasn't exactly a clean break. Since then, leaks from the Murdoch camp have revealed unflattering details about the host's off-air racism, and over the past few days, legal disputes about Carlson's next venture have shown that things will stay ugly between Carlson and Fox for quite a while.
On June 6, Carlson debuted his new show, Tucker on Twitter, uploading a 10-minute segment directly to the social-media network, as is his plan for the entire series. It was pretty standard Carlson fare — a top-of-the-hour monologue questioning mainstream Republicans' support for Ukraine and its "ratlike," "dead-eyed" president. There was more wood paneling in his Maine studio than at his Fox News desk, and a little less makeup.
The next day, Fox News responded by reportedly sending a letter to Carlson's lawyers claiming he violated his contract when he uploaded the video. The ousted host's contract with Fox News lasts until January 2025. By paying out the remaining sum owed to Carlson, the network hopes to stop him from becoming a competitor. "Fox expressly reserves all rights and remedies which are available to it at law or equity," reads a copy of the letter obtained by Axios.
It appears Carlson is trying to get around that problem by posting directly to Twitter. And he didn't seem fazed by the letter, loading up another Tucker on Twitter episode the day after Fox sent it. This time, he claimed pedophilia is becoming normalized in the United States. Standard stuff.
On Monday, Fox News escalated its legal threats, sending a cease-and-desist letter to Carlson, according to Axios. In a statement to Axios, Carlson's attorney didn't back down. "Tucker will not be silenced by anyone," said Harmeet Dhillon. "He is a singularly important voice on matters of public interest in our country and will remain so."
Fox News hasn't had this problem with hosts it has fired in the past; the network has simply let them broadcast to smaller audiences. But Carlson commands a huge following: By Twitter's metrics, the first two episodes of his show received over 168 million views (though that number comes with some major caveats). And Fox News is feeling the pain at his old 8 p.m. slot with a 37 percent drop in viewers this May compared with last year. "They recognize that he will hurt them, and they're doing everything in their power to keep him on the sidelines," former Fox News host Megyn Kelly said on her radio show last week.