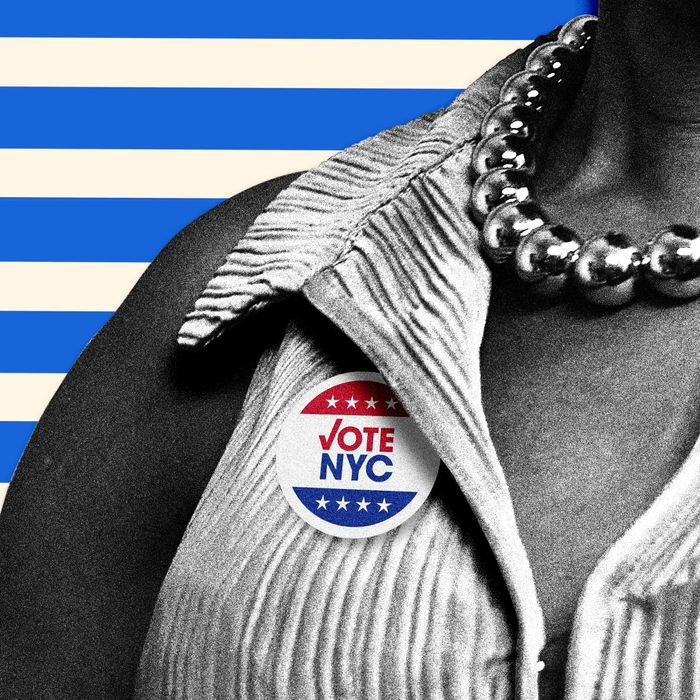 Photo-Illustration: Intelligencer; Photo: Getty Images
Although 2024 might be getting the bulk of the attention with its big national races, New York City has several crucial municipal seats on the primary ballot this month. All 51 City Council seats will be up for grabs as a result of last year's redistricting process, and two boroughs will have competitive races for district attorney. Also, depending on where you live, you might also have civil court judges or district leaders on your ballot as well.
With early voting running from Saturday, June 17 to Sunday, June 25 and Election Day arriving soon after, on Tuesday, June 27 (polling site information and sample ballots are available at the Board of Elections website), here's what you need to know.
Ranked-choice voting is back
Voters will once again get to utilize ranked-choice voting when they cast their ballots for primary races featuring multiple candidates. First implemented in 2021, ranked-choice voting allows a voter to rank up to five candidates in their order of preference. Per the city's Board of Elections, if no candidate wins 50 percent of the vote in the first round of voting tabulation, the counting will proceed to additional rounds until there is a winner. The candidate with the lowest number of votes in each round will be eliminated and the next-highest-ranked name on those candidates' ballots will be counted.
Ranked-choice voting is only used in primary and special elections for municipal seats such as the mayor, City Councilmembers, borough president, public advocate, and comptroller. District attorney races, which are seen as statewide races, will not use ranked-choice voting.
Elections for every single City Council seat
After the state underwent its tumultuous redistricting process in 2022, the city also redrew its council districts as a result of the 2020 Census results. The City Charter requires new elections following redistricting, so all 51 City Council seats are on the ballot. Although many of the council's incumbents are expected to win their races fairly easily, there are several interesting races to keep an eye on.
In Manhattan's First District, Christopher Marte, the first-term Democratic incumbent, is facing three challengers: Ursila Jung, an education advocate who serves on her local community education council; Susan Lee, a nonprofit grant writer; and Pooi Stewart, a substitute teacher.
Harlem's Ninth District primary is a wide-open race after Councilmember Kristin Richardson Jordan suspended her reelection campaign last month. Running for her now-open seat are Assemblymember Inez Dickens, who previously represented the district in the City Council; Assemblymember Al Taylor, who represents Upper Manhattan; and Yusef Salaam, a member of the Exonerated Five who were implicated and later cleared of involvement in the Central Park jogger case. Dickens has a fair amount of institutional support, receiving the backing of Mayor Eric Adams, Congressman Adriano Espaillat, and former congressman Charles Rangel. Taylor and Salaam recently announced an alliance, endorsing each other and encouraging voters to rank them in their top two in the ranked-choice primary.
In Bronx's 13th District, three Democratic candidates will face off against City Council member Marjorie Velázquez: Bernadette Ferrara, Van Nest Neighborhood Alliance president and chair of the Bronx Community Board 11; Irene Estrada, former Democratic district leader; and John Perez, an Army veteran. On the Republican side are Kristy Marmorato, a health-care worker; George Havranek, president of the Spencer Estate Civic Association; and Hasime Samantha Zherka, a former State Senate candidate.
Councilmember Julie Won, who represents the 26th District in Queens, is being challenged by Hailie Kim, a community organizer and former educator.
Redistricting created a new Asian-majority district in southern Brooklyn's 43rd District that covers Bensonhurst and parts of Sunset Park and Dyker Heights. Justin Brannan, who previously represented the district, was drawn into 47th District, leaving an open seat. The seat has three Democratic challengers: Wai Yee Chan, executive director of a local nonprofit; Susan Zhuang, the chief of staff for Assemblymember William Colton; and Stanley Ng, a retired computer programmer and community activist. On the Republican side is Vito LaBella, who is a former NYPD officer, and Ying Tan, a community activist.
Two competitive district attorney races
The Bronx and Queens will be casting votes for their district attorneys this year. Michael McMahon, Staten Island's top prosecutor, is running unopposed in the primary and currently has no slated general-election opponents despite being a Democrat in the city's reddest borough.
Queens district attorney Melinda Katz, a Democrat, is facing two challengers: Devian Daniels, a public defender, and George Grasso, former first deputy police commissioner and retired Queens Supreme Court judge.
In the Bronx, Darcel Clark, the Democratic incumbent, is being opposed by Tess Cohen, an attorney who has worked both in criminal defense and as a prosecutor in the city's Office of the Special Narcotics Prosecutor.