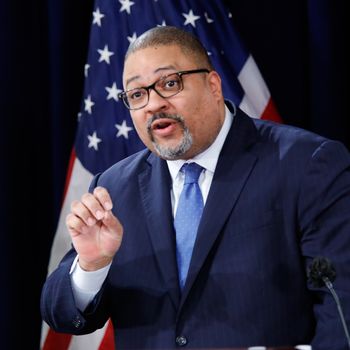 Photo: Kena Betancur/Getty Images
Manhattan district attorney Alvin Bragg announced the indictment of six men implicated in a straw-donor scheme to funnel tens of thousands of dollars to Eric Adams's 2021 mayoral campaign with the goal of seeking favors if he was elected. One of the defendants is Dwayne Montgomery, a former NYPD inspector who Hell Gate reports was a colleague of Adams during his time as a police officer. Adams himself has not been implicated in any wrongdoing.
The indictment alleges, among other things, that the defendants recruited straw donors to make campaign contributions and falsely sign contribution cards, and later reimbursed them for the money as a way to subvert the individual contribution limit. The six also allegedly purchased multiple money orders that were later submitted under the names of other friends or relatives. Campaign contributions made by city residents during the 2021 election were matched by the city's funds-matching program eight-to-one, meaning a $250 donation could net a campaign an additional $2,000 in public funds.
The six defendants named are Montgomery, Shamsuddin Riza, Millicent Redick, Ronald Peek, Yahya Mushtaq, and Shahid Mushtaq. They're facing charges of conspiracy, attempted grand larceny, offering a false instrument for filing, and attempted offering a false instrument for filing.
In one 2021 email, Riza wrote Montgomery about Vital Brooklyn, a future construction project, saying, "FYI ! This is the one I want , Safety , Drywall , and Security one project but we all can eat ! Please show to him before Event it will start when he's in office."
The defendants also organized campaign fundraisers, working with an unnamed campaign representative. Montgomery discussed a potential meeting with then-candidate Adams and invited several of his co-conspirators to the gathering. But it's not clear if the meeting ever took place.
One notable exchange occurred during a phone conversation between Montgomery and Riza. Montgomery stated that "[The candidate] said he doesn't want to do anything if he doesn't get 25 Gs." The candidate in question is presumably Adams, but the indictment doesn't elaborate on what the money pertained to; it might simply be a reference to the planned fundraiser.
Evan Thies, an Adams campaign spokesman, issued a statement thanking the district attorney's office for its work and maintained that no one on the team was involved or has been named in the case.
"The campaign will of course work with the DA's office, the Campaign Finance Board, and any relevant authorities," he said.