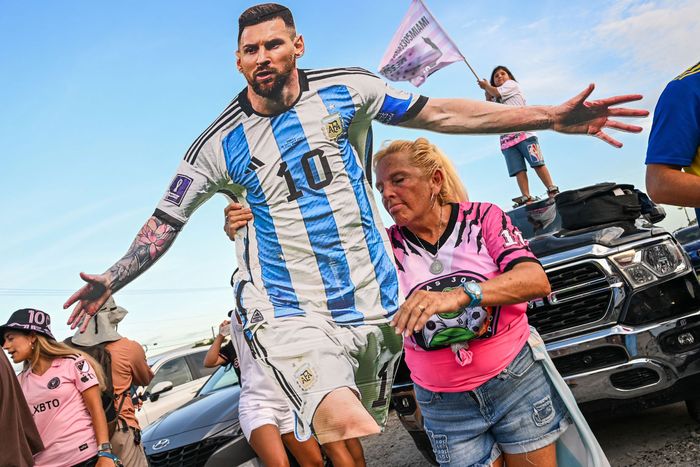 Photo: Giorgio Viera/AFP via Getty Images
We've been asked to believe before. When the bombastic Swede Zlatan Ibrahimovic came to play in Los Angeles in 2018, it was going to herald a new era for soccer in North America, just as it would when the legendary Ivorian Didier Drogba arrived in Montreal in 2015, and the mercurial Brazilian Kaká in Orlando, and the generationally talented Frenchman Thierry Henry in New York, or the superstar Brit Wayne Rooney in D.C., all of them having followed David Beckham's lead. The sport was about to take over any second now thanks to demographic transformations, a TV-rights revolution, the sheer energy visible in bars and parks and playgrounds every four years during the men's World Cup — not to mention the American women's multiple championship runs. The era of Pelé's ill-fated 1975 arrival in Manhattan was ancient history.
In a way, it was all true. American soccer has grown rapidly, and those stars all had something to do with it, as have the improvement of schoolyard culture, increasingly aggressive broadcast deals for the major European leagues, and better-organized training regimes. It just hasn't been true enough.
This time is different.
This month's arrival of Lionel Messi to Miami is already something entirely new. This time, sports in America have shifted, the world's biggest superstar and most recent World Cup hero having touched down not just in search of an easy career denouement but — as his debut goal, a stunning long-range, game-winning free kick that felt almost scripted, demonstrated — a new paradigm. At minimum, it's a real reordering of American athletic attention. At least, as long as he stays.
Sometime between his family's heavily photographed arrival in Fort Lauderdale and the moment his inch-perfect free kick spun into the back of the net as his debut game ended last Friday, it became clear that we are now witness to something novel: a genuine American soccer spectacle.
This Messi is no longer the one who twists world-class opponents into dust for 90 minutes, but still one whose routine moments of transcendent grace and precision force the other 21 players on the field to shape their every movement around him. Before that ball bounced off the net's pink twine and hit the grass with the final whistle in South Florida, it was evident that this Messi was one who could ensure that even if soccer never comes to dominate in this country like it does elsewhere, it will no longer be ignorable. And if — if — he stays long enough to make the spectacle a fixture, and if his glow is as durable as it now seems, the best to ever play the sport could stand to inspire a sea change in the way his new home views it, and how the soccer world views that new home.
There was not ultimately much romance to the 36-year-old Messi's arrival. His new team's owners, Beckham and the billionaire Cuban American Mas brothers, had been pursuing him since 2019, before his new team Inter Miami even formally existed. Their long-standing promise to Messi's entourage was that he would forever change the sport by landing in America. They explained their plan to build a new stadium near Miami's airport, replacing their underwhelming temporary structure in Fort Lauderdale, and to bring some of his old superstar buddies over, too. And they laid out an unheard-of contract reportedly consisting of eventual part ownership of the team on top of a cut of Adidas's merchandise revenues and of Apple's broadcasting money — up to $70 million per year, in a league with an average salary of under half a million. Even then, Messi only signed once his relationship with his Qatar-owned superteam in Paris had soured beyond redemption and once it was clear that his old club in Catalonia could no longer afford him. And no one is under any illusions that this experiment would last much more than two years; it may run out after one.
But for the moment, Major League Soccer, the top American league, is suddenly what it's been trying to become ever since its advent in 1993: one (just not the) power center of the soccer world. In recent years, it had come to embrace a new kind of influence, as young, mostly Latin American talents combined with older Euro castoffs and all sorts of Americans to make the league surprisingly competitive, at least enough to regularly ship promising players over to established clubs in Europe. No longer was it so reliant on once-great, near-retirement European players to draw fans. As recently as December, the league was celebrating the news that for the first time, one of its players had won a World Cup: Thiago Almada, a young star for Atlanta United surely headed for a big-money move to Europe soon, had played a few meaningless minutes for Argentina at last year's World Cup in Qatar.
But now there's Messi, whose first minutes in Miami pink immediately made the game the most-watched American one ever, by far. Miami's No. 10 jerseys are on backorder through October; every single ticket for every one of the team's games for the remainder of the season has seen its price balloon.

If the non-soccer media has had a hard time explaining the magnitude of Messi's move, that's because no clear parallel exists. Messi's path from too-tiny prodigy in Rosario to once-in-a-lifetime phenom in Barcelona is well known by now even to casual fans. So is his redemption arc for Argentines, his determination to apply his singular sorcery one last time, winning his country its first major trophies in almost 30 years — first the brutal continental Copa America in 2021, then the pyrotechnically dramatic World Cup in 2022. Thus, he completed his journey from "just a little too cold and Spanish" to "deity on the level of Diego Maradona."
The toxic debates that once dominated soccer's online fever swamps, over whether Messi or the Portuguese star Cristiano Ronaldo was better, have mostly faded since Messi won the World Cup, occasionally replaced by half-hearted bait: Okay, but is Messi bigger than Taylor Swift or Beyoncé? Even those arguments tend to end with images of Argentina's World Cup celebrations, when an estimated 4 million Porteños filled the streets of Buenos Aires. Those revelries weren't just limited to South America; some of the most buoyant street parties were reported as far afield as Bangladesh. Within weeks of the news that Messi would be joining Inter Miami, his previously mostly anonymous club became Instagram's fourth-most-followed American team in any sport, topping every single MLB and NFL franchise. Its 12 million new fans lapped even the original Inter, the historic Milanese side that just this spring finished as the second-best in all of Europe.
And it was not immediately obvious what American viewers, or Messi, could expect when he arrived. Rooney, for one, predicted a rough welcome. Now the coach of D.C. United, the former striker warned that Messi "won't find it easy here. It sounds mad, but players who come in find it's a tough league — the traveling, the different conditions in different cities, and there's a lot of energy and intensity on the pitch." The young Argentine Álvaro Barreal, of FC Cincinnati, meanwhile, predicted Messi would score three or four goals per game.
The MLS is a physically demanding league, but not a particularly skilled or fast one compared to the Spanish or French leagues he'd been winning for years. His new team, too, was terrible — when Messi and his former Barcelona teammate Sergio Busquets arrived, Inter Miami hadn't won since May. But on this question, at least, we have a preliminary answer. Messi scored thrice in his first hour on the pitch (including two goals in his second game on Tuesday night), completely transforming his suddenly high-flying squad and looking a bit like a high-schooler ripping through a middle-school recess game.
What makes his arrival different on the field is the sheer entertainment value of what he can routinely create. With a team geared toward supporting him, he is capable of brilliance that comes from nowhere and which can almost seem routine if you watch enough of him but looks alien if you don't. Beckham didn't have that, nor did Rooney. None of their ilk dominated a World Cup half a year before landing Stateside.
Miami, it seems, knew what it was getting. The capital of Latin America has been bathed in the team's pink, its walls covered in new murals of his face, the Messi family's every move being tracked minutely enough to cause a social-media and real-life stampede on a Publix in Sea Ranch Lakes when he was spotted shopping for cereal upon arriving.
The city appears intent on projecting to the rest of the country how lucky it should feel that Messi opted for it over the Saudi Arabian siren song that's luring scores of his would-be peers. That country's Public Investment Fund has plowed unprecedented cash into its league following Ronaldo's arrival last year, all in an attempt to improve the country's reputation by associating it with a popular sport, like it did with golf. Messi, who already had a $25 million tourism deal with the kingdom, was considering one local club's offer that was reported to reach $1.6 billion over three years. Meanwhile, other teams have spent the summer luring a surprising number of high-level players from England, Spain, Italy, France, and Germany, likely considerably raising the local level of play and significantly destabilizing soccer's finances and market structure. As I type, Messi's former team in Paris has been considering an unprecedented Saudi offer of around $300 million for the young French supernova Kylian Mbappe, who would rake in nearly $800 million for one year of work.
Even if Messi vaults the MLS into prime time, the league might not reach elite status on the international stage — not when it's effectively up against an effectively unlimited cash pit in the Gulf. But some players have already suggested they'd prefer living in Miami or L.A. or New York for a fraction of the ludicrous salaries on offer, and perhaps Messi can hasten that trend. In opting for (still wildly lucrative) Miami, he did not appear to be seeking a role in a geopolitical tug-of-war, but basic happiness, if the smiles that plaster his face every time he's seen in public now are any indication. The honeymoon period will end eventually, but as rumors fly about which of his other former teammates and friends might soon join him in Florida, he appears more at ease by the minute. (Jordi Alba? Confirmed. Andres Iniesta and Luis Suarez? We'll see.) As his fans know, a Messi who feels no need to prove anything, who feels appreciated by his team and his teammates, is a Messi at his best, or at least his most entertaining.
And what do Americans want out of their sports if not a great story punctuated by acts of superhuman athleticism? The entertainment we now have on our shores — the glamour and the celebrity and the show — may feel a bit valedictory, a bit too into itself. (As his second game started, DJ Khaled made sure Messi walked out onto the pitch with the producer's young son at his side, while P. Diddy, Camila Cabello, and Rauw Alejandro watched.) But there's no doubting all the eyeballs. There, as Messi lined up that final kick on Friday in front of a crowd two-thirds dressed in the team's pink and one-third in Argentina's signature sky blue and white, was LeBron James, not far from Kim Kardashian, gaping and filming on his iPhone. As the ball nestled into the upper corner of the net, there was Serena Williams, looking nothing short of astonished. And as the final whistle blew, there was Beckham himself, trying hard not to tear up as Messi beamed.