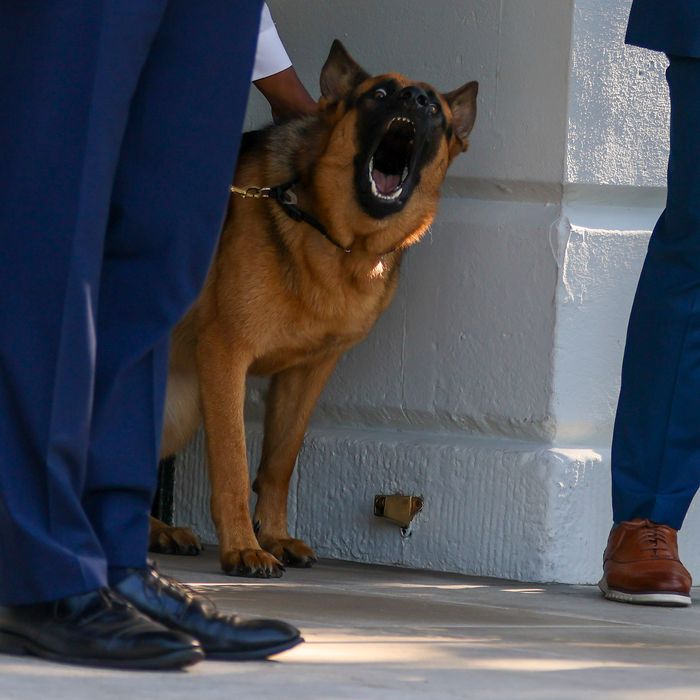 Photo: Tasos Katopodis/Getty Images
Well, well, well, who's a good boy now?
The status of Commander, Joe Biden's nearly two-year-old German shepherd, has been called into question. It was revealed on Tuesday that he has taken up the same biting habit that got Major, another of the president's dogs, banished from the White House.
The Bidens have had lots of pet drama in the past three years. They moved into the White House with two German shepherds, Champ and Major. Sadly, Champ passed away in June 2021. A few months later, Major was rehomed with Biden-family friends after biting at least two people at the White House. Just before Christmas 2021, Biden announced the arrival of a third presidential pup, the three-month-old Commander.
But it turns out Commander was even more determined to disprove the aphorism "When a dog bites a man, that is not news because it happens so often." On Thursday, the New York Post broke the news that Commander had bitten a whopping seven people over a four-month period, according to records obtained by the conservative legal group Judicial Watch.
The most serious incident occurred on November 3, 2022, when Commander bit a Secret Service officer's arm and thigh unprovoked, forcing them to thwart further attacks from behind a steel cart. The White House physician's office referred them to a local hospital for treatment, and the agent told a colleague that Commander was a menace. Per the Post:
Two days after the incident, the attacked agent, whose doctor placed them on restricted duty for three days after their visit to the hospital, emailed to a colleague who asked about their recovery: "My leg and arm still hurts. He bit me twice and ran at me twice."




The fellow Secret Service member wrote back: "What a joke … if it wasn't their dog he would already have been put down — freaking clown needs a muzzle."
But Commander's reign of terror continued. On November 10, he bit another Secret Service agent on the left thigh while First Lady Jill Biden was walking the dog near the East Wing. The next day, an agent said they had to use a chair to keep Commander from attacking them. On December 11, yet another agent was bitten on the arm and hand after the president took the dog off his leash. The incidents continued through the holidays, and on January 2, a Secret Service technical-security investigator was attacked by Commander while investigating an alarm at the president's home in Wilmington, Delaware.
Jill Biden's spokeswoman, Elizabeth Alexander, said the family has responded to Commander's rampant biting by implementing "additional leashing protocols and training as well as establishing designated areas for Commander to run and exercise." Alexander said the Bidens are "incredibly grateful" to the Secret Service and White House staff, adding, "The White House complex is a unique and often stressful environment for family pets, and the First Family is working through ways to make this situation better for everyone."
Her statement doesn't say anything about Commander exiting the White House, but that would be one tried-and-true way to "make this situation better for everyone" — especially Willow, the White House cat, who is, as far as we know, a perfect angel.