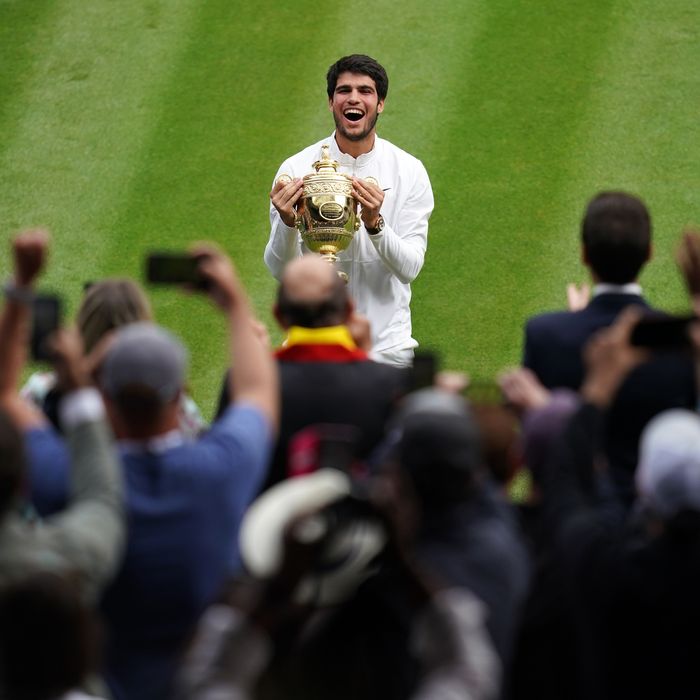 Carlos Alcaraz with the Gentlemen's Singles Trophy following his victory over Novak Djokovic on day fourteen of the 2023 Wimbledon Championships.
Photo: John Walton/PA Images via Getty Images
Not many men have won Wimbledon in the last 20 years. Roger Federer lifted the tournament's silver trophy eight times; Novak Djokovic, seven. Throw in a couple victories each for Rafael Nadal and Andy Murray and you have an extremely short list. So in defeating Djokovic in five sets on Sunday under the gaze of Prince William, Brad Pitt, and other gathered royalty, Carlos Alcaraz has not merely joined a very exclusive club. He appears to have broken, at long last, the stranglehold that those four other players, and particularly the Big Three of Federer, Nadal, and Djokovic, have exerted over Wimbledon and the rest of tennis this century.
Djokovic has been beaten before. But this match felt different. There is something inexorable about Alcaraz, as if the Spaniard has bottomless reserves of power in his deceptively trim frame. There is, too, a mental indomitability that is almost frightening to behold in someone who is only 20 years old, his close-set eyes and heavy brow giving the impression that his focus is tunneling ever tighter, that there is not a single thought in his head but that little yellow ball and how to bash it.
He needed both these qualities to triumph over Djokovic, who began the match breezily, winning the first set, 6-1, by doing the usual Djokovic things: racing all over the court and stretching his elastic limbs like Mister Fantastic, so that no groundstroke could possibly get by him. There wasn't a drop shot he couldn't reach, no ball pummeled to the corner that he couldn't flip right back.
Alcaraz was frustrated and perplexed. He used a long and grinding second set to figure out his opponent, though that misleadingly implies that Djokovic was some puzzle to be solved, an intricate lock requiring an artful key, when what really happened is that Alcaraz simply overpowered him, taking a battering ram to the great wall of defense Djokovic had built. In addition to being pretty good at defense himself, Alcaraz is a killer, constantly searching for moments when he can pounce on the ball and send it straight to hell — or mix in a drop shot that dies on the Wimbledon grass. He won the second set in a nervy tiebreaker (Djokovic doesn't normally lose those) and steamrolled the Serbian in the third, 6-1.
As is his wont, Djokovic found a mysterious extra gear in the fourth set, turning the psychological composition of the match on its head. Whereas before he had been flat on his back — sometimes literally so when he would lose his footing chasing down Alcaraz's bullets — now he summoned all his wiles and re-established his dreadful consistency. Imagine how demoralizing it must be to see your enemy rise from the dead this way, pulling himself together like the T-1000 in Terminator 2 after he was shattered in a million pieces! For all his fearlessness, Alcaraz wavered and fell, 6-3.
But Alcaraz, it turns out, has his own hidden gears. In the beginning of the fifth set, he won a series of tense, scrambling rallies that turned the tide once and for all, mixing up his cannon fire with drop shots and lobs and improbable returns that left Djokovic running ragged and, for once, looking his 36 years. That Alcaraz could impose himself physically on his opponent is perhaps no surprise, given their age difference; that he could withstand the gravitational force of Djokovic's mental discipline suggests he really is in his rarefied class already, and that a generational change is finally at hand.
At the very least, the sport feels like it's up for grabs. There were moments when it was difficult to tell the players in their all-whites apart, since they are basically the same height and have the same close-cropped brown hair and the same scruffy beards. It was as if a single person was playing against himself, pounding the ball back and forth across the net in an endless rally, and it was impossible to predict which one was going to win.