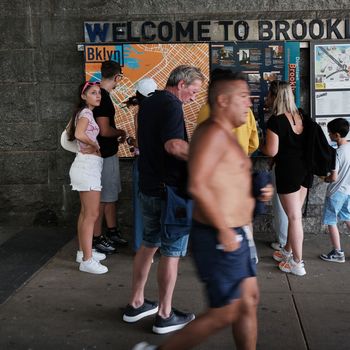 Photo: Spencer Platt/Getty Images
Thursday marked the beginning of what is likely to be New York City's first official heat wave of the season. Most forecasts predicted 90-plus-degree days into the weekend and heat indexes above 100 degrees. And New York City was under its first excessive-heat warning since 2021, according to city officials.
But Con Edison wants New Yorkers to think twice before turning up the AC, advising consumers to conserve energy during peak hours of the day. The utility company sent out emails and text messages to customers, which recommended limiting electricity usage between 2 and 10 p.m. in order to ensure reliable service.
Among Con Edison's other suggestions is limiting the use of larger appliances such as dishwashers, microwaves, or washers and dryers for clothes during this time period to one at a time. The company also recommends only using one air conditioner if a household has multiple and setting the unit to its "highest comfortable temperature," as well as using fans to circulate the air. The city's Emergency Management agency recommends running the AC at 78 degrees.
During a Friday briefing, Emergency Management commissioner Zach Iscol said the National Weather Service had downgraded the excessive-heat warning for the city to a heat advisory for Friday going into Saturday. The city is operating cooling centers throughout the weekend and has extended hours for public pools to help residents beat the heat. The Parks Department has also mapped out the locations of drinking fountains and water features in the parks across the city, so residents can factor them into their outdoor plans.
But New York will likely soon get a break from the hot weather. Forecasts are predicting that temperatures will fall to the low 80s by Sunday and stay at more agreeable levels for at least the next several days.
New York hasn't suffered unusually high temperatures this summer so far, but it's something of an outlier. The World Meteorological Organization predicts that July 2023 will go down in history as the hottest month on record, a trend that is expected to continue.