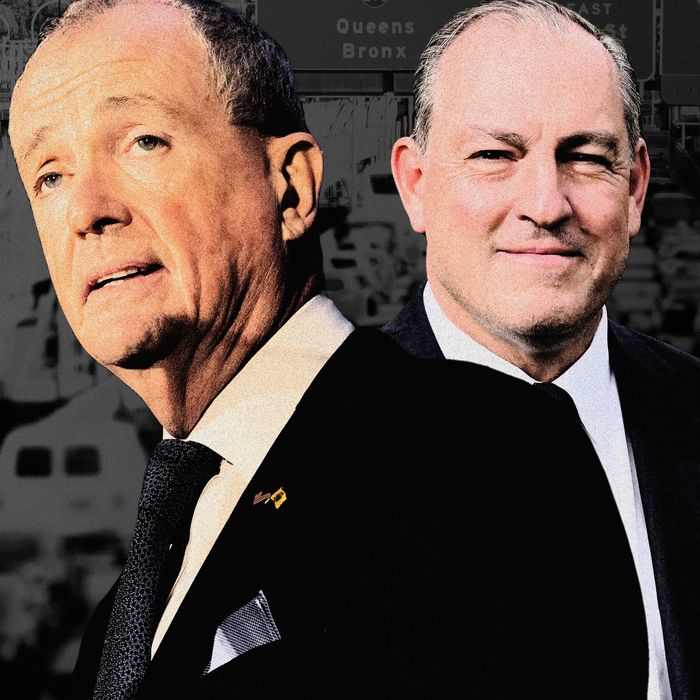 Photo-Illustration: Intelligencer; Photos: AP Images, Getty
It's been nearly a month since the Federal Highway Administration gave its final approval to New York City's long-gestating congestion-pricing plan. But while the plan has strong support from Governor Hochul, Mayor Adams, and other key stakeholders, many other tristate politicians have come together in opposition.
One of the most vocal opponents is New Jersey governor Phil Murphy, who has loudly complained that residents of his state will be unfairly burdened by congestion pricing. On Friday, Murphy went a step further and mounted a legal challenge to the plan.
At a press conference announcing his lawsuit against what he called an "ill-conceived" policy, Murphy was joined by other prominent New Jersey politicians: Senator Bob Menendez and Representatives Josh Gottheimer and Bill Pascrell Jr. Though criticisms of congestion pricing often focus on financial implications for drivers, Murphy's suit takes a different tack. It claims that the U.S. Department of Transportation and the FHWA failed to consider the environmental impacts of the policy and that New Jersey will have to contend with more traffic and pollution from cars attempting to avoid the toll while receiving no additional funds for its transit agencies. (The MTA, by contrast, is expecting a windfall, which will be split among the city's subway system, the Long Island Rail Road, and Metro-North.) The governor is asking for the federal courts to intervene and force a more comprehensive study of congestion pricing's environmental effects.
The Democratic governor is receiving support from a strange bedfellow: Vito Fossella, Staten Island's Republican borough president. Fossella, who said he hoped New Jersey would be "successful in its efforts," has
indicated that he will file his own lawsuit, claiming the borough will be negatively affected by the plan due to its lack of transit options. Fossella's lawsuit will likely be directed against the MTA specifically, per ABC7.
"To sit here and then say to the people of Staten Island that you're gonna pay more and your air quality's gonna be worse, doesn't make any sense," Fossella said during a press conference Sunday.
The lawsuits are the latest wrinkle in a seemingly endless bureaucratic process. Congestion pricing, which had been under serious consideration since the 2000s, passed the New York State Legislature in 2019. But the arrival of the pandemic, plus a lack of movement from the Trump administration, kept its implementation in limbo until recently. After getting the green light from the federal government, the MTA conducted a thorough environmental assessment, which nonetheless required less time than the "environmental impact statement" the state of New Jersey requested.
With all of the major hurdles cleared, congestion pricing seems on track to be put into place as early as spring 2024, and it appears unlikely that Murphy and Fossella's Hail Mary lawsuits will do anything to stop it — though it's possible they could slow down the process some more. The Traffic Mobility Review Board is now in the process of finalizing the rollout for the plan, including what will be charged for the toll and who could potentially be exempt from it.
The MTA seems unfazed by the legal challenges. A spokesman for the agency called the lawsuits "baseless" and expressed confidence that its environmental review will "stand up to scrutiny." And when asked about New Jersey's pending lawsuit at an unrelated event Friday, Hochul said simply, "Congesting pricing is going to happen."
"It has gone through a long process of review at the federal level. The environmentals have already been studied. That's why it was delayed another year last year. The State of New York is committed," she said, per Gothamist.