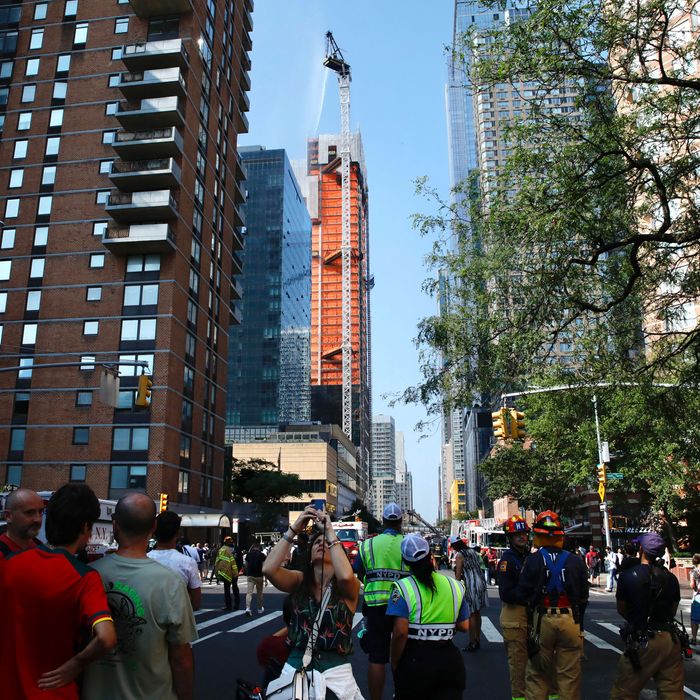 Photo: Kena Betancur/AFP via Getty Images
A construction crane caught fire and partially collapsed in Manhattan on Wednesday morning, sending debris into the streets below.
The incident occurred at 550 Tenth Avenue in Hell's Kitchen, close to West 41st Street. Bystander video shows the cab of the crane engulfed in flames and smoke. It also depicts the moment the crane collapses, striking a nearby building as remnants of the crane fall to the ground and cars navigate out of the way.
Though an official cause hasn't been revealed, sources tell the New York Post that it's believed that leaking hydraulic fluid from the engine dripped onto a hot metal plate and sparked the blaze. It's being viewed as an accident.
12 people, including three firefighters, sustained non-life-threatening injuries from the debris, according to CNN.
The FDNY and NYPD were on the scene of the five-alarm blaze and closed roads surrounding the building. Some streets still remained closed going into the Thursday morning commute including 10th Avenue between 39th and 42nd Streets.
The Fire Department first received a call at 7:25 a.m. about a fire in the crane's engine compartment, according to First Deputy Fire Commissioner Joseph Pfeifer.
"As our fire units responded to the scene, we had a collapse. The top part of the crane, the boom, and a 16-ton load crashed to the ground. At that point, we had injuries to civilians and firefighters, but they were minor," Pfeifer said at a press conference later Wednesday morning.
An injured firefighter was taken to the hospital after experiencing chest pains, but the injury isn't expected to be life-threatening. Mayor Eric Adams said the accident "could have been much worse" had it occurred at a busier time of day.
The Daily News reports that the crane operator, New Jersey's Lomma Crane & Rigging, has a troubled record. A crane owned by the company collapsed on the Upper East Side in 2008, killing two workers. Lomma ended up paying $35 million to the dead workers' families, and New York City temporarily pulled its license.