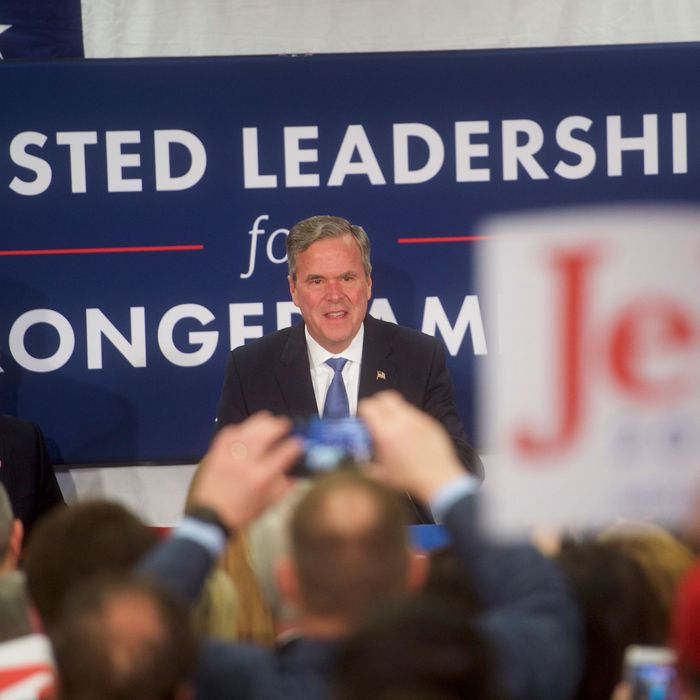 Photo: Mark Makela/Getty Images
When a presidential campaign needs a "reboot" the year before the actual election, you picture a candidacy circling the toilet bowl. Major campaigns are typically well planned. They don't spontaneously fail; they're done in by some significant negative development, like a major candidate gaffe or a rejection by primary voters. So it's not a good sign for Ron DeSantis's presidential aspirations that his well-financed and once-powerful campaign is already undergoing a reboot so early in the race. Two recent examples show what it takes to pull it off — and what fate may await DeSantis if it's done wrong.
Sometimes reboots work if the external circumstances are extremely favorable. That was the case in 2008, when John McCain looked cooked in the early going, then cut down on spending, focused on his best early state, New Hampshire (where he had shocked George W. Bush in 2000), and watched his opponents beat one another to a pulp. At various points in the 2008 cycle, McCain was trailing front-runners Rudy Giuliani, Mike Huckabee, and Mitt Romney. But then McCain executed a reboot, as Politico explained:
Republican nominee is a role few saw McCain fulfilling when his campaign crashed last summer. Broke, reduced to only a handful of loyal aides and plummeting in the polls, McCain hung tough and pinned his longshot hopes on a New Hampshire victory and the GOP electorate's reluctance to embrace any of his rivals. Which is exactly what happened.
Sure enough, McCain won New Hampshire again, and soon it was Mike Huckabee running out of money and Mitt Romney running out of support. The Arizonan nailed down the nomination on March 5, 2008, and went on to lose to Barack Obama by a sizable margin.
His opponents' mutual destruction aside, McCain had an asset in 2008 that DeSantis arguably lacks in 2024: near-universal name recognition and a very favorable public image (extending to independents and Democrats). When McCain won the nomination, his favorability rating per Gallup was 67 percent, higher than Obama's 62 percent (and a lot higher than Hillary Clinton's 53 percent). DeSantis's current favorability rating in the RealClearPolitics polling averages is 37.5 percent, nearly two points lower than Donald Trump's. McCain led most 2008 primary polls in New Hampshire, moreover. DeSantis hasn't led the polls in any of the early states so far. It's not a great foundation for a later surge, though until one of the non-Trump rivals catches up with the Florida governor or Trump puts the race away, he most definitely cannot be counted out.
The darker precedent for the DeSantis "reboot" is the 2016 campaign of a previous Florida governor: Jeb Bush. The initial front-runner in the 2016 "invisible primary," loaded with money and elected-official endorsements, Jeb! (as his campaign called him in a vain attempt to convey excitement about their candidate) steadily lost ground during 2015 and announced his "reboot" in September of that year, as the Washington Post reported:
Lagging in the polls and coming off a widely panned debate performance, Bush plans to barnstorm the early voting states this week, moving from Florida to South Carolina and then embarking on a three-day bus tour through New Hampshire. Plagued throughout his campaign by distracting comments, Bush is in need of an error-free performance that amplifies his argument for the presidency: that his leadership credentials and record as governor best qualify him for the top job.
This should sound familiar to 2024 DeSantis watchers. Like Bush, he has spent most of his time bragging about his record in Florida. Like Bush, he's tried to achieve a sort of Death Star image as a campaign that really cannot lose. And like Bush, of course, he faces Donald Trump, who is very good at tormenting opponents in debates, assuming he feels the need to show up.
There are some major differences between DeSantis and Bush, of course. Jeb! didn't try to out-Trump Trump; he kept looking for a traditional-Republican majority horrified by the mogul like he was. And today's Republicans are arguably more focused on "electability" than their prececessors in 2016, though DeSantis's credentials on that score are dubious.
Other than his money drain and the whiff of death some pundits are sensing around his campaign, perhaps the biggest short-term threat to DeSantis is the possibility that Trump will skip the debates and the other candidates will go medieval on the Florida governor. Then we might see a Jeb-style doom loop, as The Independent's Eric Garcia argues:
If he continues to run low on cash, underperform in polls and get savaged in debates, donors will be less likely to fork over money, which lead to underperformance in polls and Republican also-rans continuing to see him as someone they can knock down a peg without taking on the boss man.
DeSantis had little choice but to downshift from posing as an electoral leviathan and recast himself as a lean-and-mean "rebooted" candidate. He needs a lot of luck — the kind of luck McCain had in 2008 — to pull it out. Otherwise he may become the second high-and-mighty Florida governor to be humiliated by Donald Trump.