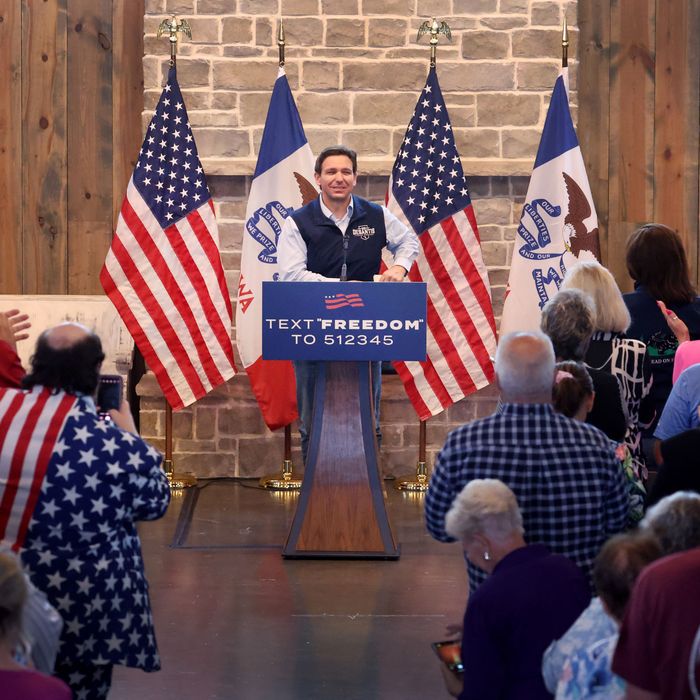 DeSantis has some important assets in Iowa that may save his bacon.
Photo: Scott Olson/Getty Images
Lately everywhere you look, people are dumping on Ron DeSantis. He botched his campaign launch. He's lost altitude in the polls. He keeps getting outmaneuvered by Donald Trump. Big donors and conservative media figures (especially Rupert Murdoch) are beginning to wonder if he's wasting their time and money. As actual voters learn more about the Florida governor's personality, they seem to like him less. DeSantis is widely seen as just one major misstep away from a campaign in free fall.
But you know what? It hasn't happened yet. And there are two basic realities of the 2024 Republican presidential contest that will keep DeSantis in the game for the time being.
The first is that for all his astonishing strength, Trump hasn't quite reached that tipping point where Republican elites and voters conclude he's the near-certain nominee and begin to consolidate support for him. His steady rise in the national polls from March through May left him with a majority of the Republican vote despite the gradual expansion of the field opposing him. But his support now seems to have plateaued, albeit at a high level. In the RealClearPolitics national polling averages, Trump peaked at 56.3 percent on May 21; he's now at 53 percent. And despite limited early-state public polling, there's reason to believe he's not as strong in Iowa or New Hampshire as he is nationally. Another Trump surge might spark speculation that he's locking up the nomination early. But that's hypothetical at this point, which gives DeSantis and other candidates some breathing room.
The second reason it's too early to write the DeSantis 2024 obituaries is that none of the other non-Trump candidates has made a move, leaving DeSantis as his only credible challenger. In the RCP national averages Mike Pence is steadily running third at 6.3 percent. But there are plenty of reasons to believe there's a low ceiling on support for the former veep. A couple of polls have shown Vivek Ramaswamy emerging as a force. But in others, he's still bumping along at one percent. Tim Scott's fundraising, elite support, and pleasant personality have perpetually made him a favorite to break from the pack and throw a scare into the front-runners, especially in Iowa. Yet it's all still a matter of yet-to-be-demonstrated potential.
DeSantis's situation is fragile enough that he may decide to shift from a long-haul effort to chase Trump around the country to an intensive bid to upset him in one of the early states. Right now DeSantis has some assets in Iowa that look promising. One is a heavy investment in the sort of grassroots infrastructure that could pay off on Caucus Night, when organization may matter as much as popularity. Another is his not-so-secret backing from popular Iowa GOP governor Kim Reynolds (she's formally neutral, but invariably shows up whenever DeSantis comes to her state). Still another is his apparent success in appealing to the leadership of Iowa's pivotal conservative evangelical community. It's no accident that Trump has recently disrespected Reynolds as well as veteran Christian Right figure and alleged Iowa "kingmaker" Bob Vander Plaats, who seems inordinately fond of DeSantis. And it's no surprise that DeSantis has gone after Trump from the right on cultural issues like abortion and gender identity that concern conservative evangelicals in particular.
While there's plenty of time remaining before voters start voting in Iowa and elsewhere, there are some big moments for DeSantis just ahead. The most obvious is the first debate in Milwaukee on August 23, at which he may go toe to toe with the 45th president (if Trump shows). But DeSantis's chance to revive a sense of momentum begins this weekend in Des Moines, when he and five other GOP presidential candidates (but not Trump!) will be interviewed on stage by Tucker Carlson at the annual clambake of Vander Plaats's powerful Family Leader organization. Will he have a breakout moment or leave the audience of culture-war activists wanting more? And just as importantly, will another candidate wow the crowd and begin rising from the pack? (Tim Scott would be a very likely prospect for that sort of dangerous-to-DeSantis development). Either way, Ron DeSantis's campaign is far from dead. But he needs to give it a good jolt sooner rather than later.