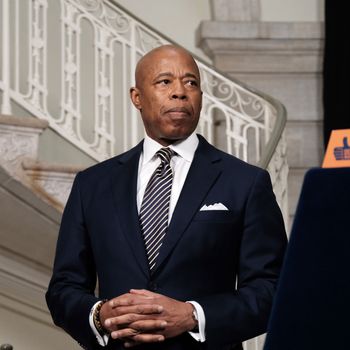 Photo: Spencer Platt/Getty Images
New York City mayor Eric Adams has often spoken about the loss of his close friend and colleague Robert Venable, a fellow police officer who was killed in the line of duty in 1987. Adams claims that he's carried Venable's photo in his wallet for years, and as mayor he's occasionally pulled it out while addressing the press. But new reporting from the New York Times casts doubt on the origin of the old photo, prompting a defensive response from City Hall.
Sources from within the administration who requested anonymity told the Times that the photo was recently created by City Hall staffers. They allege that the photograph was intentionally printed in black-and-white and that coffee was used to stain it in order to make it appear older than it was.
City Hall issued a blistering, lengthy press release calling the Times' article a "false attack" and "utterly offensive."
"It is disgusting that The New York Times has chosen to have Robert Venable's friends and family relive the tragic murder of a loved one for nothing more than feeding its obsession with dissecting every single moment of Mayor Adams' life as the paper continues its unsuccessful campaign to paint the mayor as a liar," said Fabian Levy, Adams's press secretary, in a statement.
But the press release, which features many quotes from family and former colleagues of Venable and Adams who confirm their friendship, seemed to acknowledge that the photo Adams carries isn't an original. It's described as a "photocopy of a photograph" of Venable that originally ran in a November 1987 department bulletin — a document, Levy says, that Adams still possesses. The Times notes that City Hall didn't respond to questions about whether the photo was doctored to looked older.