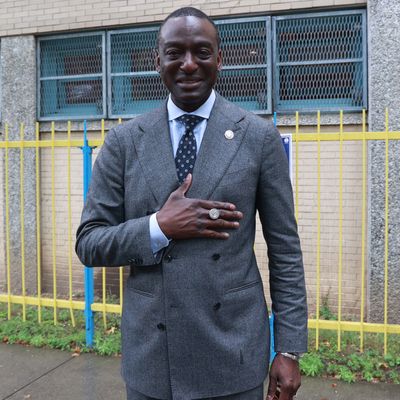 City Council candidate Yusef Salaam on primary day.
Photo: Luiz C. Ribeiro for NY Daily News via Getty Images
Yusef Salaam, who was wrongfully imprisoned for years as a member of the exonerated Central Park Five, was officially declared the winner of his Harlem City Council primary race after receiving a little more than 50 percent of the vote last Tuesday.
Salaam, 49, had already declared victory over two primary opponents on Election Night, but the city's Board of Elections had to complete its ranked- choice voting tally before it was officially in the books. After three rounds, Salaam received about 64 percent of the vote, a significant margin over veteran assemblymember Inez Dickens, who took home 36 percent. Assemblymember Al Taylor was eliminated in the third round of counting.
The race to represent Harlem was dramatic from the start. Kristin Richardson Jordan, the incumbent, was vying for a second term against three opponents. But then the candidate, after frequently coming under criticism over past remarks, stunned the New York political world by announcing in mid-May that she would be suspending her campaign, leaving the seat wide open just weeks before the primary.
Dickens, who previously represented the district for a decade before heading to Albany, had a significant amount of institutional support. She was backed by Representative Adriano Espaillat and former representative Charles Rangel, a heavyweight in Harlem politics. Dickens also received an endorsement from Mayor Eric Adams. It was the sole City Council race that Adams weighed in on during the primary.
Salaam is a New York native but has spent recent years living in Georgia, a fact that Dickens attempted to use against him. Salaam formed a ranked-choice-voting alliance with Taylor, a longtime Manhattan politician, with the two candidates vowing to rank the other second in an attempt to beat Dickens.
In 1989, Salaam was one of five Black and Brown teenagers convicted in the assault and rape of a woman jogging in Central Park in a case that captivated New York City. He was released in 1997 after serving nearly seven years behind bars. The five would be exonerated in 2002 after DNA testing linked an imprisoned man to the crime.
During the height of the publicity around the case in 1989, Donald Trump took out infamous full-page ads in the city's major newspapers calling for the death penalty for the teenagers. Many believed the tone of the ads, which were widely condemned, played into the public fervor that helped result in their wrongful convictions.
In a twist of timing, Trump has faced his own serious legal trouble during this primary-election season. When the former president was indicted by the Manhattan district attorney for financial crimes, Salaam issued a one-word press release in response. "Karma," it read.