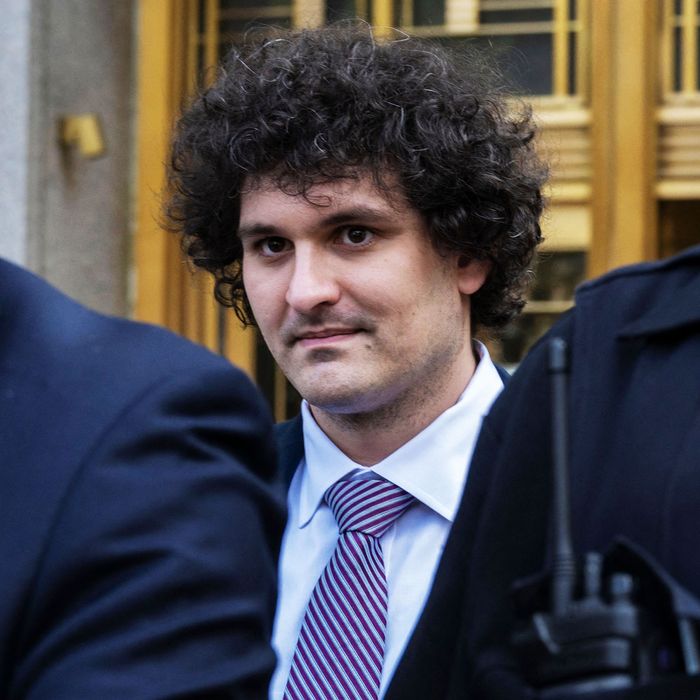 Photo: Angela Weiss/AFP via Getty Images
FTX founder Sam Bankman-Fried has already faced consequences for violating the terms of his house arrest, which he is spending at his parents' home in Palo Alto. But the punishments for his previous offenses — contacting witnesses in the case against him and using a VPN to watch the Super Bowl — were pretty mild: The federal judge in the case, Lewis Kaplan, took away his smartphone, gave him a flip phone with limited abilities, and restricted his internet access to approved sites.
Prosecutors are not messing around with Bankman-Fried's latest alleged violation. Late on Friday, federal prosecutors filed a motion to revoke his $250 million bail, pull SBF from his parents' multimillion-dollar home, and place him in jail for what they claim is witness tampering.
The issue is an article in the New York Times detailing the diary of Caroline Ellison, Bankman-Fried's ex-girlfriend and the former CEO of the FTX-linked hedge fund Alameda. Revelations from Ellison's diary make clear that she was having a difficult time working in Bankman-Fried's crypto empire after their breakup and that she had doubts about her "leadership" at Alameda. Prosecutors say that when they learned of the story, Bankman-Fried's lawyer admitted that their client had met with a Times reporter in person and shared the documents, which were not handed over to prosecutors during discovery. (Ellison is cooperating with the prosecution after pleading guilty to several counts, including wire fraud and conspiracy to commit money laundering.)
In a hearing before Judge Kaplan last week, Bankman-Fried's attorneys claimed he was expressing his First Amendment rights by speaking with the Times. But prosecutors claim his "strategy for rehabilitating his reputation was built on discrediting and blaming Caroline Ellison in a national and international publication, that is read by many prospective jurors in this district." They also accused him of "intimidating a witness and sending a message to other prospective witnesses." Bankman-Fried's attorneys are expected to file their arguments in the case on Tuesday. Their client is under a temporary gag order amid the new allegations.
But it hasn't been all bad news for Bankman-Fried: Last week, prosecutors dropped a campaign-finance charge against him thanks to an extradition issue, even though he had made illegal political donations to help advance crypto legislation. (When Bankman-Fried was arrested in his home base of the Bahamas last year, government officials there informed U.S. prosecutors that they did not plan on extraditing him those charges.) Still, when SBF goes to trial in October, he's facing a dozen other charges, including wire fraud and conspiracy to commit money laundering, for allegedly running a bogus company from the get-go.