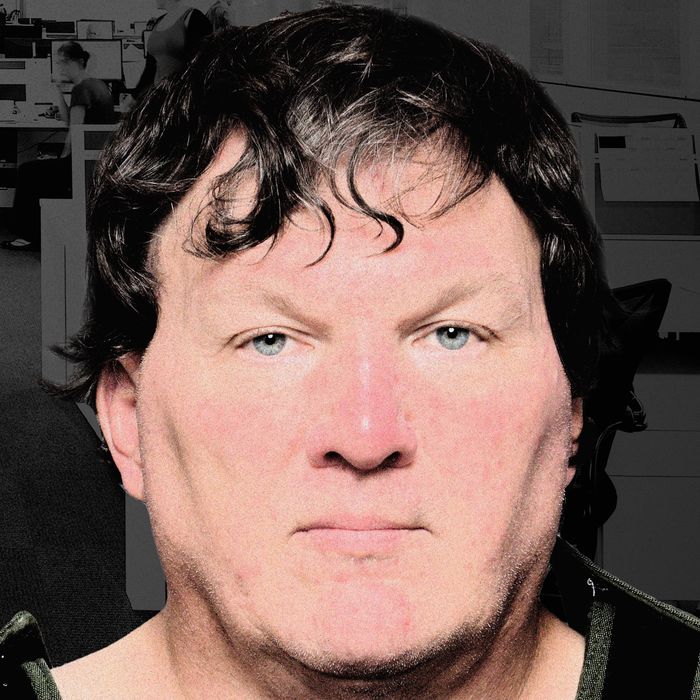 Photo-Illustration: Intelligencer; Photos: Ap Images, Getty
In September 2007, I came to New York looking for work, fresh out of college with an art degree. Soon enough, I found myself working at a small architecture firm where a large part of my job was hustling signed and sealed drawings and paperwork from my boss to RH Consultants, which my firm hired as an "expediter" to cut through the city's red tape. I was perpetually in a state of frustration, but the team at RH cheered me up, encouraging me to have a sense of humor and helping me learn the basics of handling the endless pile of forms required by the Department of Buildings.
When I first met Rex Heuermann in his midtown office, his face turned red like that of a shy teenage boy who had been surprised by a hot girl in the cafeteria. (Even sitting behind his desk, he looked to me like a giant.) His office was mostly staffed by women like myself, young and petite, the girl-next-door type. We knew he was married with a family in Massapequa, but he never spoke of them. Just a few months earlier, authorities say he murdered his first known victim, 25-year-old Maureen Brainard-Barnes.
Heuermann and his firm specialized in building-code and zoning analysis. A former colleague of mine described how he worked closely with the Department of Buildings following the passage of the Americans With Disabilities Act to understand how to bring building design into compliance. During this time, he cemented his expertise and his relationships within the DOB, which could make or break any project. Whether or not he had any real political clout, he believed he did and tried to convince others that he did, too. If you needed a permit reconsidered, he said he could ask the examiner on their hunting trip that weekend on Long Island or upstate to hunt deer and elk with a rifle.
He famously loved guns, and we all knew that he was a collector. He would frequently invite colleagues to go hunting or shooting at the range, including one of my attractive co-workers that he seemed to mention the idea to every time they spoke. She never accepted the offer, confiding in me it sounded dangerous and creepy. My former colleagues described how he gushed about his bear-hunting trips in particular: baiting an area and lying in wait. More than once, he gleefully described the process of dressing the game, seeming to delight in grossing his employees out. Once, at a job site, he spotted a client approaching and, speaking to my boss over the phone, said, "Target in sight." Around this time, authorities say, he made another call — the first of several — to taunt the family of his latest alleged victim, Melissa Barthelemy.
After two and a half years, I was ready to leave my firm when Heuermann offered to hire me as a consultant while I mapped out my next full-time gig. I felt as though he had my back — but at the same time he expressed an interest in sticking it to my old boss by hiring me. "I can't wait to see the look on his face," I remember him saying. It made me uncomfortable. Loyalty was important to me, and I cared for my old team very much.
By June 2010, I was working directly for Heuermann when he was allegedly onto his next victim, Megan Waterman. Admittedly, my memories of this era are scant. Perhaps it was the tedium of what we were doing. Rules around controlled inspections were changing, and he needed help researching the costs and approach to an additional certification. I worked mostly from home, only popping into the office two or three days a week. After working part time for three months, I left that August. The last email I sent him was some additional research he had requested, and he simply replied "thank you." A few weeks later, Heuermann would allegedly kill Amber Lynn Costello.
Months later, investigators searching a snowy stretch of Gilgo Beach for signs of Shannon Gilbert found the remains of Barthelemy. Two days later, they found the bodies of Maureen Brainard-Barnes, Megan Waterman, and Amber Lynn Costello. Three of the bodies were wrapped in a burlap-type material like what may be used for hunting blinds.
A year later, I was out of the architecture business and headed to journalism school while my former colleagues struggled with Heuermann. After I left, he had become increasingly antagonistic, attempting to poach clients from other firms and accusing them of doing the same thing. He and my old employer cut each other out of their respective projects. The final straw was when one of Heuermann's employees quit and started her own company, renting space in my old firm's office. This enraged him. Knowing they kept late hours, he was spotted outside the building, gazing up into the second-floor windows in the early evening. My colleagues' minds went quickly to his gun collection, and they began locking the elevator and the doors.
After a few years in journalism, I began working on true-crime shows where my job was to find and interview people whose lives had been upended by killers. I was on set preparing to interview one of the last surviving victims of another New York–based serial killer two Fridays ago when I scrolled idly through my social-media feeds and saw a post announcing "Rex Heuermann" was under arrest. Even though his face was on the post, my immediate thought was how strange it is that there are two people named Rex Heuermann — then it dawned on me. I called a former co-worker immediately and asked, "Is this real?"