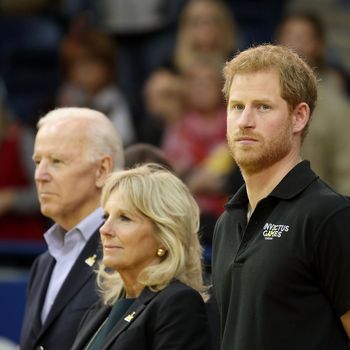 Photo: Chris Jackson/2017 Getty Images
One word that constantly gets hurled at Prince Harry and Meghan Markle is entitled. On Wednesday, the Daily Mail — one of several British papers Harry is suing — dropped a wild story that's a perfect example of the Sussexes' alleged delusion and privilege. It begins:
Prince Harry and Meghan Markle wanted to ride back to the United States on Air Force One after the Queen's funeral — but the request was denied by the White House in case it caused a "commotion," sources have revealed to DailyMail.com.
The nerve! I mean, can you imagine?
Well, if you think about it for a few minutes, not really.
Queen Elizabeth II died on September 8, 2022. Harry and Meghan were living in California with their two children but happened to be in the U.K. for a series of charity events at the time. The Daily Mail reports that in the hectic days leading up to the funeral on September 19, the royal couple's "staff reached out to the White House to ask if the couple could get a ride back to the United States on Air Force One." The paper continues:
It would have been a grand photo-op: Harry and Meghan climbing the steps of the famous blue-and-white 747 to wave alongside the President and First Lady of the United States.




But it was an immediate no from the Americans. Sources with knowledge of the decision said there was barely any discussion on the issue, just a general agreement that the request was a "non-starter."

'It would have caused such a commotion. It would have strained relations with the Palace and the new King,' another source told DailyMail.com.
Indeed, when you consider the social angles, it's clear the Sussexes would have to be outrageously self-absorbed, moronic, and disrespectful to make such a request.
Relations between Harry and Meghan and the rest of the royals were quite bad at the time, and the couple knew it. This was post-Oprah interview, and in his memoir, Spare, Harry recalls his father calling to tell him he was welcome to come up to Balmoral, Scotland, to see his grandmother one last time, "but he didn't want … her." Harry and his brother, William, were barely speaking. No foreign leader would want to leave the impression that they were taking sides in the new king's heavily publicized feud with his youngest son. And making a scene wouldn't benefit Harry, either; he has always spoken fondly of his grandmother, even as he bashed other family members, and catching a ride with President Biden would obviously distract attention from her memorial.
But let's say Harry and Meghan actually are so clueless and entitled that they don't care about transatlantic relations or their own PR (though the prince was about to start hawking his memoir). The ask still wouldn't make sense logistically. Meghan and Harry live in Montecito. The Bidens live in Washington, D.C. Was the plan to land on the East Coast, then hitch a plane ride back to California with another famous pal? Take a taxi from Andrews Air Force Base to Ronald Reagan Washington National Airport and hop on a commercial flight?
The timing of the flights doesn't make sense either. President Biden and First Lady Jill Biden attended the queen's funeral service at Westminster Abbey, which ended at noon on Monday, September 19. Air Force One departed London a short time later, at 2:30 p.m. local time. But for Harry and Meghan, the day didn't end with the funeral; they also attended the 4 p.m. committal service at St. George's Chapel, which was followed by a private burial. In Spare, Harry says he and Meghan left for America on Tuesday afternoon and were anxious about being away from their 3-year-old and 1-year-old for "longer than we'd ever been." They reportedly took a British Airways flight from London Heathrow to Los Angeles and were shuttled home in a Lincoln SUV.
Is it possible that Harry and Meghan actually did ask Biden for a ride as they were scrambling to change their travel arrangements? I suppose so. But I have a hard time believing that the royal couple is actually this illogical, conniving, and monstrous — and that it took nearly a year for this juicy gossip to get out.