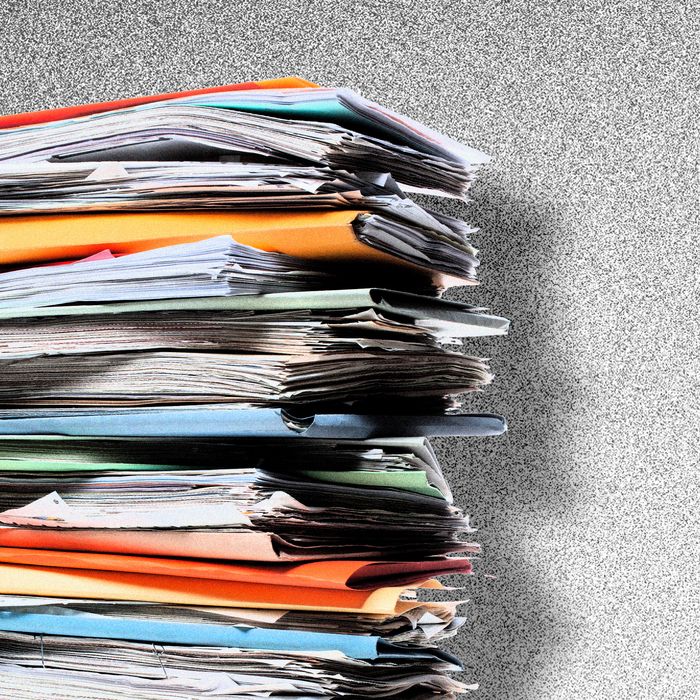 Photo-Illustration: Intelligencer; Photo: Getty
After experiencing mysterious hip and back pain for about six months, Dan Hurley finally went to see an orthopedist in December 2021. The diagnosis, after an MRI and a subsequent biopsy, was metastatic dedifferentiated chondrosarcoma, an aggressive cancer in his pelvic bone. Hurley, then 48, set about finding specialists who could maximize his chances of survival and grant him more time with his wife and three kids at their home in Phoenix. Treatment began quickly and aggressively; two months later, he had a hemipelvectomy to remove a portion of his pelvis and implant a new hip, leaving him unable to walk for several months.
As an ear, nose, and throat physician with over 20 years of experience, Hurley entered into his battle with cancer knowing full well that his treatment would involve constant back-and-forths with his insurance company, Blue Cross Blue Shield. In particular, he anticipated disputes over "prior authorization," a controversial bureaucratic process that insurance companies use to determine which treatments they believe are medically necessary before agreeing to cover them. Hurley was all too familiar with the administrative burden that prior authorization places on doctors' offices, often requiring them to fill out labyrinthine paperwork on behalf of patients for even the most routine procedures and medications. More important, Hurley had seen how the time-consuming process could delay a patient's care — a minor inconvenience to some but a potential matter of life and death for people like him.
"This is happening all day, every day, to everybody," Hurley says. "If you just need a sinus CT scan because you're seeing an ENT, you don't notice it as much. But your sinus infection isn't about to kill you."
It didn't take long for Hurley's concerns about prior-authorization delays to be proven correct. By July of last year, his tumor had proven so aggressive that doctors began to plot a new course of treatment. When they ordered a PET scan to assess the cancer in his body, Blue Cross denied it, prompting Hurley and his doctors to appeal the decision. Multiple denials later, Blue Cross finally approved the scan the day before Hurley was set to begin chemotherapy, forcing him to choose between getting the scan — which would delay his chemo — or skipping it altogether. He chose the latter, which later on left his doctors with one fewer benchmark to assess how effective his treatments had been. Ever since his experience with the delayed PET scan, Hurley has largely paid for his scans out of pocket to avoid delays, knowing he'll be able to get at least some of them refunded by Blue Cross after the fact. (He's careful not to recommend this strategy, which involves going out on a financial limb.) Recently, he had a recurrence and began another round of radiation and chemo.
At every stage of Hurley's fight against cancer, prior authorization has created roadblocks. When he recently had a bout of "life-altering" pain that required radiation, his doctors quickly worked up a plan and scheduled the treatment for a week later, leaving them what they believed was sufficient time to secure prior authorization. They couldn't have scheduled it a moment earlier: Six days later, Blue Cross still hadn't approved the treatment, forcing Hurley's doctors to go through an appeal process and raising the possibility that Hurley — who normally has a positive outlook despite his diagnosis — would have to live a little longer with the kind of pain that he says "kills your spirit." While he eventually got the radiation, those frequent scenarios have taken an emotional toll over the course of his treatment, and make him wonder what the outcome would've been for someone with fewer resources or less knowledge of the insurance industry. "It really feels like they're trying to kill you," Hurley says. "I know they're not, but that's what it feels like."
Over the last few years, pressure has mounted on health-insurance companies to change their ways in regard to prior authorization. With physician groups lobbying for regulatory relief and patients like Hurley fighting to make their voices heard, a bipartisan array of lawmakers has floated legislation in Congress and various state legislatures. Even the big insurers — which have long insisted that prior authorization is a tool designed to save money for patients and to protect them — have admitted there's a problem and have promised to help fix it. For patients, though, a question remains: How can those companies be trusted to repair a system that's designed, in part, to save them money?
In the 1960s, hospitals began conducting reviews to determine the most cost-effective course of treatment for patients, and eventually, insurers developed their own standards to ensure consistency and regulate costs. As the prior-authorization system began to emerge, insurers typically only applied it to expensive types of care such as certain cancer treatments or cutting-edge medications. These days, insurers require prior authorization for "almost everything," from prescription refills to basic imaging, according to Jack Resneck, president of the American Medical Association, which represents physicians. Meanwhile, insurance companies maintain that prior authorization's main purpose is to save money for patients and to keep them safe by preventing doctors from prescribing expensive or risky treatments that aren't strictly necessary.
As insurers' use of prior authorization proliferated, so too did the amount of work required of doctors' offices to secure treatments for their patients. Last year, the AMA conducted a survey of 1,001 physicians on the effects of prior authorization and found that the typical physician submits 45 prior authorizations per week, with some of them hiring extra staff to help with the administrative burden. The submission process itself varies from one insurance company to the next but is reliably a long journey rife with opaque rules, according to Resneck, who is also a dermatologist. Multiple pages of paperwork have to be filled out and sometimes fed into a fax machine, often only for the first request to be denied. The insurer might then suggest a cheaper treatment alternative (which Resneck says is often ludicrous enough to qualify as "malpractice") before moving onto a "peer-to-peer," in which the doctor gets on the phone with someone at the insurance company and attempts to justify the treatment plan they developed for their patient. While the company's representative might be a physician, Resneck said they're often not from the same specialty as the doctor, meaning the patient's insurance coverage may now be in the hands of someone with no relevant expertise. As the doctor scrambles to clear all those hurdles, the patient suffers — in that same AMA survey, a third of physicians said prior authorization had led to a "serious adverse event" for a patient in their care.
"It's really become a tool to clearly delay and deny care for our patients," Resneck says. "In the meantime, the patients aren't getting treated, and we know that a significant portion of those patients give up. So their diabetes, their depression, their hypertension, or whatever it is just gets worse."
In extreme cases, those patients don't make it. In December 2007, Cigna found itself in the midst of a PR crisis after it denied prior authorization to Nataline Sarkisyan, a 17-year-old in Glendale, California, with recurrent leukemia who was in need of a liver transplant. Sarkisyan's doctors pleaded her case, but Cigna held firm in its refusal, deeming the procedure "experimental." As Sarkisyan's relatives and friends protested on her behalf, the incident became a national news story, prompting Cigna to reverse its decision. The approval came too late — Sarkisyan died a few hours later.
Shortly thereafter, Wendell Potter, a 20-year veteran of the health-insurance industry, resigned his position as a Cigna corporate-communications executive and became a whistleblower. "There are Nataline Sarkisyans that happen every day," Potter says, "and it's only a very few that get the media's attention."
During his career in health insurance, Potter says he witnessed what he calls the "managed-care revolution" of the '80s and '90s, in which insurance companies took on a more active role in managing health care in order to curb medical-cost inflation through tools like high-deductible plans and prior authorization. While he says much of that happened under the guise of ensuring patients received quality care, insurers quickly recognized which methods allowed them to boost their bottom lines. Ever since, Potter argues that for-profit insurance companies have kept themselves locked into a destructive cycle: Rather than innovate in ways that reduce costs or improve treatment for patients, each "innovation" seems to be a new piece of revenue-boosting bureaucracy that makes it harder for patients to secure the care they need.
Among other things, that cycle has spawned a whole cottage industry built around prior authorization. Instead of handling the administrative work in-house, some insurers outsource it to a separate company that, according to one insider who wrote an essay for Potter's newsletter, pitches its value to insurers by bragging about how many denials it issues for treatments deemed clinically unnecessary. In some scenarios, that means a patient's health-insurance premiums could be going toward a company they've never heard of that, in return, denies their care. To add another twist: Cigna owns a prior-authorization shop, eviCore, which is buried deep within its corporate structure. (It falls under the umbrella of Evernorth Health Services, Cigna's health-services portfolio.)
EviCore provides its services to other insurance companies, which is how it wound up delaying Hurley's care multiple times. On one occasion, eviCore delayed a CT scan by requiring Hurley's doctor, an oncologist who's a national expert in sarcoma, to do a peer-to-peer review. The "peer" on the other end of the line was a pediatrician no longer in active practice. "They hide behind guidelines and quality," Hurley says, "but it's purely a delay tactic. Because on what planet would a retired pediatrician be reviewing an oncologist?" In an email, an eviCore spokesperson insisted that "all eviCore physicians reviewing prior-authorization requests are board certified in an appropriate specialty," despite Hurley's experiences to the contrary. (Executives at three different neurosurgery practices confirmed that peer-to-peers with eviCore rarely involve "peers" with relevant expertise.)
On a few occasions, the insurance industry has attempted to prove it's not completely heartless when it comes to prior-authorization horror stories. In 2018, the big insurers signed a consensus statement promising to improve prior authorization by — among other things — conducting regular reviews of which treatments require it and taking steps to guarantee continuity of care. (Currently, a patient's prescription refill, for instance, can be subject to prior-authorization delays, even if the treatment has already proven effective.) As Resneck says, "Not a single health plan lived up to any of those commitments."
Having been burned once, the AMA, among others, turned to lobbying the government to step in. Drawing on model legislation written by the group, 30 states are weighing bills to rein in prior authorization with tactics such as exempting doctors who have a proven track record of getting the treatment in question approved — effectively implementing what's known as a "gold-card program." At the federal level, a bill to streamline prior authorization for Medicare Advantage plans flew through the House in 2022 with bipartisan support. (Despite its popularity, the bill stalled after a Congressional Budget Office report predicted it would cost $16 billion, though a congressional source who worked on the bill says it still has the momentum to succeed if the CBO score can be brought down.) In April, the Centers for Medicare and Medicaid Services finalized a rule requiring prior-authorization determinations to be reviewed by professionals with relevant expertise, among other stipulations.
With pressure coming from all sides, three of the biggest health insurers in the country — Cigna, Aetna, and UnitedHealthcare — announced plans in March to cut back on prior authorization. UnitedHealthcare, the largest and most profitable insurer, promised to ramp up its gold-card program and remove procedures and treatments from its list of services requiring prior authorization, but that same month it announced a plan to add colonoscopies and endoscopies to its list of procedures that require prior authorization starting June 1. The news sent gastroenterologists into a panic over adding yet another barrier to care for exams that can detect colorectal cancer, the second most common cause of cancer death in the U.S. The company pointed to studies arguing that these procedures are overutilized by doctors, and said the new guidelines were in line with those of the major gastroenterological societies, even though those same societies fervently protested the policy. Mere hours before the rule was set to go into effect, UnitedHealthcare reversed course.
Speaking as a former industry insider, Potter worries that UnitedHealthcare's abandoned attempt to quietly expand prior authorization in one specific area while promising to do the exact opposite is a sign of things to come. "United, in particular, has access to vast amounts of data on all of us as well as our physicians and health care, more broadly," Potter says. "I think they could make some decisions about where to lessen up prior authorization based on their data, but also where they can ramp it up. And they've got sophisticated PR and lobbying operations." Resneck shares some of Potter's concerns, but both men also believe there's momentum, at the moment, around prior-authorization reform. Even so, Resneck notes that actual change remains a ways off as long as physicians are still filling out 45 prior authorizations per week.
In the meantime, patients like Dan Hurley are left to fight insurance battles even as they contend with the day-to-day realities of their conditions. When his hemipelvectomy left him immobile, Hurley enrolled in law school with the goal of using his legal expertise to draw attention to the human cost of health-care bureaucracy like prior authorization. As part of his work, he's used his own situation as a case study and written letters spelling out in excruciating detail the mess of bureaucracy he faces every time he needs anything from a simple scan to another round of chemo. In one of these letters, addressed to a doctor at eviCore who denied him care, he writes: "I don't know how much time I have left, but if I can help even a few patients who don't have a voice from being harmed emotionally or physically by an unethical system, I will have partially succeeded in my goal."