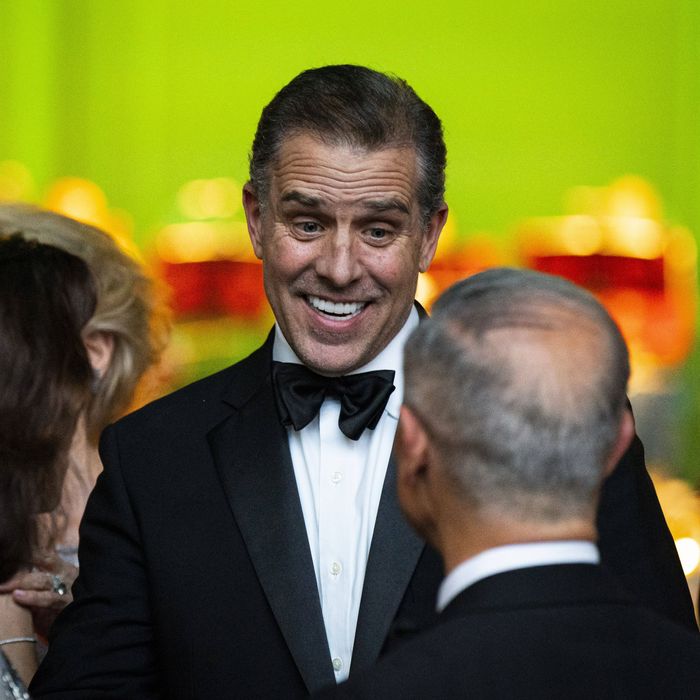 Photo: Al Drago/Bloomberg via Getty Images
When Hunter Biden began selling his ink-blown artworks two years ago, the White House tried to ensure that no one would purchase his mediocre portraits and paintings (up to $500,000 a pop) in an attempt to curry favor with the Biden administration. But as is pretty much the case with everything involving Joe's second son, things got complicated fast.
Insider reports that Hunter Biden sold a painting to California real-estate investor Elizabeth Hirsh Naftali, a Democratic donor who has given $13,414 to Joe Biden's reelection campaign this year. In July 2022, President Biden announced that Naftali would be appointed to a position on the Commission for the Preservation of America's Heritage Abroad, a government agency dedicated to preserving sites in Europe related to the Holocaust. It's the type of unpaid role donors are commonly rewarded with, but if Naftali bought Hunter's painting prior to her appointment, it could constitute a conflict of interest. Neither the White House nor Hunter Biden's attorneys responded to questions regarding when she made the purchase. The painting first went on sale in late 2021.
According to a Biden administration official who spoke with Insider, Naftali was recommended to the president by Nancy Pelosi. But in the days when Hunter Biden was touting his father's name in exchange for lucrative contracts, he told family members that he could help secure appointments on the Commission for the Preservation of America's Heritage Abroad, as Insider explains:
In the past, Hunter Biden has privately suggested that he could arrange to have friends seated on the commission. Eric Schwerin, Hunter Biden's longtime business associate, was appointed to the same post by President Barack Obama in 2015. An email apparently from Hunter Biden's abandoned laptop written that year suggests that he had sway over Schwerin's appointment. "Eric asked me for one of these the day after the election in 2008," Biden wrote to a cousin, who had written inquiring about the possibility of a similar appointment for her mother.
While Hunter Biden was not supposed to know the identities of the benefactors who purchased his works, Insider reports that he was aware that Naftali was one of the buyers — along with Kevin Morris, a Los Angeles attorney and friend of Hunter Biden who has reportedly lent him north of $2 million. But the identity of Biden's single biggest fan — the Medici to his Michelangelo — remains unknown. Insider was not able to figure out the name of the buyer who accounted for $875,000 of the $1.3 million in net sales from Biden's show at the Georges Bergès Gallery in Manhattan.