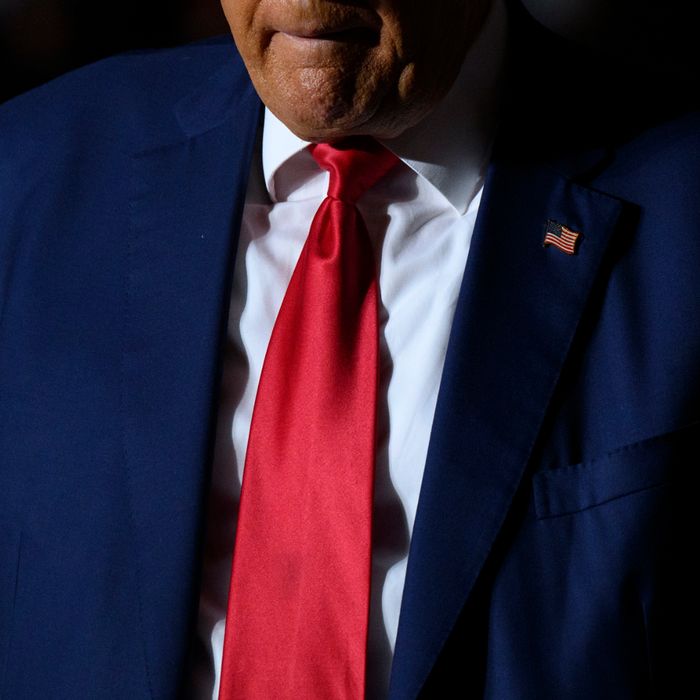 Photo: Jeff Swensen/Getty Images
While it remains to be seen how much Donald Trump's mounting indictment woes will cost him politically, the legal expenses have already left his post-presidential political action committee in dire financial straits. Per a filing made Monday, Trump's Save America PAC spent $21.6 million on legal costs defending the former president and his associates in the first half of 2023, which is about two-thirds of its overall spending during that period.
The New York Times reports that the PAC now has less than $4 million left in its bank account, which has forced the Trump team to take drastic measures, including asking a pro-Trump super-PAC to refund the $60 million Save America transferred to it last year and launching a legal defense fund for Trump and his allies to help foot the law-firm bills.
Save America was originally created as a place to put more than $100 million Trump raised in the aftermath of his 2020 loss while making false claims of election fraud and attempting to overturn Joe Biden's victory. The PAC is barred from directly funding Trump's 2024 candidacy, but as his post-presidency legal peril has multiplied, it's been paying to stave that off instead.
Though the PAC hasn't been accused of any wrongdoing, that legal spending has drawn scrutiny from special counsel Jack Smith. In the superseding indictment the special counsel's office filed last week against Trump and his aides in the classified-documents case, prosecutors alleged that Trump used the promise of legal representation to secure the loyalty of an employee who allegedly tried to delete incriminating security-camera footage at Trump's request.
More on the Trump January 6 indictment
See All