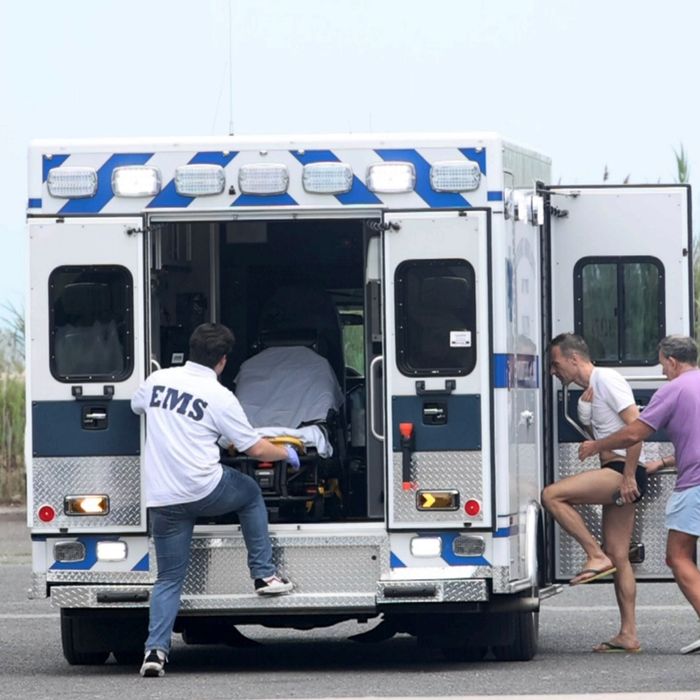 A victim of a shark bite on Long Island is seen with his right hand bandaged at the marine base in Great River, New York, after being transported by Suffolk County Police boat from Fire Island Pines on on July 4, 2023.
Photo: James Carbone/Newsday RM via Getty Images
In New York, the long July Fourth weekend was marked by celebration, humidity, gunfire, and a number of shark bites.
The Associated Press reports that two men and one woman said they were bitten while visiting Long Island–area beaches on Tuesday. A 47-year old man was swimming at Quogue Village Beach the same day when he was bitten on his right knee by a "shark of unknown species," per a press release from the Quogue Village Police Department. He was transported to the hospital. A 49-year-old man at Fire Island Pines reported an apparent shark bite on his hand and was also hospitalized, CBS News reports. An adult woman was also reportedly bitten on the leg near Fire Island on Tuesday and was treated at the hospital.
On Monday, a 15-year-old girl at Robert Moses Beach, just off Long Island, said she was bitten by something, but it could not be immediately confirmed as a shark bite. Later that same day, a 15-year-old boy was taken to the hospital with non-life-threatening injuries after being bitten on his foot while surfing at Kismet Beach, per NBC New York.
If that weren't enough, the New York Post reports that a school of 50 sand sharks was spotted just off Robert Moses Beach, the site of a reported bite, on Tuesday morning. The sharks were monitored by drones utilized by Parks Department staff before the all-clear was given for the beach to open. Sand sharks, like most sharks, are not considered to be aggressive or a threat to humans.
Shark sightings in the region have gone up over the years, likely due to successful conservation efforts that have helped increase the population. The Suffolk County Police Department said Tuesday that it intends to increase patrols on beaches in light of all the recent activity.