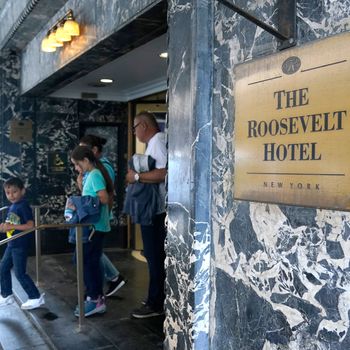 Photo: TIMOTHY A. CLARY/AFP via Getty Images
The migrant intake center at the Roosevelt Hotel has reportedly reached capacity, forcing dozens of asylum seekers to sleep outside the building over the weekend as they awaited shelter placement.
CBS New York reports that many camped outside Friday through Saturday while the city was in the middle of its first official heat wave of the season, with some seen sleeping on the sidewalks outside the former Midtown hotel. Small cooling buses provided by the city to give temporary respite from the heat and occasional rain were also used by some as a place to sleep. But most people spent their time waiting for updates in massive lines that wrapped around the block.
The Roosevelt Hotel, which officially closed three years ago near the height of the pandemic, was first repurposed as an intake center back in May. A press release said the building would provide asylum seekers with "access to a range of legal, medical, and reconnection services, as well as placement, if needed, in a shelter or humanitarian relief center." It was slated to offer up to 850 rooms for children and families.
Fabian Levy, a spokesman for Mayor Eric Adams, said in a statement that the city is doing its best to find placements for the 93,000 migrants that have come through the city and that its intake system has "run out of space every single day." Adams recently traveled to Washington, D.C., and met with U.S. Homeland Security secretary Alejandro Mayorkas, who promised to visit the city and appoint a DHS employee to take the lead on the city's needs for its asylum seekers.
"We still desperately need help from our state and federal partners, but, in the meantime, we encourage migrants to take us up placements available outside of New York City as they become available," Levy said.
Some asylum seekers who have sought shelter outside of the city — or who have been prodded there by city government — have faced their own set of challenges as well. The New York Times reported that a firm contracted to aid migrants relocating upstate misled and reportedly even threatened some of the people in its care. Migrants who spoke to the Times said security guards hired by DocGo, a company that previously did COVID testing for the city, tried to prohibit them from talking to the media and threatened bodily harm if they did so. The asylum seekers also alleged they were given fraudulent paperwork and inaccurate information from the company about applying for residency and getting work authorizations. DocGo told the Times it was investigating the incidents and that any inaccurate forms were no longer being used.