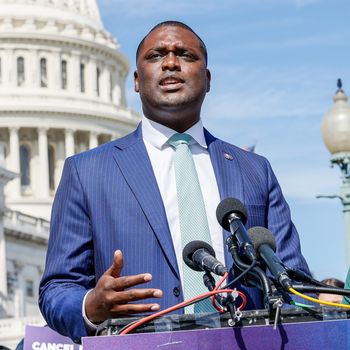 Photo: Jemal Countess/Getty Images
Mondaire Jones, the progressive former congressman, has announced that he will run for his former U.S. House seat in New York's 17th District next year after a brief stint outside of politics.
New York's tumultuous 2022 redistricting process dealt Jones a major blow. The then–freshman congressman had his district redrawn into the neighboring 16th District, represented by his Democratic colleague Congressman Jamaal Bowman. Democrat Sean Patrick Maloney, who also had his residence moved to a different district, opted to run in the 17th District, raising the hackles of many in his party. (Bowman chose to stay in the redrawn 16th and won a second term.) Rather than challenge either Maloney or Bowman, Jones launched an unsuccessful bid in the wide-open Democratic primary for the newly redrawn 10th District, which spans parts of Manhattan and Brooklyn. Jones came in third place, losing the race to former prosecutor Dan Goldman.
In a campaign launch video he released on Wednesday, Jones highlighted his Rockland County roots as the son of a single mother who went from public school to Harvard Law and his work during his term in the House.
While the video notes Jones's support for certain issues like protecting abortion rights, the clip notably features a member of the Hudson Valley Police Department saying the former congressman helped to "fund the police," an indicator of the shifting politics in an area that veered to the right last year.
The 17th District, which covers parts of Rockland, Dutchess, Westchester, and Putnam Counties, was one of four Democratic seats in the state that flipped red in 2022. Maloney secured the Democratic nomination but lost to Republican Mike Lawler, who is seeking a second term.
In the primary field, Jones joins Liz Whitmer Gereghty, a small-business owner and sister to Michigan governor Gretchen Whitmer, as well as MaryAnn Carr, a former supervisor for the town of Bedford.