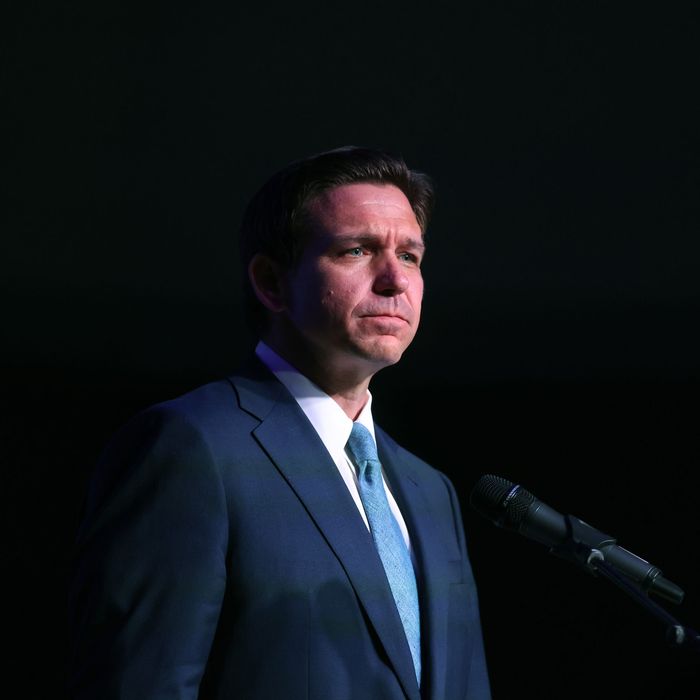 Photo: Scott Olson/Getty Images
It's a typical story: You meet a new guy and start to think this could be "the one." He's confident and well educated, and he has a good job. He has a decent head of hair and isn't an absolute maniac, unlike the last guy you were with. But a few months in, you start to notice some problems. He shares some disturbingly right-wing political views. You notice all your friends and family members seem to hate him. He's weird and kind of rude in public. Then everyone starts gossiping about this one time he ate pudding with his fingers, and you have to admit your dream guy is actually a dud.
Okay, maybe this isn't a universal experience, but it's basically what happened between Rupert Murdoch and Ron DeSantis, the presidential candidate who once appeared to be the media mogul's top pick to beat Donald Trump in 2024.
After the Capitol riot, Murdoch decided Fox News needed to pivot away from the 45th president; as we learned in Dominion Voting Systems' lawsuit against the network, he wrote in a email, "We want to make Trump a non-person." The impact of this strategy was clear in the aftermath of the 2022 midterms; various Murdoch-owned outlets blamed Trump for GOP losses, while the New York Post declared the just-reelected governor "DeFUTURE" on its cover.
But despite the Murdoch media empire spending months hyping DeSantis, his presidential campaign looks like a failure so far. His campaign launch with Elon Musk was plagued with hilarious technical glitches. People came out of the woodwork to complain about DeSantis's lack of people skills. His effort to run to Trump's right is flopping, with the former president maintaining a polling lead of more than 30 points.
The last thing DeSantis needs right now is more bad news. But he got it anyway, in the form of two stories about how Murdoch has soured on him. Rolling Stone reported on Wednesday that the mogul "has been voicing his doubts and frustrations, in private discussions and calls, at times wondering if a DeSantis 'comeback' is possible at this point."
"[Rupert's] understandable worry is that we may end up being stuck with Trump anyway," a senior Fox source told Rolling Stone. "And DeSantis is underperforming. Anybody can see that … [and the Murdochs,] they're seeing it, too."
Murdoch has not publicly disparaged DeSantis, but sources told Rolling Stone that the patriarch, as well as his sons Rupert and Lachlan, are displeased with the governor's campaign tactics and general loser-y stench:
According to two of the sources, Murdoch has privately winced at DeSantis' nonstop cultural-grievance strategy, arguing that it is being executed sloppily. In his repeated attempts to outflank the already hard-right Trump on the right, DeSantis and his team have waged an aggressive messaging operation to paint the Florida governor as a much more extreme culture-warrior as compared to the former president — most recently via a bizarre, bigoted video lauding the governor for his anti-LGBTQ attacks. This strategy has for months attracted criticism from fellow Republicans for being unsavvy and "too online" to connect with the median voter.




"They are transactional and can smell a loser a mile away," one Fox insider bluntly assesses, referring to Rupert and Lachlan Murdoch, and top Fox News executives. 
Meanwhile, the New York Times noted that in recent Fox News interviews, DeSantis has "confronted noticeably tougher questions," and other Murdoch outlets "have also been slightly less friendly of late." For example, the New York Post has highlighted topics like DeSantis's lagging poll numbers and The Wall Street Journal's opinion page criticized an immigration law the governor recently signed. And many took note last week when Fox News anchors failed to challenge panelist Jonathan Kott's assessment of DeSantis as a "weird guy" incapable of connecting with GOP voters.
You might think Murdoch would be discouraged by the apparent failure of the man he once considered his last hope for stopping Trump 2024. But like a Bizarro World Yoda, Murdoch is insisting "there is another." The Times reported:
Mr. Murdoch has privately told people that he would still like to see Gov. Glenn Youngkin of Virginia enter the race, according to a person with knowledge of the remarks.
There's little evidence that Youngkin would fare better than DeSantis; he "barely registers in GOP primary polls," as the Washington Post recently noted. But it seems hope springs eternal for both fictional Jedi masters and our closest real-world equivalent to a Sith lord.