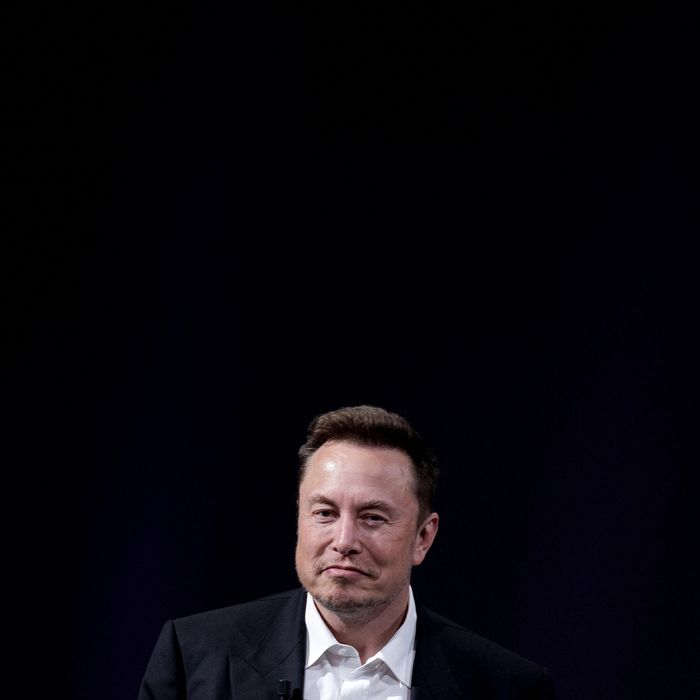 Photo: Joel Saget/AFP via Getty Images
Elon Musk's Twitter is in crisis again. It began on Friday when, without warning or explanation, the company blocked access to the site for anyone who wasn't logged into an account. At first it wasn't clear if the move was intentional or yet another technical failure for the bug-plagued platform. Musk eventually announced, in replies to tweets, that the block was a "temporary emergency measure" to stave off "data pillaging" by at least "several hundred organizations" who were "scraping Twitter data extremely aggressively, to the point where it was affecting the real user experience." He later claimed that AI companies scrounging for free content for their large-language models and chatbots were to blame.
Then on Saturday, as logged-in real users began reporting that tweets had stopped loading for them too, Musk announced that strict "temporary" usage limits had been implemented for all users "to address extreme levels of data scraping & system manipulation." User accounts that didn't pay for the company's infamous Twitter Blue "verification" would be limited to viewing a total of 600 posts per day, while accounts that did pay up would be limited to 6,000. Newly created Twitter accounts would be limited to viewing 300 posts per day.
As anyone could have expected, limiting everyone's ability to use Twitter prompted a backlash on Twitter. Tens of thousands of users reported that the site was down, the "rate limit exceeded" message that users saw trended, and even some of Musk's favorite accounts bashed the change. Musk soon announced that the limits were being raised — ending up at 10,000 posts a day for Blue subscribers, 1,000 a day for free accounts, and 500 for newly created free accounts. On Sunday, people noticed that the official Twitter app TweetDeck was effectively unusable (on Monday it was relaunched as a paywalled product), and Twitter results in Google searches have also been reduced.
It's still not clear how long the limits will be in place, what constitutes a read post towards the limit, what percentage of users are hitting them, or whether or not Mark Zuckerberg will get unlimited post viewing if he can defeat Musk in a cage match. Twitter's supposed new CEO and ad business savior, Linda Yaccarino, has yet to offer any public comments of her own on the matter, though she liked a few tweets from Musk addressing the outage — as well as one from a fake Musk.
Our colleagues at the Verge have also noted what Musk didn't blame:
[Musk] didn't mention his decision to lay off more than half of Twitter's staff since taking over the company last fall, including people critical to maintaining its infrastructure. The haphazard layoffs meant the company even had to rehire some engineers who had been let go, and people have repeatedly warned that firing so many people would affect Twitter's stability. …




Last November, an unnamed Twitter engineer interviewed by MIT Technology Review said that after the staff reductions, "Things will be broken more often. Things will be broken for longer periods of time. Things will be broken in more severe ways… They'll be small annoyances to start, but as the back-end fixes are being delayed, things will accumulate until people will eventually just give up." In the same article, site reliability engineer Ben Kreuger said, "I would expect to start seeing significant public-facing problems with the technology within six months." It has been seven.
Others who don't buy Musk's explanation for the rate limits have speculated that the real cause is: a result of Twitter accidentally DDOSing itself; a consequence of super-expensive API access; a tax scheme; a consequence of unpaid cloud bills; an attempt to boost Twitter Blue subscriptions; or another preview of the big wall Musk wants to build around his global town square/digital bank that is also an everything app where you can watch Tucker Carlson AND Roseanne.
Whatever the real underlying reason for the throttling, the restrictions have prompted yet another wave of people tweeting that they're leaving the site, as well as the trending of names of various Twitter alternatives. One, the vintage-Twitteresque platform Bluesky, temporarily suspended new sign-ups on Saturday amid "record-high traffic" following Musk's rate-limit announcement. Late Sunday, Mastodon CEO Eugen Rochko said the platform's active user base had gone up by 110,000 users in 24 hours.
There have also been lots of scathing comments, jokes at Musk's expense, and dark humor about Twitter's perpetually inevitable demise — which have all become a popular spectator sport people play on Twitter every time the site stops working:
Ex-Twitter employees also weighed in, like this brutal comment from the former head of Twitter Blue, Esther Crawford:
On Bluesky, former head of trust and safety Yoel Roth was extremely skeptical scraping was to blame for the problems:
For anyone keeping track, this isn't even the first time they've completely broken the site by bumbling around in the rate limiter. There's a reason the limiter was one of the most locked down internal tools. Futzing around with rate limits is probably the easiest way to break Twitter.




It just doesn't pass the sniff test that scraping all of a sudden created such dramatic performance problems that Twitter had no choice but to put everything behind a login. Scraping was the open secret of Twitter data access. We knew about it. It was fine.
There's also the key question of what impact the rate limits would have on Twitter's already struggling ad sales, as the New York Times reports:
On Saturday, engineers in the company raced to diagnose the problem in private Slack channels, according to two employees. Those people said that Twitter salespeople asked what they should tell their advertising clients as they realized that some ads were not being displayed on the social network.




Twitter's U.S. advertising revenue for the five weeks from April 1 to the first week of May was $88 million, down 59 percent from a year earlier, according to an internal presentation obtained by The New York Times.



But if Elon Musk really is Twitter's terminal disease, the site still seems to be stubbornly defying that diagnosis, as the billionaire and his "verified" faithful love to point out. Even on life support, Twitter is definitely still the best, most lively place to read up to 1,000 complaints a day about Twitter.
This post has been updated.