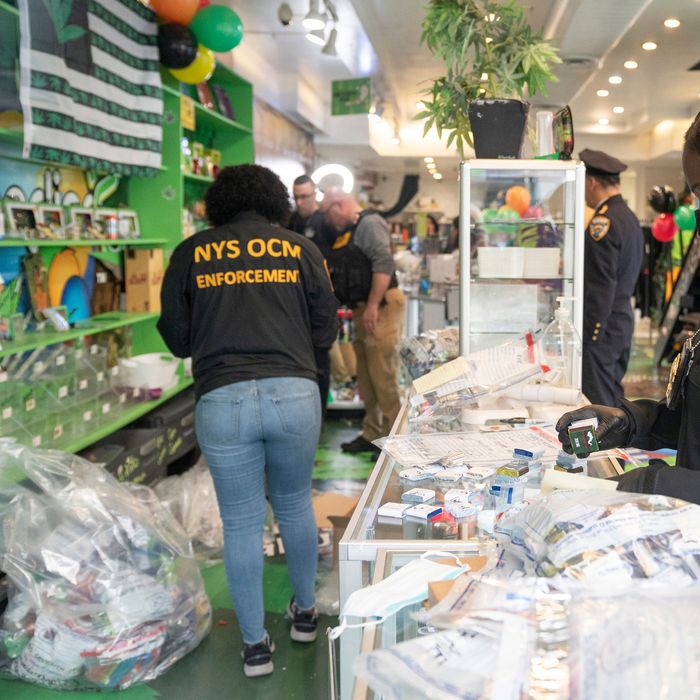 Photo: Barry Williams/New York Daily News/Tribune News Service via Getty Images
Several locations of a popular cannabis dispensary were raided on Tuesday, the latest action in the state's attempt to crack down on unlicensed shops.
Empire Cannabis Club, which bills itself as a "concierge service" that allows paying members to access its products and special events, had its Lower East Side and Chelsea locations searched by NYPD officers and members of the state tax department, and some of its inventory was seized, according to the New York Times.
It's all part of a state-government goal to put a stop to the thousands of unlicensed cannabis dispensaries that have popped up in the months and now years since New York officially legalized recreational-marijuana sales in 2021. The rollout of the legalization plan was surprisingly bumpy after a court challenge to the state's licensing process, which also prioritized those directly impacted by convictions for marijuana offenses. The illegal shops significantly outnumber the licensed ones, meaning they receive the bulk of the sales and the profits in the state while providing products that haven't been vetted for safety.
In May, Governor Kathy Hochul signed legislation that increased the penalties against unlicensed dispensaries as part of the 2024 state budget. The new laws also increased the power of the Office of Cannabis Management and the Department of Taxation and Finance to conduct inspections of shops suspected of selling without a license. Under the legislation, dispensaries can receive fines of up to $20,000 a day for the most severe infractions, with the OCM now empowered to pursue "court orders, closing orders, and removal of commercial tenants who are selling cannabis and cannabis products without the appropriate license," per a press release.
During an event last month, Hochul touted the results of the legislation, saying state agencies conducted 33 inspections and seized close to $11 million in illegal cannabis goods.
"We're going to get it right. But if people stand in our way, if there are bad actors out there trying to thwart our efforts to do the right thing? Don't bother. You will be caught. You'll be stopped," Hochul said.